Pick Up Truck Accident Pico Blvd 7-30-2017
Nine People Injured When Vehicle Crashes Into a Los Angeles Diner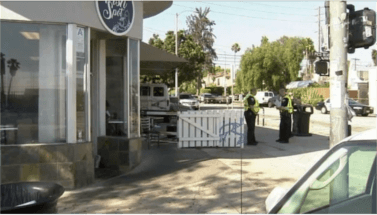 Our law firm is currently investigating the possibility of personal injury lawsuits against all defendants in connection with an accident that happened on July 30, 2017.
On July 30, 2017, at around 3:47 p.m., a car plowed into a group of people in the mid-Wilshire area of Los Angeles, CA. Nine people were injured, and one was left in critical condition when a pickup truck jumped a curb and crashed into an outdoor dining area. The authorities are calling it a "complete accident." The accident happened on the 5000 block of West Pico Blvd.
The one victim was who was left in critical condition, a 44-year-old man, was taken to the nearby hospital, according to the Los Angeles Fire Department. Three of the victims, a 30-year-old man, a 28-year-old woman, and an 18-year-old woman were taken in serious condition. The other four victims were in fair condition, reported the LAFD on Twitter. The ninth person involved in the incident was a Los Angeles firefighter but did not sustain any injuries which required medical attention and so was not taken to the hospital.
Lieutenant Jim Lewis of the Los Angeles Police Department said that the incident was a "complete accident, nothing intentional." The van's driver, a 39-year-old man, was left in fair condition. The driver was taken into police custody for questioning to investigate what forced the man onto the curb and subsequently hit nine people with his truck.
If you were involved in any kind of car accident, we can help you get the damages to which you may be entitled. A car accident can be an incredibly traumatic experience – one you hope you never have to be a part of – especially if you are seriously injured. Handling you car accident injury claim will only be another bother and add unnecessary stress. And if you go it alone, you may miss out on the maximum compensation available to you.
We at the Normandie Law Firm help people like you, who were injured in a car crash, every single day. There's enough going on in your world as you recover from your injury, so we will take care of everything regarding your claim and get you the compensation you deserve. We can help you gather evidence, find competent and compassionate doctors, talk to insurance companies who may want to cut your damages, pay your medical bills, avoid any financial difficulty if you have to miss work because of your injuries, and help you get maximum and fair compensation.
The Normandie Law Firm can help you get the maximum damages possible. And you may wonder what damages you might be able to get from the accident? Below are the damages which you may be able to receive:
Medical costs associated with the injuries that resulted from the car accident;
Lost income due to having to miss work;
Pain and suffering from the emotional trauma of an accident;
Property damage that resulted from the accident if the car hit your property.
Call the Normandie Law Firm today to see what our personal injury and auto accident attorneys can do for you.