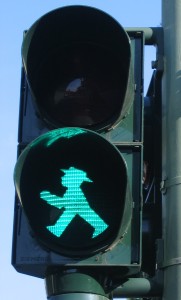 Pedestrians hit by any type of motor vehicle are at a far higher risk of serious injury and fatalities than individuals involved in other types of traffic accidents.  In fact, such accidents are seven times more likely to result in death than even motorcycle collisions, leaving the victims and their loved ones at a total loss.  Unfortunately, these victims are left with past and future medical bills, time off from work and other significant damages, and is often a trying time for everyone involved.
The goal of our qualified accident attorneys with experience in pedestrian accident cases is to make this period as simple and comfortable as possible.  If you or a loved one has been involved in an accident in the city of Los Angeles, trust an attorney who has experience in pedestrian accidents and who is known to fight for his clients.  Call the top-rated Normandie Law Firm for a free case evaluation at (800)790-5422
Steps to Take if You have Been Struck By A Vehicle:-
Below are important steps that should be taken by victims of pedestrian collisions.
If injured. even if you feel slightly hurt, seek medical attention immediately – contact your local emergency response team and request an ambulance.
Contact the police department at the location of the collision and have them file an accident report.
If possible, ask the driver of the automobile that struck you for insurance information and write down or take pictures of the license plate and any damage sustained.
If there are witnesses, ask for their phone numbers.
Do not speak with or make any statement whatsoever to any insurance adjuster who contacts you. ANY statements you make can and will be used by insurance companies to lower your claim for compensation.
Contact an experienced attorney – a personal injury lawyer experienced in pedestrian accident cases can provide you with the legal representation necessary to get you the compensation you deserve.
Filing a Pedestrian Injury Lawsuit: The vast majority of pedestrian accident cases involve drivers who did not intend to strike or hurt another person bud did so because of their negligent driving. As such the vast majority of personal injury lawsuits are based on a negligence cause of action. A negligence based lawsuit is based on several elements, which an attorney with expertise in pedestrian accident injury lawsuits can explain to you and prove in court:
1. The driver of the vehicle owed a duty of safe driving to the pedestrian
2. The driver breached his duty – i.e. exceeded the speed limit, drove while distracted, or failed to stop at a designated stop sign.
3. The breach of the duty resulted in the incident.
4. The accident caused significant injury to the pedestrian.
Statute of Limitations for Civil Cases – Time Period for Filing a Claim: Victims of personal injury have a limited time period to file a lawsuit in civil court. Failure to file a claim will lead to a denial of your claim. In the state of California, the statute of limitations for filing a personal injury lawsuit is two years from the date of the accident. One of our accomplished lawyers with experienced handling pedestrian accident claims can make sure you never miss any deadlines when filing a lawsuit.
Value of your accident Case:  One of the most common questions asked by our clients is, "What is the value of my case?' The average settlement amount of a pedestrian accident lawsuit is dependent on several factors unique to each case; our experienced layers can help you understand what your case may be worth. Some of the most common factors in establishing an estimate for a case are as follows:
Legal Costs: The skilled personal injury attorneys from our law firm work on a contingency fee basis meaning that you don't pay any out of pocket expenses for our legal representation. When there is a successful resolution of your case, our law firm will take a set percentage of the settlement amount as compensation for legal representation. In this way, victims can rest assured that they will not be held with the bill in the rare instance that their case is unsuccessful.
Free legal Consultation: All case reviews are handled by our expert personal injury attorneys, totally free of charge. To contact our top law offices call toll free (800)790-5422.