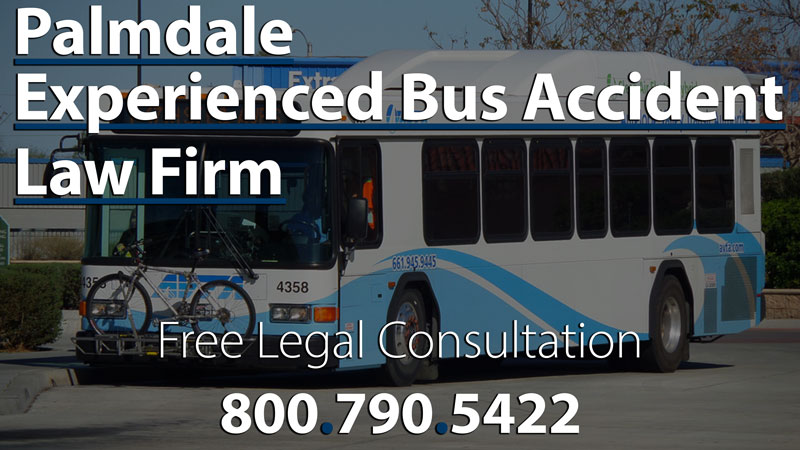 Palmdale, CA is a growing city with a population of more than 150,000. The city of Palmdale's public transportation is taken care of by the Antelope Valley Transit Authority (AVTA). AVTA provides the community with forty-five local transit buses that operate almost daily. Other bus companies in the area include Antelope Express, Greyhound, Antelope Valley School Transportation, and First Student. Buses are an economic and convenient transportation option for the community.
Buses are considered to be a very safe method of transportation. In comparison to other modes of transportation, it is less common to be involved in or become injured in a bus-related accident. However, although rare, these accidents do happen. Below is a quick list of past bus accidents:
In February 2017, a school bus was involved in an accident that left nine special education students injured.
In October 2016, a tour bus collided with a truck, the bus driver and thirteen other passengers died.
If you were injured in a bus accident, an experienced attorney can be of assistance. Consult with one of our skilled attorneys with experience handling bus accident injury claims at the top-rated Normandie Law Firm, and we can help you receive compensation for your injuries.
Buses Have Common Carrier Responsibility
A common carrier is any vehicle that transports passengers from one point to another in exchange for a fee. Some examples of common carries include airplanes, taxis, trains, cruise ships, and of course buses. What is the common carrier responsibility? Common carriers are regulated by both state and federal governments—they are responsible for keeping their passengers as safe as possible. Common carriers are required to use the highest care and diligence for passenger transportation. To ensure utmost care, they must do all of the following:
Ensure the vehicle is safe for operation
Accommodate passengers when necessary
Respect passengers at all time
Be attentive to passengers
Protect passengers from other passenger's aggression
Operate the vehicle safely at all times
This duty is owed to passengers; bus drivers and bus companies are to implement the highest level of duty. However, bus drivers and bus companies also have a duty of care to non-passengers. Bus drivers and bus companies owe non-passengers an ordinary level of care. This includes driving safely enough to prevent to prevent that the bus becomes a danger to non-passengers. If bus drivers and bus companies do not follow their common carrier responsibilities, they can be accused of negligence.
Negligence consists of four elements: duty, breach, cause, and harm. As previously discussed, bus drivers and bus companies have the duty as common carriers to do everything possible to ensure passenger and non-passenger safety. A bus accident attorney in Palmdale will be able to further discuss negligence in regards to your specific case. Legal representation will be necessary if you want to establish negligence as a cause of the bus accident that resulted in your injuries. An accomplished attorney with expertise in bus accident injury lawsuits will be able to prove these points of negligence.
Common Injuries in Bus Accidents in Palmdale
Since bus accidents are motorized vehicle accidents, injuries can be similar to normal car crashes. However, there are a few factors that can affect the severity of the injuries sustained in the bus accident. Non-passengers appear to be at a greater risk of developing very serious injuries or even dying because of the accident. What is the reason for this? Most buses are enormous in comparison to regular vehicles. The sole size of the bus can be enough to crush a car and cause serious injuries. Pedestrians and bicyclists also run the same risk. Of course, the size of the bus would not matter if the impact was not severe. Passengers inside the bus can also sustain the same injuries as they would in regular car accidents. Buses have a fixed number of seats but allow passengers to keep entering the bus after all seats are taken. These passengers ride the bus while standing and holding on to security bars or straps. In sudden stops or sudden starts, the passengers that are standing can fall over and hurt themselves. Even if the passengers are seated, sudden starts and sudden stops can be dangerous. If the bus suddenly stops, seated passengers can hit their heads on a window, a seat, or a safety bar. Additionally, if the passengers are walking down the bus aisle to take a seat and the bus suddenly starts, the passengers can be lounged forward or backward and potentially hurt themselves. Below are all the possible injuries that passengers (and non-passengers) might sustain in a bus accident:
Head injuries and traumatic brain injuries
Broken hip, fractures, and sprains
Neck and back injuries
Whiplash
Spinal cord injuries
Some of these injuries are more serious than others. Some serious injuries can require constant medical attention and follow-up treatment. Medical expenses can become unbearable in some situations. If you were injured in a bus accident and acquired medical expenses, you must contact a qualified Palmdale lawyer experienced in bus accident cases. You might have asked yourself the following questions:
Can I sue if I was injured as a passenger during a sudden stop?
Can I sue if I was injured during a sudden start?
Yes, you can. If you hit your head against a seat and developed a traumatic brain injury, you need to find a Palmdale bus accident lawyer to file an injury lawsuit. If the bus was going too fast and the passenger lost his or her balance and fell, the bus driver and bus company might be held liable. If your loved one died in a bus accident, you can file a wrongful death claim; it was the bus driver and bus company's duty to ensure that your loved one remained safe the entirety of his or her trip. Consult with an expert attorney who has experience in bus accident cases for more assistance.
Normandie Law Firm—Attorneys Experienced in Cases against Bus Companies and Bus Drivers
Normandie Law Firm is a top personal injury law firm 100% dedicated to ensuring that all clients get the compensation they deserve. Our Palmdale lawyers have the expertise in bus accident cases against bus companies and bus drivers necessary to handle your case. If a passenger slipped and fell on the bus, or if the passenger is injured in any other way, Normandie Law Firm is the perfect place to fine a lawyer to sue the bus company and driver responsible. Victims of bus accidents need to file bus accident lawsuits as soon as possible. Some bus companies are publicly owned; therefore, you have a limited amount of time to file a lawsuit. You must contact Normandie Law Firm as soon as possible to prevent losing your right to sue.
Normandie Law Firm puts its clients first. That means that we do everything possible to ensure our client's satisfaction. This includes providing clients with free consultations and free second opinions. Our free consultations ensure that clients can schedule a meeting with an attorney. Sometimes, victims with potential cases shy away from law firms because they think they do not have the means to pay for a legal process. At Normandie Law Firm, clients can come at no cost and ask all of their questions. Our experienced lawyers in Palmdale will do everything possible to ensure that you are given the correct information. We guarantee that by the end of the consultation, you will have a newfound confidence in pursuing a lawsuit.
We also provide clients with free second opinions. If you already have an attorney at another law firm, you might have found that you do not have all the answers you need. If you are searching the internet for more information, that is a sign that your current attorney might have missed key details. Many attorneys rush through cases; they are only interested in increasing their numbers. Because of this, they might neglect some cases and some clients. Do not let the incompetence of your attorney dictate the success of your case. Schedule a free second opinion with Normandie Law Firm today. Our attorneys in Palmdale, California will evaluate your case and get you back on the right track. We promise to prioritize your case and review it multiple times to ensure that we have covered every angle.
Normandie Law Firm offers all clients our famous Zero-Fee guarantee. You will never have to worry about paying any upfront legal fees. Our law firm is strictly contingency-based; you will not pay us anything until we win your case. Contact Normandie Law Firm as soon as possible to schedule your free consultation or free second opinion with one of our attorneys with experience in bus accident cases in Palmdale.