Off-Duty Police Officer Killed in Car Accident 8-23-2017
Modesto Man Kills Off-Duty Police Officer in Car Accident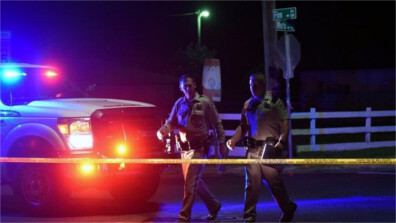 The Modesto community has suffered the loss of a police officer on August 23, 2017. The officer was killed after being struck from behind by a man driving under the influence.
The officer was off-duty at the time and on his bicycle near the intersection of Fine Ave and Merle Ave. A Volkswagen operated by 32-year-old Matthew Gibbs struck the officer's bicycle from the rear, after which the car ended up on the curb, striking a fire hydrant. The officer was pronounced dead at the scene after being hurled from the bike; there has been no information on the exact cause of death.
Upon arriving at the scene, California Highway Patrol members collected a statement from Gibbs. He was said to have displayed impairment and was arrested on suspicion of driving under the influence of drugs or alcohol. Gibbs faces murder charges as well as DUI charges if he is charged.
California Highway Patrol did not identify the deceased. The only information present is that the victim was 38 years old.
Negligent Driving Claim Overview
If you have been injured in a drunk driving accident, you are eligible to file a personal injury claim against the driver. You can file this claim if you have been harmed in any way, including as a pedestrian, bicyclist, or other motorist.
All drivers on the road owe other drivers and pedestrians a duty of care. This is a reasonable safety standard; that is, these drivers are not to operate a vehicle in a negligent manner, which increases the risk of injury of themselves and of others. When this duty is breached by the driver, he can be sued for damages for any injuries he causes as a result of the breach.
Negligent driving examples include driving while under the influence of drugs or alcohol, driving at excessively high speeds, unsafe lane switching and turning, and refusing to pay attention while driving due to distractions like texting or calling.
You can receive compensation for numerous damages arising from a car crash caused by a negligent or drunk driver. Some of these damages include:
Economic Damages: Monetary compensation for anything that has a dollar value to it. If you were injured and required surgery, stitches, medication, or physical therapy, as well as if you will require additional treatment in the future, you can collect restitution for these expenses. Medical bills are expensive, and as a victim, you should not be held responsible for their payments. Further, if your vehicle or other personal belongs were damaged or lost, you can expect a chunk of compensation to go towards fixing the damages or replacing the items. Some items are irreplaceable in sentimental value, of course, but any small amount of restitution helps.
Non-economic Damages: If you suffered any emotional damage in the wake of the accident, you may be able to collect damages for pain and suffering. These damages help you cope with fear, PTSD, anxiety, psychological scarring, and emotional pain; it may be possible that you became depressed after the accident and ensuing medical treatment. Mood disorders stemming from car accidents can be covered in a personal injury claim.
Lost Wages: Some car accidents put you out of commission due to hospitalization, surgery, and recovery time; others damage your vehicle beyond all repair and force you to acquire a new one, often at an exorbitant cost via a temporary lease or rental; and other accidents cause both. Not being able to go to work to earn a living can bring you additional compensation, as you will be unable to pay for anything, including bills and everyday essentials. The responsible party will be able to pay for both lost wages from the past and from the future if it can be proven that you will be out of work for some time.
Punitive Damages: In the case of gross negligence or intention to cause harm, the defendant can be hit with additional punitive damages; this restitution is instituted to bring punishment to the driver in lieu of criminal charges. Some courts see these damages as too much, however, and only the most skillful attorneys will be able to wrest them into the settlement.
The Best in the Business
Normandie Law Firm is here to help you file a personal injury claim against a drunk driver. Whether it's a simple claim of negligence or a more serious wrongful death claim, we are eager to represent you and bring you the settlement you deserve. As a victim, you should not be held responsible for any of your damages, whether medical costs or otherwise; the driver at fault should pay for whatever you need.
Call us today to receive a free legal consultation and one of our attorneys will help you get started on filing a claim. If you have any questions about the legal process, what you can earn as compensation, or what the difference is between civil and criminal cases, you are welcome to ask. We want to make sure you are comfortable and well-informed when you are pursuing legal action.
Further, our firm operates on the principle of a zero fee guarantee – we do not take any money from the pockets of our clients. Any payment we receive after we win your case is taken from the settlement we have won for you; if we lose, you do not owe us anything. We abide by this principle because we do not want you to suffer any other monetary losses and because we feel legal representation should be given to anyone who needs it without worrying about the cost.
If you are a victim of a drunk driving accident, call Normandie Law Firm today to be compensated for your injuries.
Other pages on our site relating to auto accidents:
Modesto car accident lawyer