MTA Bus Accident Florence and Atlantic – Strikes Light Poll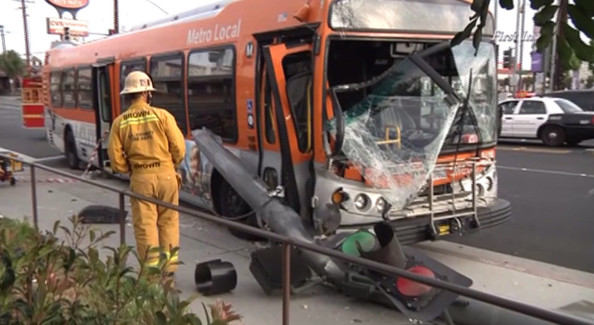 According to recent news reports the accident resulted in at least 14 passengers suffering injuries. The specific cause of the accident has yet to be determined by investigators. The  MTA bus was traveling eastbound on Florence and struck a light pole at the intersection with Atlantic. According to police at the location of the accident at least eight ambulance were called to the scene of the accident.
Bus Operator Liability – California Common Carrier Laws Explained
In the state of California operators of mass transit and public transportation vehicles including bus line operators owe their passengers the highest duty of care to operate their vehicles in a manner that reduced the probability of harm.
Financial Recovery Available for Victims and Their Families
Passengers onboard MTA buses who have suffered physical injuries have the rights to seek financial restitution for all harms suffered. Type harms compensable in bus accident personal injury cases include the following..
All medical costs
All rehabilitation and future medical costs
Loss of work, wages and salaries
Loss of future income
Consult Your Case With Our Attorneys Free of Charge
All legal consultations regarding the filing of a lawsuit for injuries sustained by passengers onboard a public bus line are provide by our legal team free of charge. If you have any legal questions regarding your right to claim compensation for your injuries free to contact our law offices toll free