Motorcyclist Killed in Hit and Run Accident in Winnetka 8-1-2017
Hit-and-Run Driver Leaves Motorcyclist to Die in Winnetka, Wanted by LAPD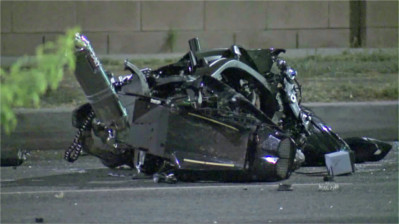 Police have asked the public to help identify the hit-and-run driver who left a motorcyclist to die, after the two were involved in a collision in Winnetka on Tuesday night, August 1, 2017.
The crash occurred at around 8:30 p.m. A black sedan, possibly a BMW with black windows and dark rims, was driving westbound when the car turned left in front of the motorcyclist who was traveling eastbound.
The result of the crash was gruesome. The force of the crash sent the motorcyclist flying into a van, parked on Sherman Way near Oakdale Avenue, and actually broke through the van due to the speed involved in the accident.
The driver monetarily stopped to assess the damage, but neither identified himself nor assisted the motorcyclist before fleeing the scene. The man has been described as an Armenian or Hispanic man in his late 20s or early 30s.
There is a $50,000 reward for any information which leads to the arrest and conviction of the driver.
The Normandie Law Firm
We at the Normandie Law Firm know that traffic accidents can be incredibly traumatic experiences with life-altering consequences. If you were in a car accident and left with bodily injury or property damage, you have the right to file a claim and get the damages to which you are rightfully entitled. "Damages" are monetary compensation which is awarded to the plaintiff for the defendant's wrongdoing – in this case, you would be allotted a certain amount of money if you suffered bodily injury/property damage.
Damages Available to You
Bodily Injury – As a result of the car accident, you may have received bodily injury which required medical attention. You can receive compensation for your medical bills you received because of that bodily injury, as well as any future medical attention you may need to receive because of your injuries.
Loss of Wages – Your injuries may have caused you to miss work, depending on the severity. If you missed work because of your injuries, you can be awarded the amount of money you would have gotten if you had gone to work and had not been involved in the accident.
Property damage – If there was damage to your property as a result of the accident, then you may be entitled to receive damages to help rebuild or replace the property that was damaged in the accident.
Free Consultation with an Attorney
The Normandie Law Firm is here to ensure that you get the right representation and get the maximum amount of damages which you deserve. We can sue all defendants in a personal injury lawsuit or wrongful death lawsuit to make sure the responsible parties are held liable for their misconduct. We offer free consultation and the zero-fee guarantee, which means there's no financial obligation or financial risk on your part! Contact us today to see what we can do for you.