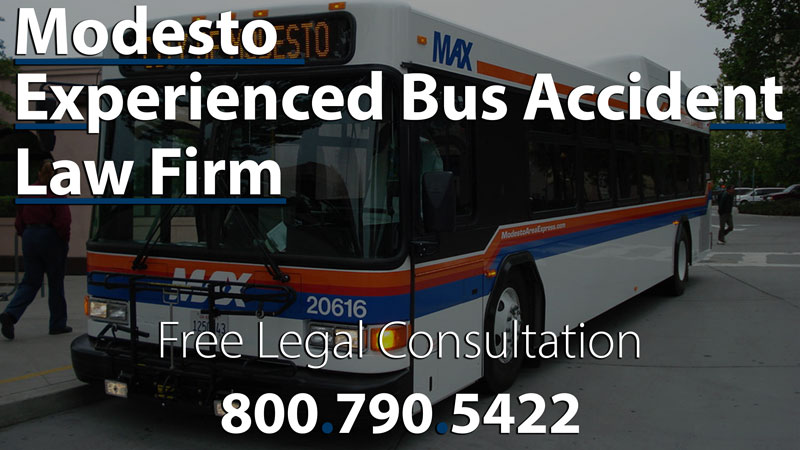 Public transportation is a convenient and cheap way to get from place to place. All motorized vehicles come with the risk of accidents. In comparison to car accidents, bus accidents do not occur very frequently. However, they happen enough to cause concern in the community. Modesto, California has seen a number of bus accidents. These accidents can cause injuries and sometimes even death. In these instances, it is wise to seek the assistance of an experienced attorney. An expert lawyer experienced in bus accident cases at the top-rated Normandie Law Firm can help you earn compensation for your injuries.
Modesto has a few bus transportation options. Some of these options include the Modesto Area Express (MAX), Stanislaus Regional Transit (StaRT), Charter Bus Modesto, and Storer Coachways. These bus companies have the responsibility to do everything possible to keep their passengers safe.
Common Carriers
Buses, like all other means of transportation, are considered to be common carriers. Common carries transport passengers from one point to another in exchange for a monetary fee. Because of this, common carriers are to take extra care in protecting their passengers. All common carriers must do exercise the highest care and diligence to ensure that their passengers are safe throughout their trip. Common carriers should do all of the following:
Ensure the vehicle is safe.
Accommodate passengers when necessary.
Treat all passengers with respect.
Be attentive to all passengers.
Protect passengers from passenger-to-passenger aggression.
Operate the vehicle cautiously.
This also applies to non-passengers. A bus driver must do everything possible to ensure that there are no accidents involving pedestrians, bicyclists, or other drivers.
If Modesto bus drivers have not taken the proper care as common carriers, they might face legal liability. Failure to exercise the high level of care and diligence necessary for passenger safety can result in bus accidents that lead to injuries and even death.
Failure to ensure passenger safety is negligent in part of the bus driver and the bus company. A bus accident attorney in Modesto should be able to help you establish negligence in your case. There are four elements that make up negligence. An accomplished attorney with expertise in bus accident injury lawsuits can help you prove these points on negligence in court. Here is a quick overview:
Duty—the bus driver and bus company, as common carriers, owe a duty to all passengers and non-passengers to do everything necessary to ensure safety.
Breach—the bus driver and the bus company did not do everything possible to ensure passenger and non-passenger safety.
Cause—the breach of duty caused the passenger and non-passenger's injuries.
Harm—the passengers and non-passengers were harmed.
Common Injuries
With any motor-vehicle accident, the risk of injury is great. Buses are often exceptionally large; they carry many people with no seatbelt restraints. This can be a recipe for disaster in the case of an accident. Additionally, the size of the bus is enough to cause a great amount of damage to property, other drivers, pedestrians, and bicyclists.
The type of injury sustained depends on the nature of the incident. Here are a few different scenarios:
The bus was at full capacity; so many passengers are standing in the aisle holding on to the safety bars and safety straps. The bus suddenly stops, and all the passengers that were standing lose their balance and fall over.
The bus makes a scheduled stop to pick up more passengers. Passengers are entering the bus and walking down the aisle looking for seating. Some passengers are still walking down the aisle when the bus suddenly starts. These passengers lose their balance and fall over.
The bus was going too fast, and the passengers were all seated. The bus comes to a sudden stop and then proceeds with sudden acceleration. These passengers experienced abrupt motions.
These three scenarios offer a look into the causes of bus injuries. The falls described above can result in broken hips, sprains and fractures, and back injuries. The abrupt motions in the third scenario can result in whiplash and other neck injuries. Additionally, sudden stops and sudden can lead to head injuries. If you hit your head against a window, a seat, or a safety bar during a sudden stop, you might have sustained a head injury. Head injuries, if left untreated, can develop into traumatic brain injuries and cause long-lasting effects.
Non-passengers who are injured because of a bus accident might also sustain similar injuries. The severity of the injuries will depend on the force of impact; however, if the bus impacts a pedestrian or a bicyclist, it is likely that the injuries are life-threatening.
All injuries sustained after a bus accident can require a substantial amount of medical attention. Medical attention and routine treatment can be costly.
You might be asking yourself these questions:
Can I sue if I was injured as a passenger during a sudden stop?
Can I sue if I was injured during a sudden start?
If a passenger slips and falls on the bus, or suffers any other injury, he or she should contact a law firm as soon as possible to file an injury lawsuit. If a passenger is injured, the bus driver might have been negligent. It is important for passengers to contact a skilled lawyer with experience handling bus accident claims to explore the legal actions that can be taken against the bus driver and the bus company.
Normandie Law Firm in Modesto Can Help You
If you or a loved one were victims of a bus accident in Modesto, you need to speak to an attorney experienced in cases against bus companies. You need legal representation from a law firm with expertise in bus accident cases against the bus company and the bus driver. Normandie Law Firm is a Modesto law firm with experience in bus accident cases. You need to file a bus accident lawsuit as soon as possible. Why hurry? If you were injured on public transportation, you will have a shorter time frame to submit your lawsuit. You have to act as soon as possible to prevent the loss of your suing rights. Normandie Law Firm will provide you with a lawyer to sue the bus driver or the bus company. Whether you are interested in filing a wrongful death claim or an injury claim, we can help you. If you were injured in a bus accident, contact the top Normandie Law Firm and consult with a qualified Modesto injury attorney who has experience in bus accident cases.
FREE LEGAL CONSULTATION: Normandie Law Firm is proud to offer its clients the best legal service available in Modesto. How do we ensure the best service? We offer completely free consultations and free second opinions. Call now and schedule a free consultation. Our experienced lawyers have experience in bus accident injuries; they will answer all of your questions and promptly address all of your concerns. Many of our clients come to initial consultations with pages of questions prepared. Although you do not need to prepare your questions beforehand, writing down the questions you have can help you remember to ask during the consultation. If for some reason you do forget to ask a question, do not worry. Our attorneys are just a phone call away. We will always do everything possible to ensure that you have all the information necessary to understand your case.
You might already have an attorney with another law firm, however. You might be wondering why you would need a second opinion. Well, if you are currently looking for additional information that relates to your case, your attorney might have overlooked something. We are aware that some attorneys tend to rush through cases because they want to increase the total number of cases they sign. When they do this, they risk missing important information and often neglect the case and the client. At Normandie Law Firm, we always put the client first. We will give you and your case all the time necessary to ensure a successful case. We will review everything multiple times to guarantee that we have covered every angle. Do not let an incompetent lawyer ruin the outcome of your case. Contact Normandie Law Firm today and schedule a free second opinion—we will get your case back on the right track.
Normandie Law Firm is fully committed to our clients. We understand the physical and mental strain that injuries can cause on a victim and his or her entire family. Because of this, we offer all clients a Zero-Fee guarantee. We want to minimize your worries; you will never have to think about paying any upfront fees. Normandie Law Firm is strictly based on contingency; therefore, you will not have to pay anything until our trusted lawyers win your case. Contact Normandie Law Firm now and take legal action against the bus driver or bus company that caused your injuries. One of our attorneys with experience in bus accident injury cases will be available to take your call.