Metrolink Train Crash Lawsuit Attorney – Oxnard California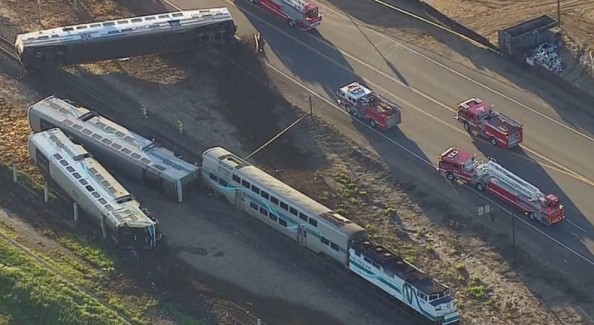 Update: The attorneys from the Normandie law group are currently investigating possible class action and single party claims for passengers on-board the Metrolink train who have suffered injuries in the collision and derailment in Oxnard California. To learn more about our investigation or if you or a loved one have been injured feel free to contact our law offices. All consultations regarding this claim are conducted by our attorneys free of charge.
At least 51 people were injured after a serious collision between a Metrolink train and a truck early Tuesday morning in Oxnard, California.  Oxnard is a town just 75 miles west of Los Angeles.  Exact details of the fiery crash are still unknown, but the accident occurred near the crossing at 5th Street and Rice  Avenue on the Ventura County Line at approximately 5:40 a.m.  The driver of the vehicle has been been arrested on suspicion of a felony hit and run.
The conductor of the Metrolink train spotted the truck stationed on the tracks from a far distance away, but was unable to stop in time, even though he used the train's emergency braking system.  It is reported that the train was traveling roughly 80 miles per hour before he attempted to hit the brakes.
The driver of the truck fled the scene, but was later found by local police officials several miles away.  It is not immediately apparent why the driver stopped his truck on the tracks in front of the moving train or whether he was under the influence of drugs or alcohol at the time of his arrest.
Dozens passengers, including the conductor were aboard the train, and while no fatalities have been reported, injuries ranged from head trauma and brain injuries as well as back and neck damage, multiple fractures, and internal organ damage. Four of the injured passengers are reportedly in critical condition.
This accident is the first since Metrolink introduced new safety standards and protocol following a deadly crash on September 12, 2008 between two trains, resulting in 25 deaths.  The February 24, 2015 crash was perhaps minimized by a crash energy management system put in place.
Recovery Available for Victims: Individuals who have suffered serious injuries due to the negligent or wrongful conduct of others are entitled to compensation for all damages suffered. Specific types of damages compensable in personal injury cases include the following…
All current medical and health related expenses.
All future medical and rehabilitation care.
Lost wages and future loss of income.
Non Economic damages – including pain and suffering, emotional trauma and loss of consortium.
No Cost Legal Consultation Available: Our attorneys are currently investigating lawsuits relating to the injuries resulting from the Metrolink train accident.  If you or a loved one has been hurt, please feel free to contact our personal injury attorneys and speak directly to a lawyer regarding your case.