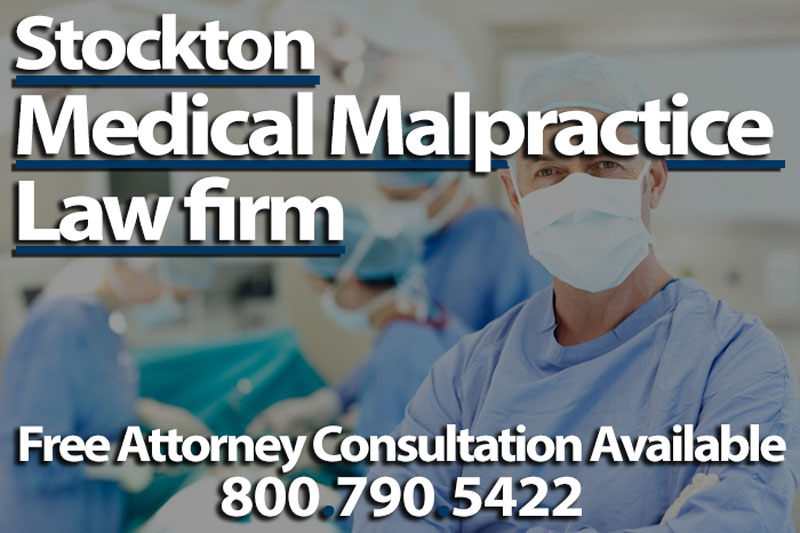 Medical malpractice can occur at any time during the medical process, but many people are unaware of it when it does happen. Likewise, people who suffer from a medical-related pain, misattribute it to medical malpractice, or an error by a medical professional. One of the best ways to know whether you have a medical malpractice lawsuit in your hands is to learn more about what constitutes as medical malpractice and what doesn't. At the top-rated Normandie Law Firm, our experienced lawyers want you to have all of the necessary information so that you may make an informed decision. We want to educate our clients as much as possible about certain areas of the law that are difficult to understand. We want anyone who has suffered pain and damage due to a doctor error to have the ability to receive maximum compensation. If you suffered an injury or pain from a medical error, you need to contact our medical malpractice attorney in Stockton so that we may help you file a lawsuit against them. We get questions regarding medical malpractice every single day, and we are here to answer them. Examples of the questions we receive regarding medical malpractice in Stockton, CA include the following:
Where can I find a Stockton surgical lawyer?
Who are the best Stockton medical malpractice lawyers?
Can I sue the hospital for medical malpractice?
What to Know About Medical Malpractice: The Basics
When you've stripped all of the intricacies of medical malpractice, it occurs when a doctor, nurse, medical staff member, technician, or any other certified healthcare professional, acts in a negligent manner that other individuals in the same or similar field would not have. The negligence which affected your health must have other factors surrounding it before it can legally be labeled as medical malpractice.
In order for something to be properly called medical malpractice, it must meet certain requirements. Similarly, medical malpractice and personal injury claims are not dissimilar in that both feature a care of duty. The crucial difference between the two, of course, involves the relationship between the two parties. Whereas personal injury can occur between two parties that have never once interacted, medical malpractice must be between a patient and a doctor. A medical malpractice claim must have the following in order to be considered medical malpractice under the eyes of the law.
Established relationship between the doctor and patient (or similar healthcare professional). The definition of a "relationship" is defined as the two parties having come to an agreement; the patient may pay the healthcare professional for their services, thus creating a mutual benefit for both individuals. If the doctor only offers their medical opinion and the person walks away with an injury, the doctor cannot be sued for medical malpractice as there was no agreement or relationship was established.
The doctor acted negligently. In order to determine whether or not a doctor acted negligently, other medical experts will need to testify to their knowledge. They will state whether or not the doctor acted in a negligent manner by saying they would have acted similarly if they were placed in a similar position. These opinions display that a competent professional would have done if put in the same position. If the majority of the medical professionals agree that the doctor did not act in accordance with logic or regulation, then you are closer to proving your case. If, however, the majority of doctors agree with the doctor's practice, then there is no case for a medical malpractice claim.
The negligence of the doctor led to an injury. If you are receiving care from a doctor, your health is likely already compromised. Additional injury caused by the doctor's actions would fulfill this third point. A surgical error, botched operation, or incorrect diagnosis could lead the courts to conclude this action as a part of further injury.
Injury caused real physical harm. If there was no real harm done as a result of the surgery, then there can be no lawsuit for medical malpractice. It is necessary for there to have been some injury, or the doctor cannot be sued for negligence. It may seem like the injury itself is the evidence of harm, but with medicine, that is not always the case. For example, a doctor prescribed you the wrong medicine that made you temporarily ill. The temporary effects might be unpleasant, but they are not considered a severe injury.
All four parts of these conditions must be met in order to file a lawsuit against a doctor. If any one of these is not met, then there is no medical malpractice lawsuit. An experienced attorney can help you build your case to ensure that it will not be thrown out. With our law firm, you can receive the compensation you deserve for your medical malpractice injury. Call us today to speak with an expert lawyer experienced in medical malpractice cases.
Medical Malpractice Common Locations
Doctors are not the only ones who are capable of committing a medical malpractice error. Other professionals in other places and positions can be held accountable in the same ways.
Most medical claims occur in the hospital. Common examples of medical malpractice include the following:
Surgery Room – This is where a botched surgery or surgery error is likely to happen. There are many individuals in the operating room, including doctors, nurses, medical technicians, and other hospital staff. The more people that are present in the operation room, the more likely an error is bound to happen. It is possible that the surgeon lacerates the incorrect blood -vessel in the brain during brain surgery and cause brain injury; a nurse may inject an incorrect amount of drugs or medicine into a patient's bloodstream; assistants may not properly sterilize medical equipment that can lead to an infection.
Emergency Room – Due to the chaotic nature of the emergency room, accidents are likely to happen here. Emergency technicians and surgeons are usually racing against the clock and operating on sensitive areas of patients. Some doctors, during the chaos of it all, will make mistakes and some of those mistakes can lead to devastating results. Patients of the emergency room are typically given admissions paperwork that tells them the doctors who are on duty are no official staff of the hospital; as a result, you cannot sue the facility for any medical malpractice. But because the ER lives in a constant state of rush, patients may not be aware of that fact. So, if medical malpractice occurs, the patient can sue the facility.
Specific Treatment Centers – Nurses and other medical professionals are usually present at these facilities. Burn centers, for example, often have many kinds of medication which are administered to victims to help the injuries. If a nurse accidentally gives a patient too much of a certain medicine, they run the risk of that patient overdosing. There are also centers which exist for very specific purposes. For example, endoscopy centers have employees who may harm the throat and intestines of their patients, while physical centers have employee who may cause damage to joints and muscles.
No matter where on your body the injury occurred, you can find a qualified lawyer experienced in medical malpractice claims in Stockton for your pain and pursuance of a lawsuit.
Statute of Limitations
The statute of limitations for filing a medical malpractice claim is different than those processes of personal injury. If you were injured because of your doctor's error, you have exactly one year from the knowledge of the injury to file a claim or one year from when you should have reasonably discovered the injury. If you do not discover the injury within that time, but health issues arise, you have three years to file a claim. However, if there was a foreign object – like a scalpel – left in your body, recent laws state that there exists no time limit.
As one might expect, there are exceptions to these statutes. In the event that a minor is injured due to the healthcare professional's negligence, the statute of limitations will not begin until the minor has turned 18 years of age. His parents or guardians can file a claim on his behalf.
A skilled attorney who has experience in dealing with medical malpractice cases will be able to help you construct the right case and ensure you get the most compensation possible.
Medical Malpractice Lawsuit Compensation
The majority of medical malpractice claims will allow you to recover the costs of the medical bills associated with the malpractice treatment. There is generally no compensation to cover the costs of property damage as it is your corporeal body on which they are performing surgery and other treatment.
Medical Bills: You can receive necessary compensation to recoup the costs you acquire during your stay at the hospital. This can include the cost of the surgery, medication fees, hospitalization, and more. You may also be covered for past bills and future medical bills if the new injuries require you to get treatment all over again. There is no upper limit for this kind of compensation; you can earn as much as the treatment cost.
Lost Wages: You may have spent time away from work due to your injuries and will need to spend time away in the future. You can be reimbursed for the wages you lost during your recovery time or the time you needed to spend at the hospital. You can be reimbursed for lost income that took place in the past and will take place in the future.
Pain and Suffering: You can recover compensation for your pain and suffering, but here is a limit as to how much you can win: That amount being $250,000. This cutoff was put into place by MIRCA. A mental health expert will need to testify on your behalf to prove that your mental health did suffer.
The Normandie Law Firm
If you live in Stockton, CA, and suffered from a medical malpractice injury, you don't have to look any further. Our California law firm is here for you. Our accomplished attorneys with experience in medical malpractice cases will get you the maximum possible compensation for your damages which you sustained at the hospital. We can help you file the necessary lawsuit and gather all of the evidence you need. Our experienced lawyers are here for you and will not rest until you have been awarded the necessary compensation.
FREE LEGAL CONSULTATION: Call us today to receive a free legal consultation about your case. An attorney with expertise in medical malpractice injury lawsuits will talk you through the legal process and answer any questions you have. You will be told what we believe we can earn for you and what we will need in order to emerge victoriously.
All of our clients are given a zero fee guarantee when they hire us for legal representation. This means you are promised to not pay any out of pocket expenses at all throughout the litigation process. If we win your case, our fees come from the settlement itself; the defendant, therefore, pays your attorney's costs. If we lose, you do not owe us a nickel. We do this to guarantee that your financial security is kept stable.
To speak to one of our top professional medical negligence attorneys, contact Normandie Law Firm right away.
List of Major Hospitals in Stockton
St. Joseph's Medical Center
Dameron Hospital
San Joaquin County Mental Health
San Joaquin General Hospital
Ambulatory Surgery Center of Stockton
FURTHER INFORMATION: