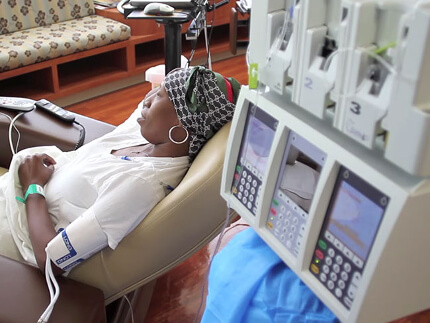 What is ovarian cancer? Cancer of the ovaries is a type of cancer that starts in the ovaries. Given that it starts in the ovaries, this type of cancer is confined to women. This year, ovarian cancer is projected to be diagnosed in more than 22,000 women. Likewise, approximately 14,000 women are expected to lose their life to ovarian cancer. The five-year survival rate of women diagnosed with ovarian cancer is slightly under 50%; this expected survival rate increases with early intervention.
Ovarian cancer has symptoms that can be confused with less serious conditions. Because of that, cancer of the ovaries often goes undiagnosed or misdiagnosed. If you seek medical attention for symptoms and your concerns were ignored, you likely missed the opportunity for treatment of early-stage cancer. If your symptoms worsened and you were later diagnosed with an advanced stage of ovarian cancer, you might have been the victim of medical negligence. If a doctor's negligence led to your condition worsening or to the death of your loved one, you need to immediately contact an ovarian cancer misdiagnosis lawyer. You might have grounds to file a claim for ovarian cancer misdiagnosis.
If the negligence of a medical professional led to your undiagnosed or misdiagnosed condition worsening, you need to contact an ovarian cancer misdiagnosis lawyer. If negligence left your loved one without treatment and he or she died, you can sue the doctor for wrongful death. You have rights—and our law firm will help you fight for your rights. Normandie Law Firm is a law firm experienced in ovarian cancer misdiagnosis lawsuits. Our attorneys have handled many cancer misdiagnosis claims and have thorough experience in claims for the missed diagnosis of ovarian cancer. Our law firm can help you no matter where in California you were affected. Our law firm practices in Fresno, Bakersfield, Kern County, Modesto, Lancaster, Palmdale, Victorville, Riverside, Corona, San Bernardino, Fontana, and Orange County. If you are unsure about whether our firm can help you in your area, you must immediately contact us to verify.
Many people think that they cannot file a claim against a doctor. People also believe that they cannot sue the hospital in which they were affected. Our law firm has proved time and time again that doctors and hospitals are not above the law. Our attorneys will help you sue the doctor or hospital for medical negligence. Our attorneys can help you file claims against the following hospitals:
Cedars Sinai Medical Center
Children Hospital of Los Angeles
Community Regional Medical Center-Fresno
Fairview Developmental Center
Huntington Memorial Hospital
John Muir Medical Center
Kaiser Foundation Hospital-Fontana
LAC/USC Medical Center
Laguna Honda Hospital and Rehabilitation Center
Lanterman Developmental Center
Loma Linda University Medical Center
Methodist Hospital of Southern California
Porterville Developmental Center
San Francisco General Hospital
Santa Clara Valley Medical Center
Sharp Memorial Hospital
Sonoma Developmental Center
Stanford Hospital
UCSF Medical Center
University of California Davis Medical Center
Our experienced ovary cancer misdiagnosis attorneys will not hesitate to file a claim against an oncologist or against Kaiser Permanente. We will sue the doctor or hospital that negligently misdiagnosed your ovarian cancer. You must immediately contact our law firm to start your medical malpractice lawsuit for not detecting cancer of the ovaries.
Symptoms of Ovarian Cancer
Why does ovarian cancer often go misdiagnosed or undiagnosed? The signs and symptoms associated with ovarian cancer can be confused with a variety of other less-serious conditions. The symptoms of ovarian cancer include bloating, urgent or frequent urinary symptoms, pelvic or abdominal pain, and trouble eating. Other symptoms include abdominal swelling, weight loss, menstrual changes, constipation, back pain, upset stomach, and fatigue. Although women can have the symptoms mentioned above for a variety of reasons, the symptoms should raise concern when they are persistent.
Was My Doctor Negligent?
Did you seek medical assistance for symptoms similar to those mentioned above? Did your doctor disregard your concerns and send you home without a diagnosis? Did your doctor fail to take the proper measures to evaluate your health? Doctors have a duty of care to their patients; they must do everything to ensure that they receive the care and treatment necessary to maintain their health. When doctors fail to conduct tests, they cannot treat an ill patient.
What would a doctor practicing reasonable care do? If a patient complained about symptoms associated with ovarian cancer, a doctor practicing reasonable care would conduct a physical exam or a pelvic exam. If initial exams seem abnormal, a doctor practicing their duty of care would order a series of tests, such as imaging tests, ultrasounds, and CT scans. MRI scans, chest x-rays, and PET scans might also be conducted. Doctors might order a laparoscopy, colonoscopy, or biopsy if other tests show signs of cancer.
If your doctor did not offer screening exams or thorough testing to determine the cause of your symptoms, you have likely continued to experience your symptoms without any treatment. In ovarian cancer, like all other cancers, detecting and treating cancer as soon as possible is essential to survival. If there is a delay in the diagnosis of colon cancer, the patient can be seriously affected. You must immediately contact our attorneys to file a claim for medical negligence.
Compensation Available for Your Claim
What compensation might you be eligible to recover if you file a claim for failure to detect ovary cancer? There are many types of compensation that might apply to your claim. Below, you will find a list of the compensation that might apply to your claim:
Medical expenses—if your misdiagnosis resulted in medical expenses, like constant visits to the emergency room for severe symptoms, you might be eligible to receive compensation.
Lost income—if you lost income because you were too sick to work or because you had to care for someone who was sick, you might be eligible to receive compensation for lost income.
Funeral and burial costs—if a misdiagnosis resulted in the death of your loved one, you might be eligible to receive compensation for funeral and burial costs.
Pain and suffering—dealing with the misdiagnosis or delayed diagnosis of ovarian cancer can result in mental and emotional distress. If you suffered depression, anxiety, or post-traumatic stress because of a delayed or missed diagnosis, you might be compensated for pain and suffering.
Loss of consortium—if the misdiagnosis of ovarian cancer results in death, surviving family members might be eligible to receive compensation for loss of consortium. If the misdiagnosis deprived you of a normal, loving relationship with your loved one, you might receive this compensation.
Punitive damages—if the negligence resulted in malicious and intentional harm to the patient, punitive damages might be applied. Punitive damages are designed to punish the defendant and try to prevent the negligence from reoccurring.
The categories of compensation listed above can apply to your claim depending on specific details of your claim. You must immediately speak to an experienced ovary cancer attorney for additional information on the type and amount of compensation you might be eligible to receive.
Normandie Law Firm
If there was a delay in diagnosing ovarian cancer, you were likely a victim of medical malpractice. Unfortunately, many people are affected by the failure to diagnose ovarian cancer. When they present symptoms, medical professionals disregard them and fail to conduct the proper tests to make a diagnosis. Because of this, those suffering from ovarian cancer do not get the treatment they need, and their cancer grows and spreads throughout their body. If you or a loved one were affected by misdiagnoses, you must immediately contact a lawyer to sue a doctor for failure to diagnose ovarian cancer. The lawyers at Normandie Law Firm can help you file a claim against the doctor or hospital responsible.
Our law firm offers free consultations and free second opinions to ensure that our legal services are accessible to every victim of ovarian cancer misdiagnosis. Many people fail to get the information they need to understand their legal situation and take action. This inactivity is due to the belief that legal assistance is inaccessible and expensive. Our free consultations and free second opinions have allowed many clients to contact our law firm without ever having to worry about paying any fees. During our free consultations, our attorneys are available to answer all questions and address all concerns. We guarantee that you will receive all the information necessary to have a thorough understanding of your claim. During our free second opinions, our attorneys will review your claim and give you all the information that your previous incompetent attorney overlooked or neglected. Our experienced attorneys will get your claim back on the right track. To schedule a free consultation or free second opinion, you must immediately contact our firm; a helpful member of our legal team will guide you and set up an appointment for you to visit our law firm and speak to a lawyer with experience in wrongful ovarian cancer diagnosis.
Our free consultations and free second opinions are available through Normandie Law Firm's Zero-Fee guarantee. Our guarantee ensures that our clients never have to worry about paying any upfront fees for our legal services. Our law firm is also strictly based on contingency. Our contingency-based ensures that our clients do not have to pay any legal fees until our attorneys win their lawsuit. If your claim is not successful, you will not be required to pay any legal fees. Do not hesitate to contact our law firm—our attorneys will fight for your rights.