Mayweather McGregor Pay Per View Class Action Lawsuit 8-26-2017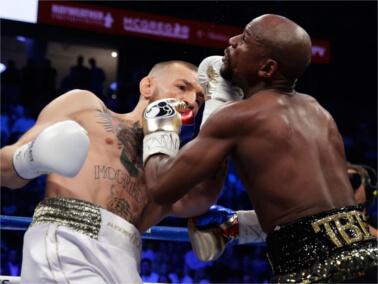 On August 26, 2017, one of the most anticipated fights in combat sports history occurred in Las Vegas, Nevada: a boxing bout between Floyd Mayweather, world-renowned defensive genius and holder of a perfect, record-tying 49-0 record, and Conor McGregor, two-weight UFC champion.
The bout was scheduled to occur shortly after 11 p.m. Eastern Standard Time, but Showtime, the boxing promotion that was airing the bout, delayed it so that some issues could be resolved.
The pay per view system was not working properly from both Showtime's servers and the UFC's servers. There were complaints of poor volume or no volume at all, constant buffering, and, at times, no live feed whatsoever. After a 45 minute delay, the two fighters finally squared off, but many customers still found their PPVs to be broken or poor quality.
Customers paid $99 for the PPV, which was a cut above the usual $60 both boxing and UFC fans generally pay for events. Needless to say, customers were very disappointed with the delivery of the product they purchased.
A wide array of questions were asked in the wake of the PPV, such as:
Can I sue if I was unable to watch the Mayweather v. McGregor fight?
Can I sue if I could not watch the Mayweather fight?
Can I sue Showtime or the PPV company?
Can I sue the Pay Per View company if I was unable to watch the McGregor fight on Pay-per view?
Where can I find a McGregor Mayweather PPV lawsuit attorney?
Because of this widespread problem with the PPVs, you could participate in a class action lawsuit against Showtime and the UFC. Already, people are clamoring for Mayweather McGregor Pay Per View lawsuit attorneys.
You stand to get your money back as well as a little extra, given that those in charge decided to go ahead with airing the PPV despite knowing that its servers would be unable to handle the load. It has been stated that the defendant, Showtime, "intentionally misrepresented the quality and grade of video consumers would see using its app, and knowingly failed to disclose that its system was defective with respect to the amount of bandwidth available, and that defendant's service would materially fail to conform to the quality of HD video defendant promised." That is, Showtime knew it was selling a faulty product, and did not try to correct the issue ahead of time.
If you watched the fight and require a Mayweather McGregor class action lawsuit attorney, call Normandie Law Firm today. We can help you get started in becoming a part of a class action lawsuit against Showtime so that you can earn your money back and collect statutory damages.
For more information, contact Normandie Law Firm in Los Angeles and you will receive a free legal consultation. We will explain the ins and outs of a class action lawsuit, what you stand to gain, and how long the process can last. We are committed to bringing our clients fair compensation for not receiving a proper service after paying a large sum for it.