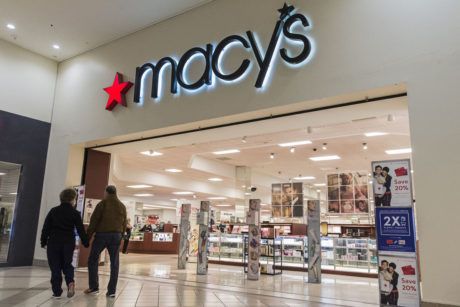 If you were the victim of a slip and fall accident at your local Macy's store, you might be wondering whether or not you have rights as a customer. You likely have asked yourself the following questions:
How can I sue Macy's for a slip and fall injury?
What is the best way to file a trip and fall claim against Macy's stores?
The following sections will focus on answering the questions listed above as well as other questions that our law firm is frequently asked. Although we expect that you gather helpful information from the following sections, you should not use the information to substitute a meeting with an expert slip and fall attorney with experience in Macy's personal injury claims. Contact Normandie Law Firm as soon as possible to begin your legal process against Macy's.
Macy's Liability for Shopper Injuries
Is Macy's liable for shopper accidents and injuries? According to premise liability—a policy that states that stores are responsible for maintaining a hazard-free property to ensure customer safety—Macy's can be found liable for shopper injuries. Based on premise liability, managers and employees must take reasonable care to ensure that customers are not involved in accidents. What is considered reasonable care in this situation? Managers and employees must clean floors, keep floors free of spills or obstructions, for example. If managers and employees were aware that there was a spill near the restroom but failed to go clean it, they can be found negligent if a shopper suffers an injury. What is negligence? Negligence is a four-part concept that includes duty, breach, cause, and farm. Premise liability establishes the duty that managers and employees must exercise to ensure customer safety. For more information on Macy's liability and negligence, contact a slip and fall injury attorney at Normandie Law Firm.
Common Injuries Sustained in Slip and Fall Accidents
Slip and falls are the leading cause of injuries. The injuries sustained by the victims of slip and fall accidents are often similar. Although the cause and location of the slip and fall accident might differ, the type of injuries sustained remain similar. Below is a list of the most common injuries sustained in slip and fall accidents:
Head and traumatic brain injuries
Shoulder and hip injuries
Back and neck injuries
Spinal cord injuries
Scrapes and bruises
Regardless if the accident occurs on Macy's parking lots and sidewalks or their restrooms, the injuries sustained will be just as serious. If you require medical attention, you should keep a record of all of the medical expenses you acquire related to your injury.
Risks You Might Encounter at Macy's
When you enter a Macy's store, do you consider the possibility of having an accident and suffering an injury before you are done shopping? Most people are not aware of the dangers that they might find inside stores like Macy's. You might experience any of the following at any time during your shopping trip:
Slip and falls at Macy's entrances and exits
Slip and falls in Macy's parking lots and sidewalks
Slip and falls in Macy's store bathrooms
Slip and falls in Macys dressing rooms
Slip and falls in Macy's's electronics department
Slip and falls in Macy's's grocery section
Slip and falls in Macy's's home and housewares department
Slip and falls near food vendors inside Macy's
If there is anything on the ground—practically anywhere on the store's property—you might be the victim of a slip and fall accident. What do you do after falling on the ground? After Macy's slip and fall accidents, clients should primarily seek medical attention followed by legal assistance. An injured customer can sue for his or her injuries no matter where in the property the accident occurred.
Things that Can Help Macy's Personal Injury Claims
If you experienced a slip and fall at a Macy's store, there are a few things you can do to get a head start on your Macy's personal injury claim. If you have an accident and are injured at Macy's, the first you should do is get the attention of a store manager or an employee. Besides having to acknowledge your accident, someone with authority in the store—preferably a manager—should make a written report of your accident. You should request a copy of the report. You should also take pictures or video of the scene of your accident. Make sure the picture or video emphasizes the cause of your fall—if you slipped on water, take a picture of the water on the floor; if you tripped over a misplaced mat, take a picture of the mat. The same applies if your accident was out on the store's sidewalk or parking lot—take pictures that would serve as evidence against the store. Take the pictures as soon as possible, before someone alters the scene. It is important that you hurry to take the pictures before an employee cleans up the spill that you slipped on or removes the hazard. Although outdoor hazards might be more difficult to instantly removed, stores can fix potholes and cracks as soon as the next day. If there were any witnesses to your accident, try to take down their contact information.
As soon as you can, you should schedule a consultation with a Macy's injury attorney with experience filing slip and fall lawsuits. You should provide the report and the photographs or videos you gathered as well as the witness information. Your attorney might need to see the store's surveillance footage from the day of your accident. He or she should make that request directly to the store.
Past Settlements and Verdicts
If you have considered hiring lawyers who sue Macy's to represent you, you might have already thought about common Macy's settlements and verdicts. Below are a few examples of past settlements and verdicts:
$350,000—the victim fell and suffered facial injuries that included fractures, nerve damage, and post-concussive disorder.
$265,000—the victim slipped and fell due to a poorly-maintained aisle floor. The victim suffered knee injuries that required surgery.
$1.5 million—the victim slipped and fell after stepping into a spilled liquid in a store. The victim suffered a fractured femur, resulting in multiple surgeries and permanent damage.
As you can see, possible settlement and verdict amount vary. The worth of your case will depend on the severity and permanency of your injuries, as well as on how the injuries effect your life. To get an estimated case value, you must contact Normandie Law Firm's lawyers in Los Angeles. Only attorneys experienced in Macy's slip and falls will be able to give you an estimated value upon evaluation of your case.
Normandie Law Firm
Normandie Law Firm is a personal injury law firm dedicated to helping the victims that suffer slip and fall accidents at stores like Macy's. Our law firm wants clients to defend their rights as customers, and inform customers of the duty that stores have towards them. The sections above should have given you information on how to file a slip and fall claim against Macy's, how to sue Macy's for a slip and fall accident, how to file a trip and fall lawsuit against Macy's, and how to sue Macy's for personal injury. It is likely that you still have questions specific to your case. To get answers to those questions, contact Normandie Law Firm and schedule an appointment to meet with one of our attorneys that can sue Macy's.
Normandie Law Firm aims to facilitate the process of filing your Macy's accident claims after experiencing a Macy's parking lot accident or an accident in Macy's bathrooms. Wherever the location, our law firm is ready to support you and help you file your Macy's slip and fall claim. How do we facilitate the process? Our law firm provides free consultations and free second opinions to injured shoppers. What should you expect from your free consultation or free second opinion? During your free consultation, our attorneys who sue Macy's will answer all of your questions and address all of your concerns. Our Los Angeles attorneys will explain the process of suing Macy's and filing your Macy's personal injury claims. We guarantee that you will leave your free consultation feeling confident in the process. If you already have an attorney, you might still be interested in a free second opinion. Do you feel like you need additional information even after you met with your attorney? Do you think your attorney left key details out during your consultation? If you are currently looking for additional information to fill in informational gaps left by your attorney, you should take that as a sign that an incompetent attorney is handling your case. Many attorneys rush through cases and consultations to increase their numbers. Although their numbers increase, they sometimes fail to properly evaluate cases and often overlook and neglect information that—when left out—can negatively affect the outcome of your case. Do not take the risk of proceeding legally without all the information you need. Contact Normandie Law Firm to get your trip and fall lawsuit back on the right track.
Normandie Law Firm's free consultations and free second opinions are a part of a Zero-Fee guarantee that ensures that clients never have to worry about paying any upfront fees for any of our legal services. Since our law firm is strictly based on contingency, clients will not have to pay anything until our lawyers with experience in handling Macy's slip and fall lawsuits win their case. Contact Normandie Law Firm today to begin your slip and fall lawsuit.