Macy's Recalls Defective Martha Stewart Whiteware Cake Knife and Server Sets for Cutting Users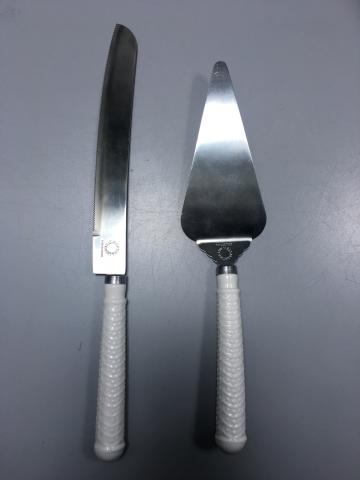 Name of product: Martha Stewart Collection Whiteware cake knife and server sets
Hazard: Handles on knife and server can break while in use, posing a serious laceration hazard
Remedy: Refund
Recall Date: October 13, 2017
Recall Number: 18-008
Description: This is a recall for the Macy's Martha Stewart Collection Whiteware cake knife and server set. This set includes a knife and cake server, each measuring at about 11 inches long. Both the knife and cake server have a white, texturized ceramic handle. "Martha Stewart Collection" is embossed on the metal where the blades meet the handles. UPC Code: 60835693330 and Product ID PRCDCKSRVR are printed on the product packaging.
Remedy: Consumers should stop using the recalled cake knife and server sets and contact Macy's for a full refund. Consumers who purchased the product from a Macy's retail store should return the product to a Macy's retail store for a refund of the purchase. Consumers who purchased the product online at www.macys.com should return the product to the previously mentioned website, for a refund of the purchase price. Consumers who purchased the product from a Military Exchange should return the product to the Military Exchange for a refund of the purchase price.
Incidents/Injuries: Four reports have been made to Macy's about the handles on the knives and server breaking, resulting in laceration injuries, including cuts that required stitches.
Sold At: Macy's stores nationwide and online, and at Military Exchanges between January 2014 and July 2017 for about $25 at Macy's and $15 at Military Exchanges.
Importer(s): Macy's Merchandising Group, Inc. New York
Manufactured In: China
Units: About 18,900
How Normandie Law Firm Can Help
If you have purchased this product we recommend that you send a report to receive a full refund of your purchase. We also recommend that you act immediately as this product can cause serious bodily injury. If you or a loved one has already suffered damages as the result of this product then you may be eligible to file a product liability lawsuit and collect proper monetary compensation. If you file a claim with us you could find some, if not all, of these following expenses compensable:
All of you medical and hospitalization costs
All of your future medical care and treatment
A loss of income and loss of future earnings due to long-term recovery or permanent disability due to the accident
Compensable economic damages include loss of property or damaged property.
Compensable non-economic damages include emotional distress, trauma, PTSD resulting from the accident, pain and suffering and anxiety.
Victims of this recall or recalls similar to this one can contact our law offices to learn more about how to receive compensation for their injuries. Our team of product liability attorneys is committed to ensuring that our clients receive proper representation for their claims.
FREE LEGAL CONSULTATION: As a display of our commitment, every one of our clients will receive the benefits of our zero fee guarantee policy. Under this zero fee policy, all you don't pay for our services until we follow through with our promise and win your case.  If you feel in need of a second opinion, second opinion case reviews are also free under this policy. So, give us a call, and let us fight your case, so you don't have to.