School Bus Accident Lawyer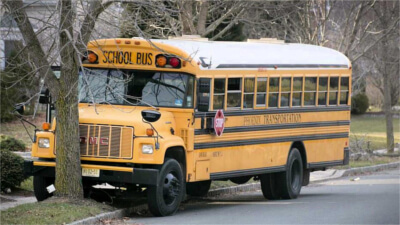 School buses are expected to be safe ways of transit for students and children from the very young to the 'to-be' adults. When this expectation of safety is failed, and a student or child is injured as a result of a school bus accident, a lawsuit can be filed to sue the city, school, or driver responsible for the damages. At the top-rated Normandie Law Firm, our expert school bus accident attorneys can represent you in court and help you earn the compensation that you deserve. If you have any questions after reading this article, please feel free to contact our law offices for a free consultation. An accomplished lawyer with experience handling school bus accident claims can discuss your case with you.
School Buses and School Bus Accidents
School buses are considered to be the safest way for a child to get to school. However, accidents can still occur and sometimes the injuries from these accidents can be fatal. These accidents are not limited to bus crashes, but can also involve injuries from accidents like slip and fall incidents and be struck by the bust while boarding. Listed below are some common causes of school bus accidents that it may help to be aware of:
Driver Distraction: Driver distraction can occur due to a multitude of reasons. However, because school bus drivers often carry dozens of passengers, it is likely that they can experience a wide number of distractions.
Driver Fatigue: Often school bus drivers are expected to begin their route early in the morning. When a driver does not receive adequate sleep, they can make mistakes. Accidents can occur when a tired driver fails to check for blind spots, goes too fast, takes a turn too sharply or fails to observe any other rule of the road.
Mechanical Errors: There are incidents where a school bus crash occurs beyond the fault of the driver. Buses are expected to undergo regular maintenance to ensure optimum safety. However, when mistakes in inspections occur, a school bus may experience a mechanical failure that may result in a severe accident.
Other Driver Errors: Bus drivers share the road just like everyone else, and just like everyone else are susceptible to the faults of other drivers. School buses usually endure limited damage during collisions with smaller vehicles, but the bus passengers can still experience severe damage as they are more than likely not going to have seat belts on board.
While school buses are considered safer alternatives for student transit, they are susceptible to accidents just like any other vehicle on the road. When these accidents occur, the passengers of school buses are exposed to high impacts due to the fact that most school buses lack seat belts to hinder injury. Listed below are some of the common injuries a student or child can endure during a school bus accident.
Head Injuries
Neck Injuries
Back Injuries
Chest Injuries
Emotional Distress
Death
These are just a handful of the injuries a student or child can experience while on a school bus during an accident. Often, severe injuries require extensive hospital care, as well as leave the victim with damages that can last a lifetime. When these incidents occur, the injured party has every right to pursue legal action against the party responsible for their damages, whether it is school bus driver, school district, or another driver on the road. When pursuing legal action, it is highly recommended that you seek the assistance of a qualified school bus accident injury lawyer. A skilled attorney can help ensure that you receive all the compensation you deserve for your damages.
Filing a Lawsuit for Bus Accidents
Filing a lawsuit for a school bus accident can be incredibly complicated. In most cases, there are multiple victims involved, and as such may require a thorough investigation to determine who can be held liable for the damages. There are a lot of factors at play in school bus accidents. For instance, most school buses have seat belts, while others don't. In other cases, a poorly designed or placed bus stop may be responsible for the accident. Or, if the school bus is owned and operated by a public school district, a lawsuit will need to be filed against a government body, which involves a vastly different set of rules and regulations. Further information can be found by calling one of our attorneys with experience in school bus accident cases. To assist you in eventually filing your lawsuit and determining liability bulleted below is a list of parties who can be held responsible for your school bus accident injury:
School bus driver
School district
Private school
Church or other organization that owns and operates the bus
School bus manufacturer
School bus components manufacturer
Driver of another vehicle
The third party contracted to repair and maintain the bus
Government entity responsible for the design of the road, construction, and maintenance
Regardless of which party is at fault in your bus accident case, it is more than likely that you will have to prove the negligence or fault of the party that you have deemed responsible. School bus drivers and those who own them are expected to upkeep a level of safety for their passengers. When this level of safety is neglected, then a lawsuit can be filed against them. Proving fault can be incredibly complex and will require a detailed examination of the crash scene, testimony from eyewitnesses, and an investigation of the bus video cameras and bus GPS systems. Listed below are three questions that you should ask yourself before pursuing legal action for the damages. An expert attorney who has experience in school bus accident cases:
Who was at fault: To file any personal injury lawsuit determining fault is key. The fault of an accident can change the context of an entire lawsuit, and can directly determine the amount of compensation that you could receive
Was the bus driver an 'agent' of the school: In filing a lawsuit for a school bus accident, it is important to identify whether the driver was employed by the school. In some cases the answer for this isn't so clear, for this reason, it is incredibly important that you employ the assistance of a personal injury lawyer
Are you following the proper procedures to sue: Every lawsuit is filed under specific guidelines and limitations. When these limitations and guidelines are broken there is a chance that your case can be thrown out of court. The best way to determine these guidelines is to employ the assistance of an attorney.
Our experienced lawyers can help you file a lawsuit for the following school districts if you or your child was injured:
Los Angeles Unified School District
San Diego School District
Long Beach Unified School District
Fresno Unified School Districtd
Santa Ana Unified School District
San Fransisco Unified School District
Oakland Unified School District
Sacramento Unified School District
San Bernardino Unified School District
San Juan Unified School District
Beverly Hills Unified School District
Irvine Unified School District
Anaheim Unified School District
Ontario Unified School District
Alameda Unified School District Glendale
Bakersfield Unified School District
Santa Monica Unified School District
Culver City Unified School District
How Normandie Law Firm Can Help
Having an attorney with expertise in school bus injury lawsuits on your side can mean the difference between filing a successful claim for compensation and having your case dismissed in court. If you or a loved one has suffered any injuries as a result of a school bus accident, then you may be entitled to monetary compensation for all the damages that you have suffered. If you file a claim with our top Los Angeles law firm you could find some, if not all, of these following expenses compensable:
All medical expenses
Loss of Income
Loss of Potential Future Income
Emotional Damages (stress, anxiety, PTSD, etc…)
Punitive Damages (which are hard to acquire, as most juries view them as harsh punishments; only a lawyer experienced in school bus accident cases will be able to win them)
Victims of school bus accidents one can contact our law offices to learn more about how to receive compensation for their injuries. Our Los Angeles school bus injury attorneys are committed to ensuring every one of our clients has the resources to put up a fair fight for their case. As a show this commitment to you and your case we offer our clients the benefits of a zero fee guarantee policy. Under our zero fee policy, all clients don't pay for our services until their case is won. Our attorneys work exclusively on contingency. Also, if you already have an attorney and you are in need of a second opinion, second opinion case reviews are also free under this policy.
Free Consultations
Our firm is always ready to provide a free consultation and free case review to anyone who believes they have a legitimate lawsuit against any party. Call us today to speak with an experienced attorney.