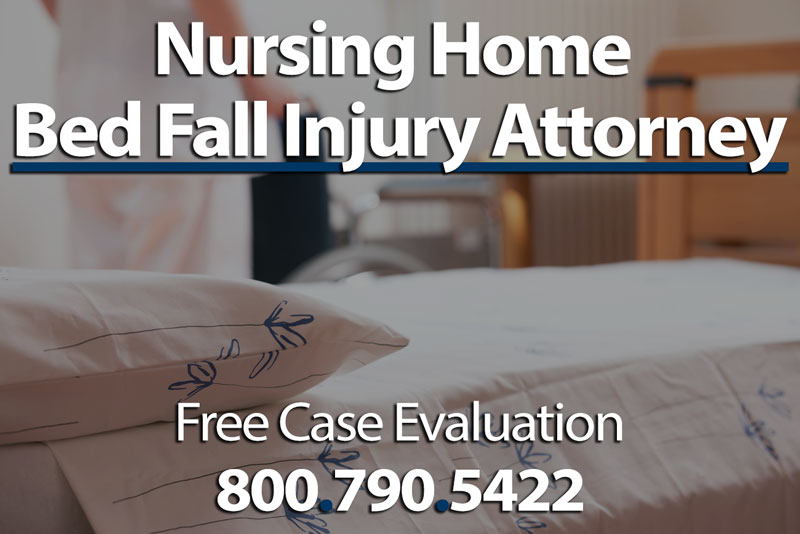 Suing Nursing Home for Resident Bed Fall
The residents of nursing homes are often older individuals who lack the ability to care for themselves. With the help of well trained 24-hour staff, these residents can live fulfilling lives and can be free from the worry of having to care for themselves. However, accidents happen, and when they occur at a nursing home, it is often difficult for the resident and the resident's family to determine who may or may not be liable for the damages. At our top-rated law group, Normandie Law Firm, our qualified team of well-practiced Los Angeles personal injury attorneys can assist you in discerning the ins and outs of your case, as well as help you file your claim against the party responsible. If our attorneys discover that the nursing home is at fault for the injuries, we can assist you in suing the nursing home for the bed fall injury. Contact our law offices today, and you can receive a free consultation. An expert attorney who has experience in nursing home injury cases can give you more information.
Nursing Homes & Their Duties
Nursing homes are often private institutions that provide residential accommodations for individuals who require 24-hour care but do not need to be hospitalized. A wide majority of nursing home residents are older adults, who cannot take care of themselves and can't be cared for at home. Nursing homes tend to vary in nature and scope, but almost all of them are set up like hospitals. The nursing home staff is expected to provide medical care, as well as physical, speech, and occupational therapy. Often nursing homes attempt to feel as close to home as possible, while also still offering all the support a traditional hospital may have. There are also nursing homes that have special care units for individuals with severe memory problems such as Alzheimer's Disease. The staff of nursing homes is often expected to develop a friendly relationship with the residents.
All nursing facilities are held to a standard of care wherein nursing staff are expected to properly assess the health and needs of each resident under their care. They are also expected to create and follow a specialized care plan for each of their residents that will adequately protect their health and safety. These resident care plans should include a complete evaluation of a specific resident's condition and any health issues they may have. Some of these possible health issues are as follows:
A loss of strength and balance
Any prescribed medications that cause dizziness, drowsiness, or a poor reaction time
Dementia
Impaired vision
Limited mobility
This care plan also should include a full inventory of all the assistive equipment necessary to provide care for their particular resident. This equipment is often used to prevent falls which can lead to severe and prolonged injury. Some of this equipment can include:
Walkers and other similar mobility equipment
Assessment of safe height for beds, chairs, and toilets
The positioning of grab bars and rails
Cushioned surfaces
Nursing home staff are held to a similar legal agreement that other medical professionals are held to. This agreement is called the 'duty of care.' The duty of care essentially states that the nursing home staff have a responsibility to provide their students with a level of reasonable care. This duty includes protecting residents and providing them with a safe environment. If a nursing home does not uphold this duty of care, the victim has a right to retain legal consultation to assist in suing the nursing home for damages. If you or a loved one has experienced damages due to the negligence of nursing home staff to appropriately prevent bed fall injury, one of our skilled attorneys with experience handling nursing home injury claims can assist you in filing a lawsuit.
Nursing Home Liability
Determining whether a nursing home is liable can sometimes be a challenging endeavor. Not every damaging fall a resident endures can be preventable. Accidents can happen even while the duty of care is upheld, and when they do the nursing home and its staff cannot be held liable for the damages. However, if a care facility or one of its staff members act negligently, or fails to take the appropriate steps to prevent an injury, the facility can be held liable. Below is a list of some examples that could likely lead to a successful case for liability.
If nursing home staff fails to create and develop an adequate care plan for the resident's condition and needs.
A failure to install proper railing
A resident is not regularly assessed to modify aspects of said resident's care plan
A failure to provide care that follows an individualized care plan
The use of improper care techniques.
Unqualified nursing home staff, or inadequate staff training
A lack of proper staffing, leading to inadequate care
A failure to follow protocols of the facility
A failure to watch and fix environmental hazards within the facility (wet floors, inadequate lighting, defective flooring for example).
If any of these previous examples or anything similar to them are evident in your particular case, you may be able to file a viable nursing home fall lawsuit. To prove liability, you should enlist the help of an accomplished attorney with expertise in nursing home injury lawsuits.
Pursuing Legal Action
When clients come to our top Los Angeles law firm looking to sue a nursing home, they often ask our experienced lawyers a wide variety of questions. In most cases, the questions of one client are similar to the ones of others. Some of these frequently asked questions are as follows:
"Can a nursing home be sued for a resident bed fall?"
"Can you sue a nursing home for a patient's fall?"
"Can you sue a nursing home for someone falling out of bed?"
As stated earlier, nursing homes are responsible for health and safety of their patient. Accidents do happen, however, and if there is no evidence of negligence being the cause of an injury the nursing home can't be held liable for a patient falling out of bed. Inversely, if you or a loved one has suffered injury from falling out of a nursing home bed due to a failure provide appropriate preventative measures, that nursing home can be held liable.
To pursue legal action against a nursing home for a bed fall injury, you must be able to prove that there was a lack of proper care. Like any personal injury lawsuit, a nursing home bed fall injury lawsuit requires suitable forms of evidence that support your case. This evidence must prove that the nursing home facility acted negligently. Listed below are the elements required to prove a negligence claim:
Duty: You must be able to show that the owner had some legal duty to you and their tenants.
Breach: You must be able to show that the owner breached their legal duty through specific action, or failing to act.
Causation: You must be able to show that the owner's actions, or lack thereof, caused the damages that you are seeking compensation for.
Damages: You must be able to show that you have been harmed in some way. This can usually be done through medical bills or evidence of a loss of wages.
If you can prove all of these factors of negligence you may be able to file a claim and pursue a lawsuit against the nursing home responsible for the damages. It is highly advised that you seek the assistance of a lawyer experienced in nursing home injury cases.
About Normandie Law Firm
You or your loved ones should not have to suffer from the damages of a nursing home negligence without substantial compensation.  At Normandie Law Firm, our highly skilled attorneys with experience in nursing home bed fall injury cases can help you sue the party responsible for the damages that you have had to endure. Contact us today, and join our many clients who benefit from our zero fee guarantee policy.
Zero Fee Guarantee – No Upfront Fees – Ever
Under this policy, you do not have to pay for our services until we follow through on our promise and win your case. As a further commitment to you, our policy also guarantees free second case reviews. Reach out to us today, and we can discuss the incident, the aftermath, your damages, and the best path towards earning the compensation that you deserve. Call us to talk with an experienced attorney.