Golf Course and Golf Cart Accident Lawsuit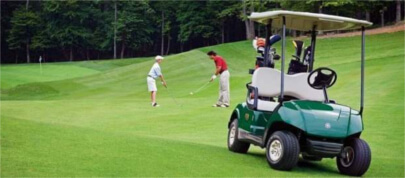 Golf course accidents are common. Golf cart accidents are one example of an accident that can occur on a golf course. While carts may seem slow going, the injuries passengers can suffer from these accidents can be pretty severe. Golf cart accidents can occur due to careless driving or a simple lack of experience behind the wheel. In some cases the accident is not caused by the fault of the driver, but rather a design defect in the golf cart. Regardless of the cause, if you or a loved one suffered an injury as a result of a golf cart rollover, golf cart flip, or any other golf cart-related accident at the fault of another you may be entitled to file a claim for compensation. At the top-rated Normandie Law Firm, our skilled Los Angeles lawyers can guide you through the process of building your case, and eventually file your lawsuit against the party responsible. If you have any questions after reading this article, please feel free to contact our law offices for a free consultation with a qualified attorney who has experience in golf course accidents.
Golf Cart Accidents
Golf Cart accidents, while not always as severe as typical automobile accidents, can still leave long-lasting damages on those who experience them. The injuries from a golf cart accident can range from minor bumps and bruises to severe head trauma that can affect victims for a lifetime. A golf cart can crash in a variety of ways, whether from a head-on collision or a very common rollover, golf cart accidents injure thousands every year. Some of the more common golf cart injuries include:
Soft-tissue abrasions
Lacerations
Cuts, scrapes, and bruises
Bone fractures
Crush injuries
Organ damage
Internal injuries
Spinal cord injury
Nerve Damage
Paralysis
Brain Injuries
Skull fracture
Death
When these injuries occur, it is within the victim's rights to sue the golf course, golf cart driver, golf cart design company, or any other responsible party for damages. An expert lawyer experienced in golf cart injury cases can help you file a lawsuit. Listed and described below are some of the leading causes of golf cart accidents:
Tip-over: Golf Carts are especially light, making it easy for them to tip over if not careful. Golf carts are often used off-road, or uneven terrain as well increasing the likelihood of a golf cart tip over.
No restraints: Some golf carts are not equipped with the proper seat belts or restraints to ensure passenger and driver safety. This makes it easier for drivers or passengers to fall out while the cart is in motion. This is the most common cause of injury and death in golf cart accidents
Open sides: Golf carts are often designed without doors as to make them easier to get in and get out of. However, this increases the risk of passengers and drivers being thrown from the vehicle while it is in motion
Lack of Maintenance: In some cases, golf cart companies and golf courses lack the proper maintenance system to upkeep their carts. As a result, vital parts of the golf cart are subject to damage, increasing the risk of a crash.
When pursuing legal action for your golf cart injuries, it is best to seek an accomplished lawyer to sue a golf course, golf cart manufacturer, or reckless driver for the injuries. However, when filing a lawsuit, it is vital to understand the details of who is at fault in the accident, as these details will define the nature of your lawsuit. Some factors that determine liability are as follows:
Who was driving?
Where did the accident happen?
Who owned the golf cart?
Was anyone under the influence of drugs or alcohol?
Answering some of these questions can help pinpoint the exact cause of the accident, and as a result, pursue legal action against the party responsible.
Golf Course Liability
When a golf cart accident occurs at a golf course, it is often challenging to determine whether or not the golf course should be held liable for the damages. While accidents caused by product defect or clear drier negligence keep a golf course from being liable for the damages, there are other incidents wherein the golf course is at fault. Accidents caused by poor maintenance of the cart, or by the hazardous conditions of the golf course itself would put the golf course owners at a clear fault. A golf course can also be held liable for damages if they let a negligent driver behind the wheel of one of their golf carts. This can occur when golf course staff let an intoxicated driver pilot one of their golf carts, or if they let an uncertified driver get behind the wheel. To file any lawsuit against the golf course, you must be able to prove that the golf course staff acted negligently. An attorney with experience handling golf cart accident claims can be a valuable addition to your case.
Golf Course Negligence
If your golf cart injury was caused by the lack of proper maintenance of the cart or by the hazardous conditions of a golf course, you might be able to file a lawsuit against the course for the injuries. All golf courses operate like any other place of business, wherein they have a level of liability for the safety of their customers. To prove the negligence of the golf course you must be able to show the following in court:
Duty: The plaintiff (victim) must show that the defendant (golf course) owed a legal duty to them
Breach of Duty: The plaintiff must show that the defendant breached this duty through specific action or inaction
Causation: The plaintiff must show that the defendant's actions or lack thereof, caused the damages that the plaintiff is seeking compensation for.
Damages: The plaintiff must show that they have suffered harm in some form. This can be proven through a presentation of medical bills or evidence of a loss of wages.
When taking legal action against a golf course for your injuries, it is highly recommended that you seek the assistance of an attorney with expertise in golf course injury lawsuits.
About Normandie Law Firm
Having a skilled golf course accident attorney on your side can mean the difference between filing a successful claim for compensation and having your case dismissed in court. If you or a loved one has suffered any injuries as a result of the negligent conduct of a golf course and its staff, then you may be entitled to monetary compensation for all the damages that you have suffered. If you file a claim with our top Los Angeles law firm and one of our attorneys with experience in golf cart accident cases, you could find some, if not all, of these following expenses compensable:
All medical expenses
Loss of Income
Loss of Potential Future Income
Emotional Damages (stress, anxiety, PTSD, etc…)
Punitive Damages (which are given out in instances of gross negligence; they are very hard to argue for, and only an experienced attorney will be able to win them for your settlement)
Victims of golf cart accidents one can contact our law offices to learn more about how to receive compensation for their injuries. Our Los Angeles golf cart injury attorneys are committed to ensuring every one of our clients has the resources to put up a fair fight for their case. As a show this commitment to you and your case we offer our clients the benefits of a zero fee guarantee policy. Under our zero fee policy, all clients don't pay for our services until their case is won. If you feel in need of a second opinion, second opinion case reviews are also free under this policy. Call our law offices today for a free consultation by one of our skilled attorneys, and we can discuss the incident, your damages, and the path to receiving proper compensation for your damages. One of our experienced lawyers will be available to discuss your case with you.