Foot Amputation Lawsuit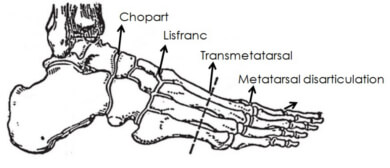 Amputation of the foot can be a traumatic event, and those who suffer from a foot amputation are often left with damages that last a lifetime. In most cases, foot amputation intentionally performed by a healthcare professional in cases of infection or diabetic foot. However, there are instances wherein foot amputation occurs due to accidental events caused by the misconduct or negligence of another individual. If you or a loved one has suffered from the wrongful amputation of a foot as a result of another's actions, you may be eligible to collect significant monetary compensation. At the top-rated Normandie Law Firm, our skilled foot amputation lawyers can assist you in pursuing legal action and resolving your case. If you have any questions after reading this article, please feel free to contact our qualified law firm for a free consultation. An accomplished attorney with experience handling foot amputation claims will be able to talk with you about your case.
Foot Amputations
One of the most common causes of foot amputation is through a medical procedure to remove a patient's foot due to diabetes. Often referred to as 'diabetic foot,' this is a foot that has suffered from nerve damage and foot ulcers that occur in patients with severe conditions of diabetes. This procedure is widely used by all kinds of physicians, and can also be used to treat things like cancer and severe infections. However, accidental foot amputations can also occur and sometimes can even happen at the fault of another. Listed below are some of the common accidental causes of a foot amputation injury:
Car Accidents
Workplace Accidents
Firearm/Explosives/Firework Accidents
Electrocution Accidents
Ring Traction Accidents
Building and Car Door Accidents
Accidental foot amputations can occur in any place at any time. If the injury is caused by the fault, misconduct, or neglect of another that party can be sued for the damages caused by the injury. The key to any successful foot amputation lawsuit is to determine who is liable for the damages. Determining injury liability can be difficult at times, although doing so can drastically change the nature of the case, and can play a significant role in the potential value of a settlement. For this reason, it is highly recommended that you seek appropriate legal consultation before proceeding with legal action. Having an expert attorney who has experience in foot amputation cases on your side could mean the difference between filing a successful claim for compensation and having your case dismissed from court.
Foot Amputation From Medical Malpractice
Foot amputation is a fairly common procedure performed by healthcare professionals to treat diabetic foot. However, there are some instances where a foot amputation either occurs wrongly or due to the misconduct of a medical professional. All physicians are expected to uphold a standard of care for all of their patients. This standard of care is defined as the level of care in which another reasonably competent physician within a similar field would have provided given the same circumstances. If this standard of care is not upheld a lawsuit for medical malpractice can be filed against the physician. The key to any medical malpractice lawsuit is negligence. A successful medical malpractice lawsuit will prove the negligence of a healthcare professional, and a lawyer experienced in foot amputation cases can help. Some key elements to proving negligence are as follows:
Proof of a Doctor-Patient Relationship: The plaintiff (patient) must be able to show that the doctor agreed to treat the plaintiff and the plaintiff agreed to be treated.
Proof of Negligence: The plaintiff must be able to show that the doctor acted negligently through a specific action or the lack thereof.
Proof of Causation: The patient must prove that the doctor's negligent actions or inactions resulted in the injuries
Proof of Damages: The patient must be able to show that the injury led to specific damages. These damages can include things like: physical pain, mental anguish, medical expenses, lost work and lost earning capacity. All of these damages can be compensated through the help of an attorney.
Foot Amputation From Defective Products
If you or a loved one has experienced a foot amputation as the result of a defective product, you may be eligible to file a product liability lawsuit against the company responsible. Product defects happen, and when they do product liability laws ensure that a consumer can pursue legal action against the company that caused the defect. It is important, in product liability lawsuits, to identify where the defect arose within the product's production chain. The company responsible for the specific defect or series of defects can be deemed liable for the ensuing damages. Bulleted below are the three common stages in a production line where a defect can occur:
Design Defects: design defects often occur during the creation of a product. In most cases, these defects make a product inherently dangerous as they occur before the product is even sent to the assembly line. In these instances, the company which designed the product could be held liable for damages.
Manufacturing Defects: these defects occur during a product's assembly. They can be spread thing amongst an entire product line or can occur quite frequently. In this case, whichever company was responsible for assembling the product can be deemed accountable for the damages.
Marketing Defects: Marketing defects can occur when there is a dangerous error in the product's marketing. These defects often include things like inadequate safety warnings, insufficient instructions, and improper labeling. The company that organized the marketing of a product can be held liable for the damages.
If you sustain an injury due to a defective or malfunctioning product, contact one of our attorneys with experience in foot amputation cases to file a product liability lawsuit.
Foot Amputation at the Workplace
Any injury sustained while at the workplace will almost always be compensated through workers' compensation benefits. These benefits usually cover any medical expenses caused by the injury and a portion of the wages lost by the victim. Unfortunately, an employee cannot sue their employer unless one or both of the following criteria are met:
There is evidence of the employer attempting or causing harm upon an employee
If the employer lacks the suitable workers' compensation benefits for their employees
An attorney with expertise in foot amputation injury lawsuits can help you receive fair compensation from your workplace injury.
Foot Amputation at a Construction Site
Unlike employees at other places of business, construction site workers can collect compensation both from workers' compensation benefits and from compensation received from a personal injury lawsuit. Construction site workers can file a lawsuit against the general contractor, the subcontractor, the manufacturer of construction equipment, or any other liable third party. Listed below is a series of questions an attorney may ask about the injury before proceeding to file your case:
Have any other workers at the same construction site been injured in a similar way?
Did the employer provide proper safety training for their workers?
Did the employer provide safety equipment to help prevent injury?
Was the injury reported to your employer?
What was the nature of the injury? Was the injury sudden, or did it develop over time?
Were any industry standards, like OSHA standards, violated at the site?
Who was responsible for safety procedures at the construction site?
About Normandie Law Firm
If you or a loved one has suffered as the result of a wrongful or accidental foot amputation, you may be entitled to monetary compensation for all the damages that you have endured. If you file a claim with Normandie Law Firm, you could find some, if not all, of these following expenses compensable. An experienced attorney will be able to offer you assistance.
The costs of any medical care
Any future medical care and treatment
A loss of income and loss of future earnings due to long-term recovery or permanent disability due to the accident
Any loss of property or damaged property.
Any non-economic damages include emotional distress, trauma, PTSD resulting from the accident, pain and suffering and anxiety.
Free Consultation and Zero Fee Guarantee
Victims of wrongful or accidental foot amputations can contact our law offices to learn more about how to receive compensation for their injuries. Our team of top attorneys is committed to ensuring every one of our clients has the resources to put up a fair fight for their case. As a show this commitment to you and your case we offer our clients the benefits of a zero fee guarantee policy. Under our zero fee policy, all clients don't pay for our services until their case is won. If you feel in need of a second opinion, second opinion case reviews are also free under this policy. Call our law offices today for a free consultation by one of our experienced lawyers, and we can discuss the incident, your damages, and the path to receiving proper compensation for your damages.