Carbon Monoxide Poisoning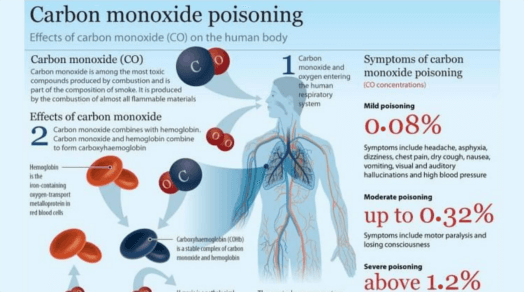 Carbon monoxide poisoning can be incredibly traumatizing and can leave victims with a multitude of physical injuries that can be life-threatening depending on their severity. If you or a loved one has suffered from carbon monoxide poisoning as a result of a defective product or the negligence of others you may be eligible to file a claim for significant monetary compensation. At Normandie Law Firm, one of the top legal groups in Los Angeles, our skilled carbon monoxide poisoning personal injury attorneys can guide you through the process of building your case and eventually filing your lawsuit in court. If you have any questions after reading this article, please feel free to contact our law offices for a free consultation. An expert attorney who has experience handling carbon monoxide injury claims will be able to discuss your case with you.
Carbon Monoxide, or CO, is an odorless and colorless gas that can kill those who are exposed to an excess amount of it. Carbon Monoxide is found in fumes produced anytime a fuel is burned. Whether from a car, truck, small engine, stove, lantern, grill, fireplace, gas range, or furnace, Carbon Monoxide can build up indoors and poison those who breathe it in. Listed below are some symptoms of carbon monoxide poisoning:
Dull Headache
Weakness
Dizziness
Nausea or vomiting
Shortness of breath
Confusion
Blurred Vision
Loss of consciousness
Carbon monoxide poisoning can be particularly dangerous for those who are sleeping or intoxicated. Victims of carbon monoxide poisoning can be left with irreversible brain damage, or may even be killed before they, or anyone else, can recognize that there is a problem. Every year more, than 400 Americans die from unintentional carbon monoxide poisoning not linked to fires, more than 20,000 are rushed to the emergency room, and more than 4,000 are hospitalized. A significant portion of carbon monoxide poisonings goes undiagnosed. Most times doctors struggle diagnosing carbon monoxide poisoning as they are trying to identify a cause of brain damage in victims who have not fallen, been in a car accident or experienced any other similarly traumatic event. Victims of carbon monoxide poisoning may experience confusion, speech, eyesight problems, and nausea, which may not resolve themselves once removed from carbon monoxide exposure.
Treating carbon monoxide poisoning varies depending on the severity of the gaseous exposure. To treat mild poisoning, it is recommended that you seek fresh air immediately. To treat more severe poisoning, high concentrations of oxygen may be required. Oxygen can hasten the disappearance of carbon monoxide from the blood and can help relieve some of the symptoms. This procedure is especially preferred amongst pregnant women.
Victims of carbon monoxide poisoning have every right to pursue legal action when their injuries were caused by the fault of another or a defective product. These personal injury lawsuits can often time be incredibly difficult without the assistance of an experienced attorney. The circumstances of a particular carbon monoxide positioning can determine the entire nature of a lawsuit, and can, in some cases, dramatically affect the potential compensation deserved to the victim. An accomplished attorney who has experience in carbon monoxide cases can give you additional information.
Filing a Lawsuit
A large number of carbon monoxide poisoning incidents occur at home. This occurs because of the multitude of sources in the home that can cause a potential carbon monoxide leak. When these accidents do take place in the home, it is within the tenant's right to file a lawsuit against the homeowner for the damages if the incident was caused by some form of negligence on the home owner's part. In 2010, California legislature passed the Carbon Monoxide Poisoning Prevention act, which required that carbon monoxide detectors be installed in all single-family homes, duplexes, lodging houses, dormitories, hotels, motels, condominiums, time-share projects, and dwelling units in a multiple-unit building. If your carbon monoxide poisoning injury was caused by a carbon monoxide detector malfunctioning or the lack of one altogether, you might be eligible to file a lawsuit against the homeowner responsible for maintaining said detector. Get in touch with an experienced attorney to receive more details.
Determining who is liable in your case can be incredibly helpful in eventually claiming successful compensation. For instance, if the cause of your carbon monoxide poisoning injury was from a faulty carbon monoxide detector you may instead want to file a lawsuit against the company which manufactured it. Defects in manufacturing could result in a lawsuit if a consumer were harmed by said product, thanks to a set of laws formed to ensure consumer safety. These laws, product liability laws, make it so that if a consumer is injured by a product, that consumer can go ahead and file a lawsuit against the company or manufacturer responsible. However, determining where the in defect occurred in the production chain is important in determining who can be sued for the damages. Listed below are three of the common stages wherein a defect to a product can occur:
Design Defects: These defects are typically present in the product even makes it to the manufacturing floor. A design defect is an inherent flaw in a product which deems it unsafe for consumer use. In most cases, a design defect will result in a large scale recall as they are more likely to affect a wide number of products.
Manufacturing Defects: These defects occur during the product's assembly. In this case, the company which organized the manufacturing of the product would be deemed liable for the damages.
Marketing Defects: These are defects that occur in the way the product is marketed to the public. This can include defects like improper labeling, insufficient instructions, or inadequate safety warnings.
Regardless of what party is responsible for your damages, it is vital to prove the negligence of that at-fault party, and how said negligence inflicted harm upon you. A lawyer experiened in carbon monoxide cases will be able to help you prove negligence. Listed below are some of the key elements in a negligence claim:
Duty: The plaintiff (injured or damaged party) must be able to show that the defendant (manufacturing company or homeowner) owed a legal duty to the plaintiff under the circumstances
Breach: The plaintiff must be able to show that the defendant breached said legal duty through specific actions or failure to act appropriately.
Causation: The plaintiff must be able to show that the defendant's actions or lack thereof caused the plaintiff's injuries
Damages: The plaintiff must be able to show that they endured specific damages. This can usually be demonstrated by the presentation of medical records, a loss of wages, or a loss of potential income.
Whenever filing a lawsuit against a homeowner, real estate manager, manufacturing company, or any other secondary at-fault party, it is in your best interest to hire a qualified attorney to help represent you and your case. Having an attorney with expertise in carbon monoxide injury lawsuits on your side can make the difference between filing a successful claim for compensation and having your case dismissed from court entirely.
How Normandie Law Firm Can Help
If you or a loved one has suffered a personal injury as the result of prolonged exposure to carbon monoxide you may be entitled to file a claim for compensation. At the top-rated Normandie Law Firm, our attorneys with experience in carbon monoxide injury cases can assist you in building your case and filing a lawsuit against the party responsible for your damages. As a show this commitment to you and your case we offer our clients the benefits of a zero fee guarantee policy. Under our zero fee policy, all clients don't pay for our services until their case is won. If you feel in need of a second opinion, second opinion case reviews are also free under this policy. Call now for a free consultation by one of our experienced lawyers, and we can guide you down the path of receiving proper compensation for your damages.