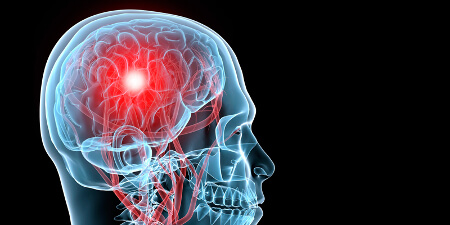 Although some injuries are likely to heal after some time, others are more permanent or long-lasting and cause long-term negative effects on the body. Head trauma is one of these types of injuries – it can very well be fixed by a doctor's efforts and heal within a few weeks, but it may be debilitating enough that it affects your life on a permanent level. Brain injuries are not to be trifled with and making sure to take care of yourself after the injury is difficult, as you may not be physically or mentally able to do so. At Normandie Law Firm, one of the top firms in Los Angeles, we make it a goal to keep you healthy and safe while we fight for your rights to compensation – whether that compensation should come from an employer's insurance agency or a business's liability end. Our experienced lawyers are here to help you on the path to recovery in any way we can. Our clients or clients' families have come to us seeking assistance with complications resulting from brain injuries, and they have many questions for us, including:
Where can I find a brain injury lawyer in Los Angeles?
My child got a brain injury while playing football. Can I sue the school?
I sustained a TBI while in a car accident. How much compensation can I earn?
Causes of Brain Injuries
Brain injuries are caused when there is some form of trauma to the head. The brain is protected by the cranium, which is a very hard, durable section of the skull. The skull does not need to be penetrated or cracked to have damage occur, however; sometimes the brain bounces around inside and is damaged from the impact. Loss of consciousness and headaches are almost always telling symptoms of some kind of brain injury. There are numerous ways to suffer a brain injury:
Automobile Accidents: A car accident, truck accident, or motorcycle accident can lead to dozens of potential injuries, but a traumatic brain injury (TBI) is among the most debilitating. If you are in a car that is hit by another vehicle or your car strikes a structure or object, you may be severely injured. Although seat belts are life savers, there is still the likelihood that your head will flail around, especially at even a moderate speed. Your head may strike the window, windshield, steering wheel, or seat, or it may be hit by foreign objects or belongings in the car. It does not take a lot of pressure and damage to cause a brain injury, but only the right location to be struck. Motorcycles are even more dangerous due to the lack of seatbelts and higher potential to be ejected from the bike. Brain injuries stemming from automobile accidents have caused all sorts of lingering injuries, such as migraine headaches, changes in personality, permanent brain damage, and coma.
Workplace Injuries: It is not uncommon for injuries to occur at the workplace, especially simple accidents like slips and falls. However, it is from these slips and falls that the most severe wounds are usually sustained – falling down the stairs can lead to numerous broken bones and internal bleeding, for instance, while falls from scaffolding have resulted in momentary losses of breath and some minor bruising. If you slip and fall while at your workplace, you may hit your head on the way down, leading to a cracked skull, internal bleeding, swelling, hematoma, and concussion. Even something as benign as a mild concussion can cause last problems, such as dizziness, persistent headaches, loss of balance and coordination, mood change, sensitivity to light, and trouble remembering. Generally, construction workers, loading dock employees, and other similar occupations feature the most slip and fall injuries.
Sports-Related Injuries: Even though may full contact sports have players who do not suffer injuries, it is not uncommon for popular sports like football and rugby to have players get head injuries while on the fields. Further, professional athletes are not often seen suing their organizations or leagues for medical expenses and such, as the organization usually has high-quality, top-of-the-line doctors working there to take care of the players. What is common, however, is for students involved in sports to sustain head injuries from other players due to lack of strength and conditioning or due to the negligence of coaches and medical staff. For example, a high school football may be heavily pressured, due to his skill, to not want to come out of the game by reporting symptoms of a concussion, or the coach may conceal the symptoms from the doctor in an attempt to keep the player on the field. This is a grossly negligent act and further endangers the player's health. Football players, in particular, are much more likely to get CTE (chronic traumatic encephalopathy) than any other sport's players, except for combat sports. These head injuries in younger children and adults can cause mental issues as they age and mature, as well as seizures, cluster headaches, dizziness, and more. In the worst cases, brain injuries, paired with dehydration due to physical exertion, can lead to coma or even death.
Medical Malpractice: If you have been taken into surgery and the doctor mistakenly furthers the damage to your brain, you have ample grounds for a medical malpractice claim. Sometimes, surgery is necessary to stop swelling or bleeding inside the head, but other complications may arise and the doctor cannot act quick enough. Adversely, medical malpractice may not be as invasive – it may simply be that he asked you to stand and perform an action while you were incapacitated, and the fall caused a brain injury. There are numerous ways doctors and nurses can be held responsible for their actions to patients who are not in their right states of mind, and worsening or causing additional brain injuries is one of them.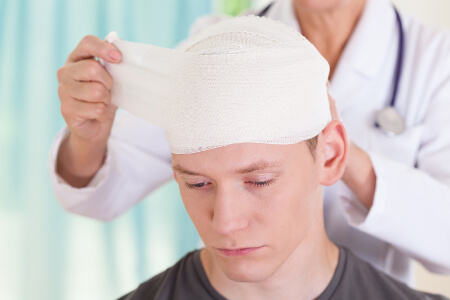 No matter what the cause, it is imperative that you seek the assistance of an expert attorney who has experience in brain injury cases to help you start the legal process.
Of course, the brain is a complex organ, and it consists of many areas that control different parts of the body and mind. As such, it can be hard to pinpoint symptoms of brain injuries, but some of the more common symptoms include:
Unconsciousness or Loss of Perception
Headaches
Nausea and Vomiting
Fatigue
Loss of Balance
Concentration Problems
Memory Issues
Mood Swings
Depression
Sensory Problems
If you feel any of these symptoms come on and you believe they may have resulted from the negligence of another party, contact one of our skilled attorneys with experience handling brain injury claims.
Possible Compensation
Brain injuries can be debilitating and completely alter your course of living afterward. For this reason, it is important that you are given fair compensation, and one of our attorneys with experience in brain injury cases will be able to help bring you a settlement.
If you were injured in a car accident or similar event, you may be able to file a personal injury claim against the responsible parties or drivers. Personal injury claims are not criminal lawsuits, and as such, you cannot bring anyone up on charges; you can only collect restitution for the actions committed. Personal injury claims that deal with a brain injury can net you hefty amounts of compensation, however. You are able to collect damages for medical expenses, lost wages, pain and suffering, and punitive damages.
Workplace injuries allow you to collect worker's compensation. In California, it does not matter if the accident were your fault or not, since the state operates under a no-fault system; a brain injury that was sustained while working is able to be covered by your employer's insurance agency. With worker's compensation, you are able to recover medical expenses, lost income at work, and may even be able to file for disability benefits, depending on the severity of your injury and the impact it has on future employment ability.
Medical malpractice claims can be filed if your injuries came about due to the negligence of a doctor or physician. These lawsuits may be filed by your family as well as by you and can hold the doctor as well as the hospital responsible for your injuries. You can recover much of the same damages as you would in a personal injury lawsuit.
Regardless of the type of claim you intend to file, it is highly advised that you seek the assistance of a qualified attorney with expertise in brain injury lawsuits.
Normandie's Role
We at the top-rated Normandie Law Firm know that brain injuries are severe and should not be treated lightly. For that reason, we pay special attention to any case that comes through our door with a client who has sustained a head injury. First and foremost, we strive to make sure you are healthy; then, when we are sure of that, we dedicate our time and energy to fighting for your rights as a person. Your medical costs should be covered by the responsible parties and you should not have to worry about receiving any treatment.
FREE CONSULTATION AVAILABLE: Call our law firm today to receive a free legal consultation on your case. An accomplished lawyer experienced in brain injury cases will take your call. We will give you all the information you need to know and walk you through the legal process, as well as help you better understand your injuries and the treatments that accompany them. Our goal is to make you happy and earn you a settlement that will remove any stress and worry from your life.
On that same note, we take on all clients with a zero-fee guarantee: you do not pay any out of pocket expenses when you choose us to represent you. Our legal fees are taken from the settlement we win for you to guarantee that you suffer no monetary loss whether we win or lose the case. If we do lose, there is no money paid to us – we eat the costs ourselves.
For more information on filing a brain injury lawsuit, contact Normandie Law Firm in Los Angeles today to speak with an experienced attorney.