Long Beach Hit and Run 91 Freeway offramp 8-14-2017
1 Injured and 1 Killed in Long Beach Bicycle and Car Incident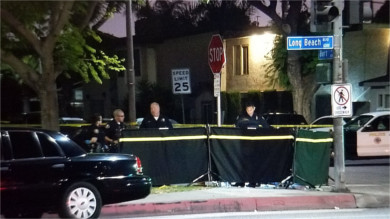 In the early a.m. hours of Monday morning on August 14, 2017, two cyclists were involved in an incident with an SUV. One suffered minor injuries, while the other was killed.
The initial incident occurred at 1 a.m. in Long Beach, at the offramp of the 91 Freeway. The police report states that the SUV, a 2000 Ford Expedition, struck one of the cyclists who were crossing the road; the victim was not terribly wounded. His friend, a 51 year old Los Angeles resident, attempted to turn off the SUV by jumping onto the side of the vehicle and turning off the ignition.
The SUV driver took off down Long Beach Boulevard, heading south, and upon reaching Bort Boulevard, made a quick turn, which resulted in the man who was clinging to the side of the vehicle fall off. He struck his head on the curb and was pronounced dead at the scene.
After the man was flung from the vehicle, witnesses claim that the driver of the SUV circled the block once, possibly to evaluate the scene, and then abandoned the vehicle on a service road. He fled on foot before police arrived.
Police did not release any information on the victims or the suspect, though they did claim to know who the perpetrator was, perhaps due to the vehicle left near the scene.
Normandie Law Firm Can Help You
If you have been involved in an incident with a vehicle while reading your bicycle, Normandie Law Firm can help you recover damages for the injuries you received.
As a cyclist, you are afforded certain rights on the road, including pedestrian rights while crossing the street – cars must yield to you at crosswalks as you walk your bicycle across. If a car hits you while you are crossing the street or riding in your bike lane, you may be eligible to file a personal injury lawsuit against the responsible driver.
Drivers who are at fault in incidents involving bikes are liable to pay damages. These damages can cover:
Medical Costs: Any medical fees relating to the incident can be covered by the at-fault party. This includes hospitalization fees, costs of surgery, medication, painkillers, physical therapy, and rehabilitation.
Economic Damages: Property loss can be considered economic damages, as your bicycle is a piece of property and may even be your main mode of transportation. Bicycles are not inexpensive, and repairs can cost you a fair amount of money. Further, if you are suddenly without transportation or you are unable to go to work due to injuries suffered in a crash, you are able to collect compensation for lost wages. These wages can be past or future. Any other property that was damaged or lost in the incident is liable to be covered as well.
Non-economic Damages: In the aftermath of an accident, you may suffer fear, anxiety, mood disorders, psychological problems, and residual effects. This pain and suffering can be compensated for by the party's insurance agency.
Punitive Damages: If the driver of the vehicle acted with the intent to cause harm or was grossly negligent in his actions, you may seek punitive damages to further punish the defendant for his role in the incident. Driving with a man hanging from your door and quickly turning to fling him off would likely fall under acts that can yield punitive damages.
With the help of Normandie Law Firm, you can receive a sizeable settlement if you have been injured in a car crash while riding your bicycle. Additionally, you may also pursue a wrongful death lawsuit in the event that one of your loved ones passes away due to the negligence of another driver. We will relentlessly pursue your deserved restitution and we will not rest from negotiating with insurance agencies or going to court.
All of our clients receive free legal consultations on any claim they bring to us. Contact us today and you will speak with a knowledgeable attorney who can give you the best advice about your claim and how to proceed, as well as what you could expect to receive as a settlement if you choose to file a lawsuit. Our lawyers will help you through the process and represent you with dedication and vigor.
Normandie Law Firm also abides by our zero fee guarantee. You do not have to pay any out of pocket expenses to our firm unless our team wins your case and nets you a settlement. If we do not manage to bring you any restitution, you do not owe us any money. This is our promise to you.
Call Normandie Law Firm today to receive more information about personal injury lawsuits involving bicyclists and cars.
Related pages within our website:
Car accident lawyer