Long Beach Chemical Spill Propyl Acetate Lawsuit Info
Workers Injured at Port of Long Beach After Chemical Spill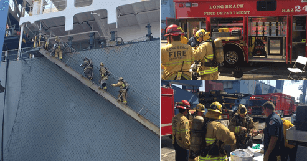 Our law firm is currently investigating the possibility of lawsuits against all responsible parties in connection with an incident that occurred August 6, 2017. Our lawyers are always ready to sue all responsible parties for your damages.
Sunday morning, August 6, 2017, a ship on the port of Long Beach began to leak hazardous chemicals into the ocean. Twelve dock workers suffered minor injuries after being exposed to hazardous, flammable chemicals which began to spill from a ship. One worker was exposed to the fumes of the chemical, and one firefighter hell into the spill while responding to the call of duty. Both were transported to the hospital and were in stable condition by the afternoon.
The Long Beach Fire Department received the 911 call at approximately 9:30 a.m. An engine company was dispatched to Pier G, where the spill was reported and found the hazardous material coming from a roughly 6,000-gallon chemical tank on board the docked vessel.
Other workers that were exposed to the hazardous chemical, which was later identified as propyl acetate, experienced shortness of breath.
In order to decrease the catastrophic environmental damage, the Long Beach fire boats and one of the city's lifeguard rescue boats deployed a boom in the water alongside the docked the frigate.
Crane operators and port workers helped clear the leaking container from the ship.
It is unknown how much material spilled into the water.
The Normandie Law Firm
Workplace injuries are very serious issues which cannot always be prevented: as Alexander Pope famously stated in his Essay on Criticism, "to err is human . . ." If you were injured in the workplace, you have the right to file a claim against your employer to receive damages for the injuries you received. We at the Normandie Law Firm can help ensure that you get the maximum compensation available for your workers' compensation.
California workers' compensation laws demand that employees get covered and receive benefits under workers' compensation laws. There is a no-fault benefits clause in workers' compensation. That means that regardless of who was at fault, the employee is entitled to benefits. Benefits can help pay for medical expenses, lost wages, and compensation for permanent disability.
It is important that you contact an employment lawyer before you accept any money from your employer. Once employees accept the money from their employer, they forfeit any rights they have to file a lawsuit against their employer. Sometimes, the money they receive from their company is simply not enough to cover the costs of medical bills, wages lost, or even the compensation for permanent disability.
Damages Available to You
When you get injured in the workplace, your workers' compensation is there to help cover the costs of your medical bills, lost wages, and any pain and suffering to which you were exposed after the accident. Unfortunately, insurance companies and employers may not want to pay the full amount in order to save money for themselves. This in unjust behavior and is why you need to contact an employment lawyer as soon as possible. If you accept workers' compensation right away, you give up your right to take legal action against your employer and may not be able to receive the necessary compensation to help with the damages to which you are rightfully entitled. Here are the damages you can receive to help pay for the injuries.
Bodily Injury – If you are injured at work, your injuries may require immediate medical attention. You can receive compensation which can help cover the costs of your medical bills. If you will require future medical treatment, you can receive compensation to help pay for those future medical bills as well.
Change in Lifestyle – If the injuries you sustained at work caused permanent damage, you can receive compensation for the changes in your lifestyle. For example, if you require a ramp to come to and from your house, you can receive compensation for the purchase and installation of your ramp.
Lost Wages – Injuries you receive can force you to miss work, and miss out on wages. You can receive full or partial wages while you recover from your injuries.
Pain & Suffering – You can receive pain and suffering compensation. Injuries are traumatic events that can affect more than just your physical body. It can lead to mental suffering, emotional distress, and more. These injuries can be hard to prove which is why you need a competent lawyer to help you get the maximum compensation available.
Free Consultation and Zero Fee Guarantee
The Normandie Law Firm is here to ensure that you get the maximum compensation available for your injuries and suffering. We offer free consultation and the zero-fee guarantee, so there is no financial risk on your part! Call us today to see what we can do for you.