LayZ Board Fire Warning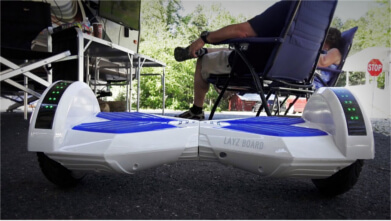 In the wake of a house fire that killed two young girls, the U.S. Consumer Product Safety Commission (CPSC) has issued an advisory warning against LayZ Board hoverboards. These products are not to be confused with the similarly named Lazyboard hoverboards.
The hoverboards, according to the CPSC, were involved at least in part with a house fire in Harrisburg, PA that took place March 17, 2017. The fire claimed the lives of two young girls. Subsequent usage of the hoverboards has been deemed unsafe by the CPSC.
The hoverboards were imported into the United States. 3,000 of the units were marked by the CPSC as potentially dangerous, all of which were manufactured in Shenzhen, China. There has been no official product recall from LayZ Board.
Because of the potential fire hazards, the CPSC recommends disposing of the hoverboard entirely at a local recycling center, as there is no official repair option being offered by the company. The parts can be broken down and recycled, and the lithium battery can be properly disposed of.
The CPSC will create a listing if the hoverboard is officially recalled by LayZ Board.
Fire Hazard Information
Hoverboards that have defective batteries may overheat and catch fire. The plastic can easily go up in flames, and the rubber on the wheels can burn as well. Depending on where the hoverboard is stored, the fire may spread to the rug, carpet, nearby clothing, curtains, paintings, or furniture, eventually engulfing the whole house if it grows to such a state.
Overheating may occur when the hoverboard has been in use for an extended amount of time or when it has been plugged in and left charging for hours. In rarer cases, the hoverboard may catch fire while in use.
Steps to Filing a Product Liability Claim
If you have been injured as a result of a defective product, you have the option of filing a product liability claim against the manufacturer. This can garner you compensation for any damages you sustained due to the product's malfunction. Our law firm can file a lawsuit on your behalf to get the maximum compensation for any injuries that you have suffered. Our attorneys are in Los Angeles, but they are active in all of California and can take cases no matter where in CA you are located. A lot of times, for these product liability claims, a class action lawsuit is justified.
Before you file a product liability claim, you should make sure to have as much of the evidence and preliminary information prepared as possible.
Firstly, you must file your claim within two years of the date of injury, or your claim will not be considered, as the statute of limitations will have run out. It is recommended to file your claim as quickly as possible so that evidence does not go missing, but also because it can help the company recall more products.
You should take care to document any injuries you sustained in any way possible, whether by photo, video, eyewitness accounts, or doctor's notes. If you needed to call the police or an ambulance, you may request their statements on the matter to present to the insurance agency or to the court.
Perhaps most importantly, you should keep the product without any alterations, as well as the original packaging and receipt, if possible. Having the product and showing the malfunction that led to your injury can greatly help your product liability claim. It will also help determine the responsible party and type of defect, whether a design flaw, manufacturing defect, or lack of warning label.
Essentially, you should ejnsure that you:
(1) DO NOT return the item to the manufacturer ot receive a refund; that will destroy all evidence you have to pursue the case.
(2) DO NOT tamper with the product or try to fix it.
(3) Seek immediate medical attention with a doctor so that there is no gap in medical treatment.
(4) Hold on to any receipts or documentation of purchase.
Compensation Information
If a LayZ Board hoverboard catches fire and you sustain burns or other bodily injuries, or the fire brings about some hardships in your life, you can collect compensation for these damages.
These damages include:
Medical Bills: Burns can be extremely painful as they occur and stay sensitive and searing well into the recovery time depending on the severity. If you are hurt by a defective product, the company will be able to cover your medical costs, such as surgery, hospitalization, medication, physical therapy, and future treatments and bills.
Lost Wages: If a product's defectiveness caused you to get injured and go to the hospital, or if you have to spend a fair amount of time recovering from an injury, you can be compensated for lost wages. This loss of earning can be defined by missed work in the past, which led a loss of income, or a loss of work at some point in the future, which will lead to a reduced income. You may have to get additional surgery, for instance.
Property Loss: Hoverboards are not cheap, and the company can reimburse you for the money you lost when the product broke or caught fire. Further, if the product caused other belongings to break, become damaged, or go missing, you can collect compensation for those items. For instance, if your home caught fire as a result of the hoverboard's battery overheating, Property Loss: Hoverboards are not cheap, and the company can reimburse you for the money you lost when the product broke or caught fire. Further, if the product caused other belongings to break, become damaged, or go missing, you can collect compensation for those items. For instance, if your home caught fire as a result of the hoverboard's battery overheating, you can be reimbursed for the loss of your house and all of the belongings inside.
Pain and Suffering: A hoverboard injury or fire can cause you to be emotionally damaged. It is a rare occurrence and can be particularly jarring to experience; suffering wounds from a hoverboard fire may give you mental problems, fear, anxiety, and other issues. It can be hard to overcome these conditions, and any compensation you receive can go to therapy or alternate forms of medicine.
Normandie Law Firm's Role
If you have been injured by a defective product, Normandie Law Firm is here for you. We are proud to handle product liability claims; we believe that companies should be held responsible for any problems their products cause, and consumers should not be expected to pay for their own damages, whether they're medical bills or property reconstruction. You can sue the manufacturer and retailers for your injuries and be compensated for your damages.
Call our firm today to speak to an attorney in a free case evaluation about filing a product liability claim on your behalf. We will handle the entire process for you, from start to finish, and you will only have to provide necessary information for us to present; you can go on working or recovering, as taking time out of your schedule to go to court or to meet with insurance agents can be detrimental to your lifestyle. Further, our services are provided with a zero fee guarantee, meaning we do not take payment for our representation unless we win your case and bring you a settlement. If we lose your case, you do not owe us a cent.
For more information on product liability claims and what you can earn, contact Normandie Law Firm.