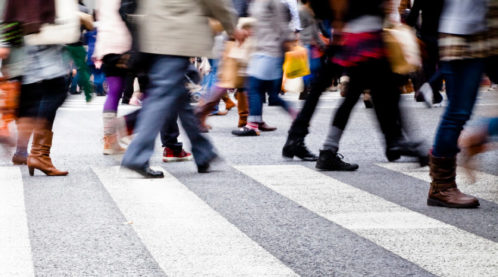 In a time span of eleven years, there were more than 58,000 pedestrian-involved accidents in Los Angeles County. There are more than eight-hundred intersections that have proven to be problematic. Many of these questionable intersections were clustered in dense areas. Some of these areas include downtown Los Angeles, Koreatown, Westlake, and Hollywood. Downtown Los Angeles has the highest concentration of dangerous intersections in the county. In a span of forty-eight intersections, there were 11 deaths and 659 people struck. In twenty-nine intersections of Koreatown, there were 11 deaths and 407 pedestrians struck. In Westlake, there were three deaths and 343 pedestrians hit in twenty-two intersections. In Hollywood, there were twenty-three problematic intersections with eight deaths and 369 pedestrians hit.
Many victims of accidents these accidents do not seek legal assistance. Some victims are lucky enough to only sustain superficial injuries; others are not lucky enough to be alive. Why is there not a pursuance of lawsuits for pedestrian accidents involving vehicles? That might simply be because of a lack of information. Consider the meaning behind a pedestrian accident. What is an accident? An accident is an incident that happens unexpectedly and unintentionally. Accidents happen by chance or without apparent cause. Is there no reason behind pedestrian accidents? Is speeding or distraction considered a factor in these kinds of accidents?
Let us discuss the lack of information in some of the communities where pedestrian accidents occur all too often. Downtown Los Angeles and Koreatown are communities with a population that speaks languages other than English. English continues to be the primary language in these communities, but other languages are more prominent than English in households. Spanish, for example, has become one of the most prominent languages in Los Angeles County.
What barriers might a Spanish speaking victim of a pedestrian accident face when trying to obtain legal representation? There is not enough legal representation available in the Spanish language. Victims who do not speak English or who simply do not speak the language fluently enough to have a consultation with a lawyer might shy away from hiring an experienced attorney to sue for their injuries.
Normandie Law Firm is changing that. We are a personal injury law firm capable of providing Spanish speaking clients with 100% in-Spanish legal guidance. Our qualified Spanish speaking lawyers in Los Angeles are available for clients who speak Spanish. If Spanish is your only language or your preferred language, the top-rated Normandie Law Firm can provide you with legal assistance. Our expert attorneys with experience in pedestrian accident cases will be able to represent you.
In the following sections, we will go over some general information about pedestrian accidents. If you need additional clarification, contact an accomplished Los Angeles attorney with experience handling pedestrian accident claims that speaks Spanish as soon as possible.
Duty of Care—Drivers and Pedestrians
Both drivers and pedestrians have a duty of care to ensure safety. Both drivers and pedestrians must follow all of the rules of the road—like stopping at red lights, yielding to pedestrians, and only crossing at designated crosswalks. Both drivers and pedestrians can be negligent and cause an accident. Below are a few factors that account for negligence in both drivers and pedestrians. If you need further information, contact an expert attorney who has experience in pedestrian accident cases.
Drivers are considered to be negligent if they are driving while distracted, speeding, failing to yield to pedestrians at crosswalks, disobeying traffic signs and signals, failing to signal while turning, and driving under the influence of drugs or alcohol. That is, drivers must follow all rules of the road to ensure that they do not cause an accident. Drivers must take additional care when driving near schools, parks, and residential areas. Why? In these areas, it is common that children between the ages of 5 and 9 are present. Between these ages, children are at a greater risk of being struck by a vehicle because they might not be visible or might unpredictably run into the road.
Pedestrians are considered to be negligent if they are ignoring walk signals at intersections, entering traffic, disrupting the flow of traffic, failing to use crosswalks, and darting in front of vehicles. That is, pedestrians must also follow the rules of the road to ensure their own safety. They must do everything possible to ensure his or her safety. If pedestrians do not take reasonable care to prevent injuries, they might be considered as contributors to their injuries.
Common Injuries of Pedestrian Accidents
If someone was injured in a pedestrian accident, he or she must contact a skilled Spanish speaking pedestrian accident lawyer in Los Angeles. A Los Angeles traffic accident attorney that speaks Spanish will be able to evaluate your case and estimate compensation based on your injuries. Below is a list summarizing the injuries that a victim might sustain:
Head injuries
Traumatic brain injuries
Internal bleeding
Spinal cord injuries
Fractures and sprains
Other internal injuries
Depending on the seriousness of a victim's injuries, medical bills might prove to be overwhelming. You might be eligible to receive compensation for medical expenses. Contact a top Spanish law firm to speak with a Spanish speaking lawyer experienced in pedestrian accident cases in Los Angeles. If you suffered injuries, you need legal representation.
Compensation Available for Pedestrian Accidents
The severity of your injuries, the likelihood of recovery, the way the injuries affect your ability to work, and the fault of the accident are all factors that determine the amount of compensation a victim receives. Here is a quick list of some possible compensation:
Medical expenses
Pain and suffering
Loss of wages
Loss of consortium
Punitive damages
Remember, both drivers and pedestrians have to exercise a duty of care to prevent injury. If the pedestrian is found to be negligent and a contributor to the incident, the amount of compensation the pedestrian receives might be reduced. For more information on compensation eligibility, contact an attorney with expertise in pedestrian accident injury lawsuits who speaks Spanish.
Normandie Law Firm Speaks Spanish
If you are looking for legal representation from someone that speaks Spanish, contact Normandie Law Firm. We have more than one attorney that speaks Spanish available to help you. Our attorneys who can speak Spanish are experienced in pedestrian-involved accidents. Do not shy away from taking legal action just because you speak Spanish. Legal terms can be confusing and difficult to grasp even in English; our Spanish speaking attorneys are here to explain everything and answer any question that you might have. We have helped many members of the Spanish speaking community with the help of our attorneys speaking Spanish in Los Angeles. Let us help you, too. Normandie Law Firm will provide you with a Spanish lawyer who can sue for your injuries. We will not rest until you receive the compensation that you deserve.
Normandie Law Firm's commitment to clients and the community goes farther than providing Spanish-friendly legal assistance. We are dedicated to giving clients the best legal experience in the city. How do we enhance the legal experience that Normandie Law Firm provides? We offer clients free consultations and free second opinions. All you need to do is call to schedule an appointment. We guarantee that someone who speaks Spanish will pick up the phone and help you from the first instant. When you come in for your free consultation, you will be greeted with the same Spanish service you experienced over the phone. Our attorneys will conduct the consultation in Spanish. They will answer all of your questions and address all of your concerns. We pride ourselves in always providing clients with the most relevant information. We guarantee that you will leave the consultation feeling legally enriched.
If you already have an attorney with another law firm, you might still be interested in getting a second opinion with one of our experienced lawyers. If you feel like you are missing information or your attorney overlooked something important, schedule a free second opinion. Our attorneys will review your case and offer all the information you need. We are aware that many attorneys do not offer quality service, as they rush through cases to increase the number of cases they sign. The lack of quality service can affect the outcome of your lawsuit. Do not let your current lawyer's incompetence dictate the result of your lawsuit. Schedule a free second opinion with Normandie Law Firm; our Spanish speaking attorneys will get your case back on the right track.
Our dedication to clients surpasses providing clients with Spanish legal assistance. We offer clients a Zero-Fee guarantee in hopes of easing the stress associated with filing a lawsuit. Our free consultation and free second opinions are included in our Zero-Fee guarantee. You will never have to worry about paying any upfront fees. Additionally, since our law firm is strictly based on contingency, you will not pay for anything until our attorneys that speak Spanish win your case. Contact Normandie Law Firm today for the best Spanish legal experience available in Los Angeles.