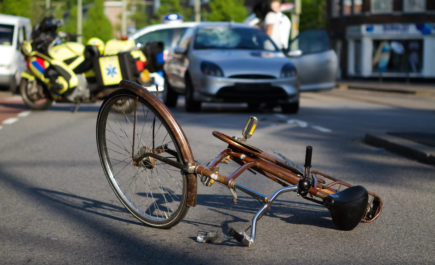 Bicycles are a common mode of transportation for people all over the nation. Unfortunately, bicyclists have always been in danger of being involved in accidents with motorized vehicles. In the United States, more than 8,000 bicyclists have died, and more than 700,000 have been injured in the past decade. Young people ages five to twenty are at a higher risk of losing their lives in a bicycle accident. In fact, more than 700 people die, and 500,000 are treated for injuries every year because of bicycle accidents involving a motorized vehicle.
In California, bicycle accidents are caused by the bicyclist approximately 60% of the time. Additionally, if the victim files a lawsuit, the bicycle plaintiff is likely to lose two out of every three times. The statistics do not look favorable for bicyclists. In Los Angeles, there are approximately 1,200 miles of bike lanes. In comparison to the cities striking 28,000 miles of street lanes, it is no surprise that bicyclists are often injured in accidents. Bicyclists would perhaps be safer if they were allowed to ride on sidewalks; however, bicycle regulations about sidewalks can be unclear and inconsistent within the county.
For example, in the city of Los Angeles, riding a bicycle on the sidewalk is permitted as long as bicyclists are not riding recklessly and posing a threat to other people. On the other hand, in unincorporated areas of Los Angeles County, riding a bicycle on the sidewalk is strictly prohibited. Unfortunately, the confusion about bicycle laws does not stop there. Many people in the Angeles community are not aware of their rights as bicyclists. Additionally, if someone was injured during a bicycle accident, it is likely that he or she will seek medical attention for any injuries and then try to forget about the incident. Why is this? Let us analyze the community in the Los Angeles area.
The city of Los Angeles is an extremely diverse city. Los Angeles is home to people from all over the world. Naturally, these people speak their native or preferred languages at home. The Los Angeles community speaks over 200 languages. Without a doubt, English is the dominant language—as it is spoken in schools, businesses, and used for other daily activities. As the Spanish speaking population continues to rise in the city, there is no question as to why Spanish has become the second most prominent language after English. What does language have to do with bicycle incidents?
Language does not specifically relate to bicycle accidents, but it does relate to what victims do after the accidents. The Spanish speaking community is regrettably uninformed about the legal options available after experiencing a bus accident. Legal information is readily available in any language through the internet, but the internet cannot and should not substitute one-on-one communication with a legal professional. There is an informational gap between the Spanish speaking community and legal services. At Normandie Law Firm, our legal team recognizes this informational divide. Because of this, we are dedicated to providing the community with Spanish speaking lawyers in Los Angeles. All victims of bicycle accidents—including Spanish speakers—should be able to obtain the information necessary to decide whether to file a lawsuit. A bicycle accident attorney who speaks Spanish should be able to inform victims about the city's bicycle regulations and driver and bicyclist responsibility in accidents. Without this key information, a bicyclist who suffered injuries would not be able to decide whether to file a claim against the party responsible.
In the following sections, we will discuss some information essential to bicycle accidents. If you need any additional clarification at any time, contact a top-rated Spanish law firm—an expert Los Angeles attorney who has experience in bicycle accidents who speaks Spanish will address all of your questions. Our experienced lawyers at Normandie Law Firm are available to take your call.
California Law
California bicycle law was briefly mentioned in the previous section; however, bicycle laws require much more explanation. Sections 21200 through 21212 of the California Vehicle Code contain California's bicycle laws. Here are a few of these laws:
A bicyclist has all the rights and is subject to all the requirements applicable to a driver of a vehicle.
Bicyclists cannot ride while under the influence of alcohol or drugs.
Bicycles must be properly equipped with brakes, leveled handlebars, lights, reflectors, and seats. Bicycle size must allow the rider to properly operate it.
Bicyclists riding at speeds slower than traffic must ride as close to the right curb as possible except when passing, turning, or avoiding unsafe conditions.
Bicyclists cannot carry packages that prevent from keeping at least one hand on the handlebars.
Bicyclists cannot park bicycles in locations where pedestrian access is blocked.
A qualified Spanish speaking lawyer experienced in bicycle accident cases in Los Angeles should be able to delve deeper into these laws. In general, bicyclists must do everything possible to ride carefully and prevent injury.
Duty of Care—Drivers and Bicyclists
Drivers and bicyclists can be independently blamed for an accident. However, it is also possible that they share the fault. Both drivers and bicyclists have a duty to exercise care to prevent accidents when driving or riding.
Drivers have the duty to operate vehicles in a manner in which the driver does not create a dangerous situation for others. This includes giving bicyclists at least three feet of space when passing, yielding to bicyclists when they are turning, and not obstructing the bike lane. Drivers must practice safe driving. Bicyclists also have a duty to ride safely. They must follow all rules of the road, signal before turning, place proper reflective gear on the bicycle, and have at least one hand on the handlebars at all times. If the bicyclist fails to do any of these and an accident arises, the bicyclist can be found responsible for the accident.
Why does it matter? Driver versus bicyclist responsibility for the accident greatly affects the compensation available at the end of the legal process. Since it is possible that both parties have some responsibility, it would not fair to grant full compensation to just one party. Consider this scenario in a 4-way stop. A driver in a car makes a complete stop. The driver looks both ways and sees no cars are coming and begins crossing the intersection; the driver's phone rings and the driver momentarily looks down. Meanwhile, a bicyclist is approaching the intersection; the bicyclist did not follow the rules of the road and did not make a stop at the sign. The bicyclist collides with the car. Who is at fault in this hypothetical situation? Both the driver and the bicyclist were negligent. The driver was driving distractedly by looking at the phone, and the bicyclist was riding recklessly by ignoring traffic signs. The attributed responsibility of each party will determine the amount of compensation the plaintiff receives. That is, if the jury awards $10,000 in compensation but determines that the defendant was only 60% responsible for the accident, then the plaintiff will only receive 60% of that compensation—so $6,000. In essence, the plaintiff's percentage of responsibility is deducted from the total compensation amount.
A Los Angeles attorney that speaks Spanish can help you further break down this information. Even if you had some responsibility in the accident, you still have the right to sue. If the other driver involved was negligent in any way, you need to contact a top Spanish lawyer with experience handling bicycle accident claims who can sue for your injuries.
Normandie Law Firm—Our Attorneys Speak Spanish
Do not let a language barrier prevent you from getting the legal representation you deserve. We are aware that Spanish speakers do not have the same access to legal representation. It can be intimidating to contact a law firm only to find that no one speaks Spanish. It can be disheartening to think that you have lost your right to sue because you cannot find an experienced attorney who can speak Spanish. Do not lose hope. If you need an accomplished Los Angeles attorney with expertise in bike accident injury lawsuits that speaks Spanish, you must contact Normandie Law Firm. Our skilled Spanish attorneys with experience in bike accident cases have the experience necessary to handle your case. You can be sure that you will be helped by someone that speaks Spanish starting from the day that you decide to call and schedule a consultation.
FREE LEGAL CONSULTATION: Normandie Law Firm is committed to providing clients with exceptional legal service. Part of our commitment is covered by our Spanish speaking attorneys and entire legal team. However, our dedication goes beyond language. We offer free consultations and free second opinions. How could you benefit from either of these? With a free consultation, our legal staff welcomes you to talk to someone who speaks Spanish that can offer you the legal information necessary to file a lawsuit. Our Spanish speaking attorneys will answer all of your questions to the best of their ability. If you already have an attorney with another law firm, you might benefit from a second opinion. You might presently be looking for additional information about bicycle accidents. If that is the case, your current attorney might have missed important details. If your current attorney uses an interpreter to communicate with you, there is a risk of losing key information in translation. This might negatively affect your case. Do not let the language barrier decide the outcome of your case. Contact Normandie Law Firm to speak to an experienced attorney.
Normandie Law Firm's commitment is so serious that all clients receive a Zero-Fee guarantee. You will never have to worry about covering any upfront fees. Best of all, our law firm is strictly based on contingency; therefore, you will not have to pay anything until our Spanish speaking attorneys win your case.