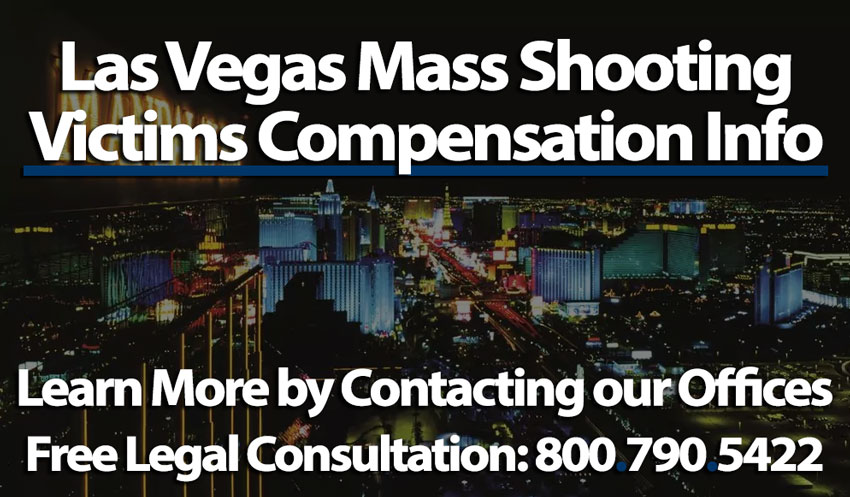 On October 1st, 2017, the deadliest mass shooting in American history took place in Las Vegas, Nevada. The Route 91 Festival, which featured numerous country music acts, had over 22,000 attendees present in an open lot. It was the last day of the festival with the last acts coming to a close. At around 10 p.m., shots broke out, though many of the concertgoers thought they were fireworks or firecrackers. After watching others fall from their injuries, panic ensued, with many running for their lives while others stayed and ducked, waiting for an all clear. The shots came from the 32nd floor of the nearby Mandalay Bay Casino, where the shooter, 64-year-old Stephen Paddock, was holed up. Our law firm is currently investigating the liability the casino had in the attack due to their lacking proper security measures. Clients have called us with questions like:
Is Mandalay Bay Hotel liable for the shooting in Las Vegas on the Las Vegas Strip?
Is Mandalay Bay Hotel responsible for the shooting at the Route 91 concert?
Is Mandalay Bay liable for the deaths in Las Vegas during the Route 91 concert?
Is Mandalay Bay Resorts responsible for injuries in the Stephen Paddock Las Vegas shooting?
If the Mandalay Bar Resorts is responsible, where can I find a lawyer to help me sue the hotel?
Gun Laws in Las Vegas
Although Las Vegas and Nevada have certain laws pertaining to the carrying, possession, and registration of firearms, there are instances where an individual may arouse suspicion with his weapons. Nevada does not regulate the amount of firearms an individual can own, nor does it require any registration or licensing. Automatic weapons, however, must be registered according to federal laws, superseding state laws. You may also legally carry your firearm in the open.
In a state where the views and laws on firearms are generally lax and accepting, there should still have been some questioning by hotel staff as to why an individual was bringing that particular amount of weaponry inside. If there were a nearby shooting range, gun exhibition, collector's event, or similar showcase occurring, there would be less cause for alarm; however, there was no interrogation or questioning whatsoever.
Further, laws pertaining to the carrying of firearms only affect public property. Private property owners have every right to prevent potential entrants from entering the premises if they have weaponry. For this reason, many, if not all, Las Vegas casinos and properties have rules against entering with guns – primarily to protect the patrons. The lack of attention paid to Paddock by Mandalay Bay is enough to show negligence on behalf of the hotel and prompt victims to sue the resort.
Liability of the Hotel
Although the primary responsibility will always rest on the shooter, there are other entities that may have liability in the incident. Essentially, Mandalay Bay did not showcase ample security measures to protect its customers, which led to other people getting wounded elsewhere. It is important to note that in general, hotels and other hospitality businesses are not considered responsible for any actions another patron commits. However, when the actions of the hotel seemingly aided the individual in harming others, there are questions of liability. As such, there were numerous red flags that showed up with Paddock's actions well before the shooting took place, but hotel staff was either unaware of the dangers or chose to ignore them. This liability could lead to a wrongful death lawsuit against Mandalay Bay for Las Vegas mass shooting.
For example, police reported that Paddock installed various security cameras outside of his room to alert him to police presence once he started the shooting. Unless these cameras were tiny, cordless, easily concealable devices, they would have been easily visible to anyone who walked by. Fellow hotel patrons may not have known, but hotel security and cleaning staff should have realized that something was amiss. They pass by these rooms every day and routinely clean them and conduct inspections; for them to be so negligent in their observation meant that Paddock had an easier time carrying out the attack. If he did, in fact, have his do not disturb sign up for a period of time, management should have decided to check on him; that is often more than enough time to see if a patron is alright. In essence, the seemingly negligent observational skills or ignorance to the surroundings was a contributing factor to the attack, and you may be able to sue the hotel.
Further, there were no actual hard security measures in place at Mandalay Bay. An executive director of security at fellow Las Vegas casinos has said that there are ample security measures present in some of the resorts on the strip; these resorts feature metal detectors at numerous entrances, around-the-clock surveillance, and more. At Mandalay Bay, Paddock was able to bring in over 20 guns and hundreds of rounds of ammunition without arousing the suspicion of anyone, but he was also able to do so without any hindrance from security. He likely brought in most of the weaponry disassembled, but the repeated trips and guns that did not need to be broken down should have been caught in one way or another. There are numerous entrances to the hotel, and it is not difficult to bring in a bag unnoticed. This total lack of ample security measures may point at additional liability for the hotel, and allow us to file a wrongful death class action lawsuit.
Additionally, Mandalay Bay was not prepared to deal with such a situation. Many hotels and resorts have trained staff who know what to do in case of an active shooter or how to spot suspicious activity. This lack of preparation stems from the absence of any real threat assessments or similar models; if security never viewed it as a possibility, then further liability is placed on the hotel. You would be wise to find a wrongful death attorney against Mandalay Bay for the shooting.
Although the responsibility for the shooting lies on the shoulders of Paddock, Mandalay Bay's lack of security enabled him to carry out his attack with relative ease. Injured victims may be able to file a personal injury lawsuit against the resort, while those who lost family members may be able to file a wrongful death lawsuit.
Which Lawsuit to File
If you or a loved one were injured at the Route 91 Festival shooting, you may be able to pursue legal action and sue the Mandalay Bay Casino and Resort in a personal injury claim. Similarly, if a loved one were fatally wounded during the event, a wrongful death lawyer can help you earn restitution.
Individual lawsuits can be filed against the casino from any of the injured parties. These lawsuits would be carried out on a case by case basis, and our team of attorneys will monitor and preside over each one.
A Las Vegas strip shooting class action lawsuit against Mandalay Bay Hotel, on the other hand, can be filed to strengthen your claim. You can join a suit that is already filed; class action lawsuits are good choices when a situation or incident affects many people. A wrongful death class action lawsuit can only be joined by certain individuals related to the deceased. Class action lawsuits generally get smaller sums than their individual counterparts, but they are also more likely to be granted, as there is strength in numbers.
Mandalay Bay's role in the shooting through negligence is enough for us to investigate it for a lawsuit. An attorney representing victims of the Las Vega mass shooting has already begun making the necessary strides to bring the affected individuals compensation.
If you need a lawyer representing victims of the Route 91 shooting, contact us today.
Normandie Law Firm – Here for You
We at Normandie Law Firm are investigating the liability of the hotel after the shooting at the Route 91 Festival. If you need a law firm for Las Vegas mass shooting death, we are available. Our attorneys are working around the clock to bring the members of a wrongful death class action lawsuit their fair compensation. Our goal is to bring ample damages for medical expenses, pain and suffering, loss of consortium, funeral expenses, and more. It is not advised to try and file a claim against Mandalay Bay without an attorney for Las Vegas strip shooting injuries.
Call us today for a free legal consultation and information on the Las Vegas mass shooting class action lawsuit against Mandalay Bay Hotel. We will give you all the information you need to know to move forward and tell you what we believe you can earn from a settlement. We are prepared to fight for everyone's rights in court and will not rest until the responsible parties have paid their dividends.
FREE CONSULTATION: Our law firm offers a zero fee guarantee on all claims we take on. You will not pay a penny out of pocket for our legal representation – we only get paid if we win the case, and the fees come from the settlement itself. You do not deserve to suffer any economic loss in addition to the pain and suffering you are already feeling in the wake of the Route 91 tragedy.
Contact our Las Vegas law firm today to speak to an attorney to file a Las Vegas Mass Shooting lawsuit. We offer all of our condolences to the families of those injured and want to do our part to help on the road to recovery.
FURTHER INFORMATION:
Route 91 Concert Promoter and Concert Venue Liability for Las Vegas Shooting
Is Mandalay Bay Hotel liable for the Stephen Paddock shooting in Las Vegas?
Las Vegas Mandalay Bay Liability for Wrongful Death and Injury to Victims