Can You Sue for Being Stuck in an Elevator?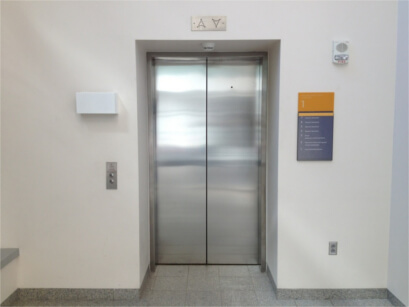 Being trapped in an elevator can be a terrifying situation to find yourself in. Being injured in an elevator can be even more so. According to the U.S Bureau of Labor Statistics and the Consumer Product Safety Commission 17,000 people are injured, and 30 people are killed in elevator accidents every year. Clients of elevator accidents often ask our experienced lawyers whether or not one can you sue for being injured in an elevator accident. The answer is yes, and there is a multitude of aspects that surround doing so. Regardless of who is responsible for the damages, when pursuing a personal injury lawsuit, it is always wise to seek out suitable legal consultation. At the top-rated Normandie Law Firm, our skilled Los Angeles attorneys with experience handling elevator injury claims can assist you in the process of filing your claim, making your case, and collect compensation. If you have any questions after reading this article, please feel free to contact our top law firm for a free consultation.
Elevator Accidents
Elevator accidents are more common than many believe. As stated prior roughly 17,000 people are injured, and 30 people are killed every year from elevator accidents, and with an estimated 900,000 elevators in the U.S alone it is wise to expect that at some point along the line someone pursued legal action for the damages.
There are five main types of elevators, and they can vary in size and capacity:
Passenger: Typically they can be driven by hydraulics or tractions. Hydraulics offers a maximum travel height of 50 feet, while traction-driven elevators can surpass that in medium and high rise buildings.
Freight: freight elevators are typically more durable and are meant to carry heavy loads with the primary purpose of lifting general freight, carrying motor vehicles, and loading industrial trucks.
LULA: "Limited Use/Limited Application (LULA)" elevators are used by a small number of people on a light, as-needed basis, and are designed to fit into small spaces.
Home: home elevators are often used for convenience or accessibility within the home. This is utilized most commonly by people with limited mobility.
Personnel: Personnel elevators are typically used limitedly by maintenance, mechanical, or operations personnel in places like power plants, dams, and underground facilities.
While elevators are often tested, and built to last, mistakes do happen. Some mistakes, however, occur because of a defect or malfunction. Listed below are some of the many forms a malfunction or defect can take place:
A malfunction in the pulley system, or a mechanical breakdown or defect that causes an elevator to drop rapidly within the shaft
Faulty doors, which can cause an open shaft exposing passengers to the risk of falling.
Faulty wiring, or elevator control malfunction
Asphyxiation from being trapped inside an elevator too long
Incomplete repairs, maintenance, or inspections
Unbalanced leveling and the failure of lining up the elevator correctly with the floor
Wiring malfunctions or entrapment due to the heat from fire or water from emergency sprinklers or hoses.
Any of these elevator malfunctions can cause serious injury and even death. Depending on the specifics of the elevator accident, many parties could be found liable for the damages. It could be as the result of poor maintenance, or even the owner or service company could be deemed responsible. The most important factor in determining whether or not you have a viable case to present before a court is the presence of negligence. If any party responsible for the manufacturing and maintenance of the elevator is found to have acted negligently, then a viable elevator injury lawsuit can be filed against them. Regardless of the details of your specific elevator accident injury, it is always wise to retain the assistance of an accomplished attorney who has experience in elevator injuries.
Filing A Lawsuit and Proving Negligence
Whenever you attempt to file a personal injury lawsuit against a business or company, you must be able to prove whether or not they acted negligently. In regards to this article, proving the negligence of an elevator maintenance crew, owner, or building is often done by providing evidence for each of the following:
Duty: The plaintiff (passenger) must be able to show that the defendant (elevator maintenance) owed a legal duty to the plaintiff under the circumstances. In this case, that an elevator accident would not be caused by an act of negligence.
Breach: The plaintiff must show that the defendant breached his legal duty by acting or failing to act in a certain way.
Causation: The plaintiff must prove that the defendant's actions (or lack thereof) caused the plaintiff's injury
Damages: The plaintiff must show that they were harmed or injured as a result of the defendant's actions (inactions). This can be typically done through the presentation of medical bills and evidence of a loss of wages.
Right after an elevator accident, it is important to contact the authorities and a lawyer for elevator accidents immediately to preserve the evidence at the scene and discuss the legal rights owed to you. This should be followed by an accurate inspection and detailed photography of the elevator, the components, and the elevator's control room. If the accident resulted in death, it is likely that experts will be needed to thoroughly investigate the scene. These experts could be, for example, An elevator engineer, an elevator safety expert, a professional building management expert, a fire rescue or evacuation expert. The lawsuit will then need to be thoroughly examined by an attorney, to determine whether it would be more viable to file a defective product claim or a negligence claim. This part of pursuing legal action is vital, as having a qualified attorney with expertise in elevator injury lawsuits on your side could mean the difference between filing a successful claim for monetary compensation and having your case thrown out in court.
How Normandie Law Firm Can Help
If you or a loved one has been injured in an elevator accident, you may be entitled to monetary compensation for all the damages that you have suffered. If you file a claim with Normandie Law Firm, you could find some, if not all, of these following expenses compensable:
The costs of any medical care
Any future medical attention and treatment
A loss of income and loss of future earnings due to long-term recovery or permanent disability due to the accident
Any loss of property or damaged property.
Any non-economic damages include emotional distress, trauma, PTSD resulting from the accident, pain and suffering and anxiety.
One of our expert attorneys with experience in elevator injury cases can help bring you a settlement you deserve.
Free Consultation and Zero Fee Guarantee
Victims of elevator accidents can contact our law offices to learn more about how to receive compensation for their injuries. Our team of Los Angeles lawyers is committed to ensuring every one of our clients has the resources to put up a fair fight for their cases. A lawyer experienced in elevator injury cases will always be available to take your call. To show this commitment to you and your case we offer our clients the benefits of a zero fee guarantee policy. Our clients never have to pay any fees upfront. We will fight the fight and collect fees if and when we get you money. If we don't get you money, you will owe us nothing. Call us today to speak to an experienced attorney.