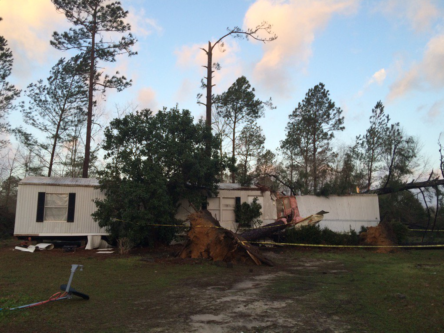 Very few expect to be injured by a falling tree or tree branch, especially one that falls at your home. Unfortunately, this kind of things happen, and when they do they can leave the victim with some severe injuries or in some cases can even result in death. In most cases, trees around a house, apartment complex, or in the case of this article, mobile home park are expected to be adequately maintained by the landowners. If a tree injures you after not being properly maintained by a mobile home park owner, then you have every right to sue the mobile park owner for negligence. However, when filing a lawsuit, it is in your best interest to hire a qualified and experienced mobile home park tree fall lawyer to represent your case in court. With the help of a skilled and experienced attorney, you can earn significant compensation for the damages that you have had to endure. At Normandie Law Firm, our skilled Los Angeles lawyers with experience handling mobile home injury claims are here to help injured tenants. The top team at our Los Angeles law firm can guide you through the often arduous process of building your case, filing your claim, and, collect monetary compensation. If you have any questions after reading this article, please feel free to reach out to our law firm for a free consultation by one of our top-rated legal advisors or experienced lawyers.
Falling Tree Branches & Premises Liability
Falling trees can cause some truly traumatic physical injuries that can range from broken bones to devastating and sometimes life-threatening brain and spine injuries. The amount of weight behind a falling tree or tree branch poses a significant risk to anyone in the tree or tree branches' path. For this reason, there are often strict municipality rules that regulate when a property owner should maintain or cut down tree or tree branch that has potential to cause harm to individuals nearby. If a property owner refused to follow these regulations and said action results in the injury of a patron or tenant, that property owner can be found liable for the damages. Mobile home parks are somewhat tricky, however, as in most cases of personal injury at a mobile home park, the tenant owns the mobile home, but pays for the space the mobile home resides on. However, when there is a loose branch or a tree falls at a mobile home park the liability of said tree will more than likely fall upon the mobile home park owner. This is because the tree resides on the property they own, not the property belonging to the injured tenant.
Under premises liability, the owner of the property is to be held liable for the damages caused by a hazard on the property. In any premises liability case, the plaintiff will need to prove that the following was present in the case:
There was a hazardous condition or potentially dangerous condition on the property, like a dying tree or loose tree branch, that presented an unreasonable risk of harm.
The property owner, or mobile home park owner, should have been aware of the dangerous condition
The mobile home park owner or property owner failed to either warn guests of a reasonable condition and did not take reasonable action to remedy the issue.
The hazardous condition resulted in the injury of a tenant or patron.
Property owners, mobile home park owners, included, are expected to ensure that their premises are reasonably safe. For instance, if the owner of a mobile home park failed to remove a tree that they knew was dead or dying, and a tree branch fell on someone, resulting in spinal cord damage, the mobile home park owner may be held liable for the damages. If you or a loved one has been injured by a falling tree at a mobile home park, you may be able to sue the mobile home park owner for their negligence to take care of the issue. However, with all lawsuits, it is in your best interest to seek representation from an accomplished attorney who has experience in handling cases of this nature.
Filing a Lawsuit For the Damages
Filing a lawsuit against a mobile home park owner can be somewhat challenging. Like all property owners and large companies, they are likely going to have the resources to employ a whole host of legal experts ready to dispute your claim. For this reason, it is highly recommended that you don't go it alone and seek assistance from an experienced lawyer. Some of the damages that a falling tree can cause can be incredibly debilitating as well, and in many cases, a successful lawsuit can help you earn compensation to help you seek adequate medical assistance to reach a full recovery. Some of the damages caused by falling trees are listed as follows:
Head Injuries: Head injuries can range from minor contusions (or brain bruising) to more severe traumatic brain injuries or TBIs. Some TBIs can cause ongoing seizures, mood changes, cognitive impairment and other debilitating symptoms. In most cases, head injuries require emergency room treatment, or hospitalization and in more severe cases can result in death.
Hip Fractures: Hip fractures often require surgery and extended hospitalization. In some more serious cases, surgery may be necessary to implant an artificial hip. Out of every five hip fracture patients, one of them dies due to their injuries
Back and Spinal Cord Injuries: Injury to the spinal cord can lead to permanent paralysis, temporary paralysis and other severe neurological and sensory impairments
Shoulder Injuries: Slip (trip) and fall accidents can result in shoulder dislocations or more severe forms of shoulder injuries called brachial plexus injuries. The brachial plexus is a network of nerves that connect the shoulder, arm, and hand to the spinal cord. These injuries are often treated with surgery followed by extensive physical therapy
Sprains and Fractures: The force of slipping and falling can cause minor to severe bone injuries. In some cases, the impact of the ground could cause minor sprains, in others; it could cause debilitating bone breakage that may result in temporary disability. Some of the common fractures that victims suffer include hip, spine, forearm, leg, ankle, pelvis, upper arm and hand.
When filing a lawsuit against a mobile park owner for failing to maintain their premises properly, you must be able to prove their negligence resulted in causing the injuries you have endured. The components of a successful claim of negligence are listed below for your reference:
Duty: The plaintiff (injured or damaged party) must be able to show that the defendant (mobile home park owner) owed a legal duty to the plaintiff under the particular circumstances of the case.
Breach: The plaintiff must be able to show that the defendant breached said legal duty through specific actions or failure to act appropriately
Causation: The plaintiff must be able to show that the defendant's actions or lack thereof caused the plaintiff's injuries
Damages: The plaintiff must be able to show that they endured some specific damages. This can usually be shown through the presentation of medical records, a loss of wages, or a loss of potential income.
While proving negligence, and being able to place liability on the mobile home park owner is essential to the success of your case another vital thing take note of in moving forward with legal action is the statute of limitations. The statute of limitations is the period in which a plaintiff has to bring a case to court. If you fail to adhere to this time limit, it is likely that your case will be dismissed from court entirely. In the state of California, a plaintiff has two years from the date of the injury to file a lawsuit against a mobile home park owner for the damages caused by a falling tree or tree branch. However, this rule tends to vary from state to state. For this reason, it is in your best interest that you seek assistance from an experienced attorney well-versed not only on the statute of limitations that influence your case but also adept in fighting against mobile home park owners.
How Normandie Law Firm Can Help
If you or a loved one have endured the damages of a falling tree or tree branch at a mobile home park, one of our qualified Los Angeles attorneys with experience in fallen tree cases can best assist you in seeking adequate compensation for your damages. Those who file a claim with our Los Angeles law firm can find some if not all of the following damages compensable to them:
Past and Future Medical Expenses
Loss of Income
Loss of potential future income
Emotional Damages (anxiety, depression, PTSD, etc…)
Punitive Damages
Victims of falling tree branches and trees at mobile home parks in California can contact our law firm for more information on how to seek compensation for their damages. At Normandie Law Firm, our expert Los Angeles lawyers are experienced in fighting for the rights of mobile home tenants. While we are based in Los Angeles, our lawyers also practice in San Diego, Orange County, Riverside, Bakersfield, San Francisco, Fresno, Sacramento and throughout the state of California.
Free Second Opinions
Other attorneys will sign you up to their firm but will disappear once your name is on the paper as they are busy signing up more cases. In these instances, their business is based more on volume and will attempt to sign up as many cases as possible. In turn, they will spend less time on cases resulting in severely reduced settlements. Our firm will not treat you like a number. We will be in communication with you throughout our lawsuit and will treat you like family. So if you already have an attorney don't worry, we'll give you a second review of your case 100% free of charge. A lawyer experienced in falling tree cases will be able to assist you.
Zero Fee Guarantee-No Upfront Fees Ever
If you contact our law offices today, we can walk you through the complicated process of filing your claim completely free of charge. As a show this commitment to you and your case we offer our clients the benefits of a zero fee guarantee policy. Under our zero fee policy, all clients don't pay for our services until their case is won. If you feel in need of a second opinion, second opinion case reviews are also free under this policy. Please, feel free to give us a call, and an attorney with expertise in fallen tree injury lawsuits can guide you down the path of receiving proper compensation for your damages.