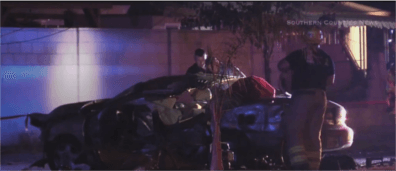 Late Sunday night, 07-24-2017, a man was killed in a car accident after leading police on a high-speed pursuit through Santa Ana. The man's 9-year-old daughter was present in the backseat of the car, but was not discovered until police approached the scene of the wreck, authorities stated.
The man, 43-year-old Juan Rodriguez, was a Costa Mesa resident who had three outstanding warrants related to drug sales. In the car, police found over $10,000 in cash, over half a pound of narcotics, and a loaded weapon, Corporal Anthony Bertagna said.
Prior to the crash, police were alerted to a report of a man waving a gun at a restaurant in Santa Ana shortly after 10 p.m. The description of the vehicle matched Rodriguez's, and when police attempted to stop him for questioning, he fled. The vehicle traveled westbound, exceeding speeds of 80 mph; police lost track of the vehicle but soon came upon the crash. Rodriguez had slammed into a light pole and then wound up hitting a brick wall on West Pendleton avenue.
The girl was found at the scene of the crash and rescued from the vehicle with the assistance of the Orange County Fire Authority. She was transported to Orange County's Children's Hospital and was later confirmed to be in stable condition.
Compensation for Victims of Car Accidents: Our lawyers are currently investigating the possibility of filing lawsuits against the responsible parties. People who have been injured in car accidents may have grounds for a personal injury claim with the ability to receive compensation for damages to the victim's body, mind, and property. This claim can be filed as a passenger, pedestrian, driver, or owner of damaged property. Potential compensation for this claim includes:
Medical costs, both in the moment – for immediate hospitalization and treatment – and future – for scheduled surgeries or necessary medication.
Property damage or economic restitution
Pain and suffering in the form of emotional or psychological stresses stemming from the accident.
Our team of attorneys at Normandie Law Firm want to make sure you and your loved ones are safe in the wake of an accident. When circumstances out of your control put you in a situation where you need financial assistance through legal means, we are more than happy to assist you and bring you the justice you deserve.
Call us today for a free consultation. Our empathetic lawyers are available to help you move forward.