4 Severely Injured and 1 Dead in 14 Freeway Accident 7-20-2017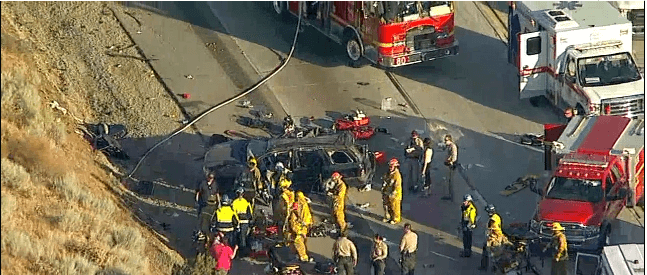 A one-year-old child has passed away in Agua Dulce after sustaining injuries in a car crash this morning. Authorities said the other passengers in the car – an adult woman, age 37; two young boys, age 8; and a teenage boy, age 14 – were hospitalized as well with major injuries.
Investigators have not issued any information on what caused the crash, which occurred near the Sierra Highway/Red Rover Mine Road exit of the 14 freeway. They stated that the driver swerved off to the right, hit a dirt embankment near the off-ramp, and flipped the vehicle; emergency workers responded within twenty minutes and called in helicopter support to airlift the victims to the nearby Antelope Valley Hospital. The infant was declared dead at the hospital.
Further information on the condition of the other victims has not yet been released.
Compensation for Injured Victims of Auto Accidents: Those who have been injured in automobile accidents due to the fault of another party are able to receive monetary restitution for any and all damages to their wellbeing. This personal injury claim can be filed against another driver or the manufacturer of the vehicle due to negligent conduct or faulty equipment. Compensation for this claim includes:
All medical costs, both current and future (hospitalization, surgery, medication)
Loss of income due to injuries (long term inability to work, disability)
Economic damage (property damage)
Pain and suffering (emotional and psychological stress)
We can help with any lawsuits or claims that stem from accidents such as this. Our attorneys at Normandie Law Firm are sympathetic to your troubles and understand that you need to be financially covered in the event of mishaps or unexpected accidents. We are prepared to investigate the causes of the accident and get you the compensation you deserve.
We offer you a free consultation with one of our attorneys to discuss and review the lawsuit. Our lawyers are prepared to sue the responsible parties in order to bring you justice, compensation, and peace. Our consultation will outline potential settlements and benefits that you can receive from the lawsuit.
Call us today to learn more and pursue your compensation.
More info about our law firm