Lawsuit Info: Herman Miller Recalls Defective Fiberglass Rocking Chairs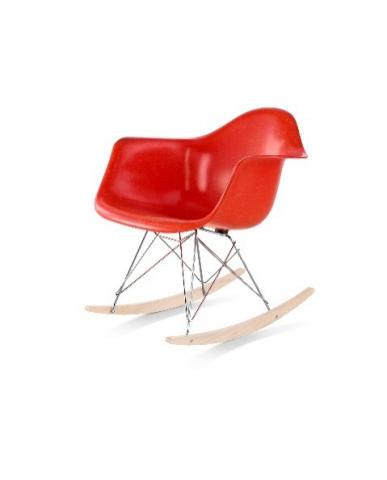 Name of product: Eames Fiberglass Rockers
Hazard: The rocker's base can separate from the seat, posing a dangerous fall hazard to consumers
Remedy: Refund
Recall Date: October 17, 2017
Recall Number: 18-010
Description: This is the recall for the Herman Miller's Eames-branded molded fiberglass armchair rockers with model numbers beginning with RFAR. The rockers were sold in multiple shell color variants and frame finishes and with our without upholstery. The upholstered rockers measure at around 25.25 by 25.5 by 27 inches and non-upholstered about 25 by 25.5 by 27 inches. Recalled rockers were manufactured from May 1, 2013 through September 8, 2017. The manufacture date in MM/DD/YYYY format and the model number are printed on a label located on the underside of the seat. The Herman Miller, the Eames Office and the Eames signature logos are molded into the underside of the seat.
Remedy: Consumers should stop using the product immediately and contact Herman Miller to return the product free of cost for a full refund.
Incidents/Injuries: Herman Miller has received nine reports of consumers falling, including six resulting in injuries that resulted in bumps and cuts.
Sold At: Herman Miller, Design Within Reach and Herman Miller's authorized retailers and dealers nationwide and online at http://store.hermanmiller.com and www.dwr.com from May 2013 through September 2017 for about $650 (non-upholstered) and $890 (upholstered)
Manufacturer(s): Herman Miller, Inch. Zeeland, Mich.
Manufactured In: United States
Units: About 1,6000 (in addition, about 190 were sold in Canada)
How Normandie Law Firm
If you have purchased this product we recommend that you send a report to receive a full refund of your purchase. We also recommend that you act immediately as this product can cause serious bodily injury. If you or a loved one has already suffered damages as the result of this product then you may be eligible to file a product liability lawsuit and collect proper monetary compensation. If you file a claim with us you could find some, if not all, of these following expenses compensable:
All of you medical and hospitalization costs
All of your future medical care and treatment
A loss of income and loss of future earnings due to long term recovery or permanent disability due to the accident
Compensable economic damages include loss of property or damaged property.
Compensable non-economic damages include emotional distress, trauma, PTSD resulting from the accident, pain and suffering and anxiety.
Victims of this recall or recalls similar to this one can contact our law offices to learn more about how to receive compensation for their injuries. Our team of product liability attorneys is committed to ensuring that our clients receive proper representation for their claims. As a display of our commitment, every one of our clients will receive the benefits of our zero fee guarantee policy. Under this zero fee policy, all you don't pay for our services until we follow through with our promise and win your case.  If you feel in need of a second opinion, second opinion case reviews are also free under this policy. So, give us a call, and let us fight your case, so you don't have to.