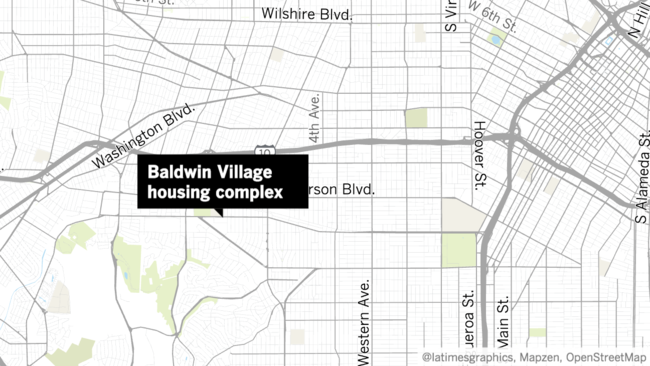 Housing Complex near Baldwin Village is a reported hotbed for gang crime, and prosecutors think the involved owner should live there.
At the Chesapeake Apartment complex located on the northernmost border of Baldwin Village, police informants have made some drug buys in recent months. Authorities have reported that multiple shootings and robberies have occurred at this complex. The 425-unit complex takes up over 17 acres and has experienced violent crime for decades. More recently, the complex has experienced violence at the hands of the street gang Black P-Stones. The gang has become an immovable part of the neighborhood, making the complex a dangerous environment for tenants and residents. Prosecutors have recently targeted the owners of Chesapeake Apartments, stating that they should do more to mitigate the level of crime. On Monday, a lawsuit was announced by City Attorney Mike Feuer, which stated that mismanagement at the complex has resulted in a dangerous environment for tenants and even visitors who travel in or near the property. The solution to the problem has been to force the property owners to stay and live on the premises. This suit is based on the premise that the property owners were aware of the dissolving situation, yet did nothing to mitigate it, and as a result tenants and visitors have suffered serious threat or even injury as a result. If this follows through, it will create a precedent wherein the property owners can be held liable for the damages caused by the hazards this property has imposed on visitors and tenants. If you or a loved one have suffered injury or damages of any kind as a result of the deteriorated condition this apartment complex poses, you may be eligible to file a claim against the property owners for monetary compensation. At Normandie Law Firm our skilled premises liability and personal injury attorneys are committed to ensuring all of our clients receive the resources they require to seek the compensation they deserve. If you have any questions after reading this article, please feel free to reach out to our law offices for a free consultation from one of our well-versed legal advisors.
The Situation at The Chesapeake Apartment Complex
Some events were listed in City Attorney, Mike Feuer's lawsuit made against the property owners. One of which involved an incident in June 2016 when 30 people surrounded officers that had arrived at the complex to arrest members of the Black P-Stones gang. During the confrontation one of the members became violent, and the officers were forced to call for backup. Of the group of people crowding officers reporting to the complex were children between ages 9 and 13 who directly threatened police officers. Another key aspect of this lawsuit was that once current property owner, SwaranjitNijjar took control of the property in December 1996, the LAPD has made more than 2,900 arrests and crime reports including rapes and homicides. That is not to account for the number of unreported crimes, as tenants at the property failed to report incidents out of fear of gang retaliation. The violence spurred from the danger of the Chesapeake Apartment complex has put two local high schools, an elementary school, and a sports complex at risk. While this case is still ongoing, it is clear that there are grounds for those injured by the poor management to file a lawsuit against the neglectful property owner Nijjar.
Premises Liability and The Chesapeake Apartment Complex
Under premises liability, the property owner of the Chesapeake Apartment Complex near Baldwin Hills can be held liable for the damages caused by the deteriorated level of crime at the complex. Premises liability laws in California state that property owners are expected to provide a reasonably safe and secure environment for their tenants. While in most cases, this rule is applied for physical defects in a tenant's home, it can also apply for untraditional defects like the defect that imposes such a risk for the tenants of Chesapeake Apartments. In this case, the property owner was already aware of the deteriorating conditions at the complex, and it could be found that they did little to stop or slow the process. Under a premises liability lawsuit, the defendant could attempt to dispute your claims for compensation by stating they were unaware of the poor living conditions of the complex. However, there is a threshold wherein a property owner should reasonably be aware of the situation on their property. Regarding this case, the property owners of Chesapeake Apartments should have been well aware of the state of crime the complex has imposed on not just residents but those living in the area of Baldwin Village. To put it simply, the property owners are creating a dangerous condition by having allowed the property to have reached such a state of complete and utter disarray.
If you are a tenant of Chesapeake Apartments and have been injured or suffered damages as a result of this poor situation, you may be eligible to file a claim for compensation. However, when filing a claim against any party, it is in your best interest that you are made aware of the steps you should take to ensure a better outcome for your case. First and foremost, victims should collect all evidence they can to support their claim. This evidence can take the form of medical bills detailing the injuries suffered, records of interactions made with the property owners, or photographs that detail the specific incident or incidents which caused your injuries. It is always recommended that you collect as much evidence as you can as soon as possible, as the sooner you collect your evidence, the more likely your case will have a favorable outcome.
Victims of this specific incident or an incident like it should also consult a skilled attorney as soon as possible. Having the right legal expert on your side can make all the difference in the eventual outcome of your case. An attorney will also help navigate the process of placing liability. Regarding premises liability the following components must be present in your case to adequately place liability upon the property owner:
There was a hazardous condition or potentially dangerous condition on the property that presented an unreasonable risk of harm.
The property owner should have been aware of the dangerous condition
The property owner failed to either warn guests of a reasonable condition and did not take reasonable action to remedy the issue.
The hazardous condition resulted in the injury of a tenant or patron.
Once you believe you can sufficiently place liability on the property owners for their wrongdoing or negligence, you must then be able to prove the negligence of the property owner. Using the evidence previously collected, and with the help of an attorney, you will need to file a claim for negligence against the property owner. Every claim of negligence is different, just as every case is different; however, some key components need to be filled for every claim of negligence. These components are listed below for your reference:
Duty: The plaintiff (injured or damaged party) must be able to show that the defendant (property owner) owed a legal duty to the plaintiff under the particular circumstances of the case.
Breach: The plaintiff must be able to show that the defendant breached said legal duty through specific actions or failure to act appropriately
Causation: The plaintiff must be able to show that the defendant's actions or lack thereof caused the plaintiff's injuries
Damages: The plaintiff must be able to show that they endured some specific damages. This can usually be shown through the presentation of medical records, a loss of wages, or a loss of potential income.
This incident at the Chesapeake Apartment complex is somewhat complicated, and in moving forward with legal action, it is in your best interest to seek legal representation from an attorney that is well-versed on premises liability law. In most cases regarding the state of crime of a housing complex, a property owner may be more able to dispute their hand in allowing things to reach such poor conditions. However, in the case of the Chesapeake Apartment complex, the property owners were well aware of the situation yet did little to stop the influx of crime.
How Normandie Law Firm Can Help
If you or a loved one have been injured or suffered any other form of damages as a result of this incident, you may be eligible to file a claim for significant monetary compensation. At Normandie Law Firm one of our experienced Los Angeles lawyers can guide you through the often arduous process of building a case, filing a claim, and reaching a satisfactory settlement. Those who file a claim with our Los Angeles law firm can find some if not all of the following damages compensable to them:
Past and Future Medical Expenses
Loss of Income
Loss of potential future income
Emotional Damages (anxiety, depression, PTSD, etc…)
Punitive Damages
Victims of this incident or incidents similar can contact our law firm for more information on how to seek compensation for their damages. While we are based in Los Angeles, our lawyers also practice in San Diego, Orange County, Riverside, Bakersfield, San Francisco, Fresno, Sacramento and throughout the state of California.
Free Second Opinions
Other attorneys will sign you up to their firm but will disappear once your name is on the paper as they are busy signing up more cases. In these instances, their business is based more on volume and will attempt to sign up as many cases as possible. In turn, they will spend less time on cases resulting in severely reduced settlements. Our firm will not treat you like a number. We will be in communication with you throughout our lawsuit and will treat you like family. So if you already have an attorney don't worry, we'll give you a second review of your case 100% free of charge.
Zero Fee Guarantee-No Upfront Fees Ever
If you contact our law offices today, we can walk you through the complicated process of filing your claim completely free of charge. As a show this commitment to you and your case we offer our clients the benefits of a zero fee guarantee policy. Under our zero fee policy, all clients don't pay for our services until their case is won. If you feel in need of a second opinion, second opinion case reviews are also free under this policy. Please, feel free to give us a call, and we can guide you down the path of receiving proper compensation for your damages.