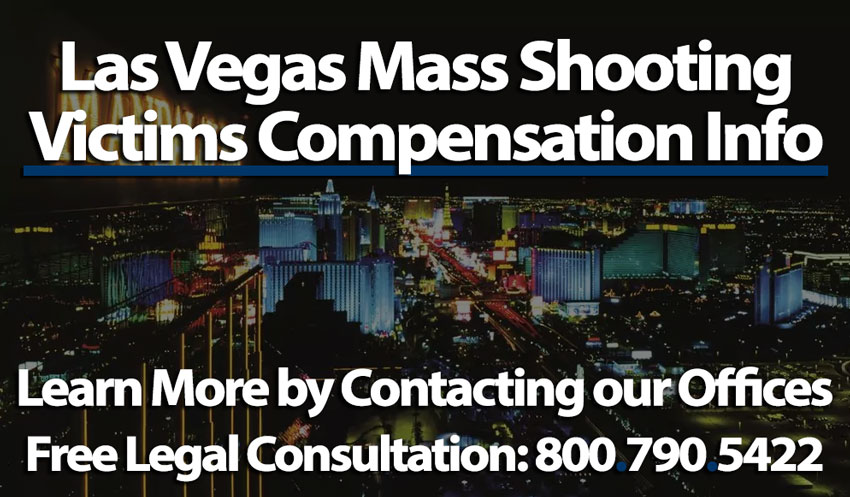 The Las Vegas shooting that occurred in October 2017 resulted in over 50 dead and 500 wounded, but the numbers could have been much lower if the Route 91 Harvest Festival had appropriately prepared for danger. The festival did not have adequate emergency response training and its setup was fundamentally flawed. Those who were injured escaping the festival may have not suffered any injuries if these problems were alleviated beforehand. Ultimately, the bulk of the blame falls on Stephen Paddock, the man responsible for the shooting, but there were other measures in place that could have helped these individuals. Our team of expert attorneys at Normandie Law Firms knows that this tragedy could have had less drastic results if there were more measures taken to help people in the event of an emergency.
The Shooting
Paddock was stationed on the 32nd floor of the nearby Mandalay Bay Casino and Resort. He turned the room into a makeshift armory, keeping numerous firearms, dozens of rounds of ammunition, and a self-installed security system inside of it. His carefully premeditated attack was carried out the night of the Route 91 Harvest Festival concert. Paddock broke the windows and proceeded to fire down onto the crowd below; thousands of people were present, and the initial thought was that the sounds were merely fireworks. Once it became apparent that the noises were gunshots and others noticed many individuals falling to the ground, widespread panic occurred. Paddock laid out his assault for over ten minutes with near constant bursts of automatic gunfire before taking his own life when police prepared to storm his room.
Escaping from the Festival
Those injured trying to escape Route 91 Las Vegas shooting concert are those who were not struck by Paddock's gunfire. Those who were shot and lay incapacitated, or those who were quickly transported to a medical facility, were not the ones trying to escape. Many individuals were running for the exit while others elected to take cover as best they could.
The problems with the festival became apparent in the aftermath of the shooting. For one, there was an essential design flaw with the borders. Outdoor festivals generally have some kind of protective barrier that does not allow merely anyone to enter. Those who wish to enter must go to the designated entrance and show a ticket. This is done to prevent scamming and thieving, and because it is much easier to police a group of people if they are not entering a property from multiple different locations. A single entrance and exit, however, means that people would bottleneck the pathway and cause a jam. It would not be easy to leave and exiting would take very long. This slow-moving herd of people would thus be an easy target for a shooter, and when panic further ensues, the group would push and shove, resulting in trampling injuries.
This could have been fixed if the surrounding fence had emergency exits placed around it, or if the fence were spaced further apart. There could have been guards present to ensure no unwelcome visitors. The lack of quickly accessible exits meant that people had to travel further to leave at the only exit they know, leading to additional injuries.
The alternative was climbing over the fence and fleeing. The festival consisted of people of all ages, and only some would be able to hop the fence. This means that those injured trying to escape Route 91 Las Vegas shooting concert by jumping over the fence could have gotten hurt from falling from the raised height.
Many others who wanted to escape tried to take cover from time to time behind whatever shelters they could find. There were not too many shelters or structures, however, and as a result, the people trying to escape were left in the open, running as apparent targets.
To make matters worse, there was a total lack of authority figures present at the festival. For all the thousands of attendees, there were only a few security guards and trained personnel. This meant that n the event of an emergency, the festival would be severely understaffed. Many people were confused and looking to others for support or directions, but none were given.
In all, many people opted not to try to escape, but instead merely lie down and take cover near others in the hopes that they would not be struck by bullets. The festival can be considered at least partially responsible for the damages of those injured while trying to escape the Route 91 Las Vegas shooting.
Potential Compensation for Victims
Those who were injured while escaping the Route 91 Las Vegas concert shooting may be able to receive financial compensation for their damages. Shortly after the shooting, there was information released that many would choose to pursue compensation from the estate of Paddock; however, these funds would run out quickly, and other entities could be considered partially liable for the attack. The Harvest Festival is one such entity.
If you or a loved one were injured while escaping the Route 91 Harvest Festival shooting, you may be able to earn:
Coverage of medical expenses, including surgery costs, medication, ambulatory transportation, hospitalization, physical therapy, and more. These expenses are not cheap, and you should not be expected to be responsible for your medical bills if you were injured due to the negligence of another party. You can also be compensated for past bills as well as future bills that may arise from other treatments.
Lost wages, including wages from both the past and the future. Your injury may have kept you out of work for some time, and the ensuing recovery time or additional medical procedures may further prevent you from working. You should not be deprived of your living wages because of someone else's negligence, and these funds can be reimbursed.
Pain and suffering, or noneconomic damages, can be awarded. They accompany economic damages; these are more difficult to measure because they do not have exact dollar amounts. You can be compensated for psychological trauma, mental scarring, emotional troubles, fear, anxiety, PTSD, and more.
An experienced attorney at Normandie Law Firm can help you get started on the legal process to filing a lawsuit against the Route 91 Harvest Festival.
Normandie Law Firm: Here to Help You
Our team of attorneys at Normandie Law Firm is here to make sure you receive the compensation you deserve. Our goal is to bring you a settlement that you do not have to stress over receiving while you recover from your injuries and get your life back together. We know that many attendees have been hurt and have not yet seen a dime from the festival, and we want to change that. Our lawyers are aggressive and will tirelessly fight to earn you fair restitution, and we believe we can finish the job better than anyone else.
Call us today for a free legal consultation with an experienced attorney. You are encouraged to ask any questions you want about the legal process and the ways in which the Route 91 Harvest Festival may be liable for some of your injuries. We will discuss your injuries and potential case with you, as well as give you advice and knowledge you need. We will be more than happy to give you the information required to assemble evidence for a lawsuit. We believe that all of our clients should be adequately informed before making any legal decisions.
If you select us to represent you, you are given a zero fee guarantee on your case. This means that you will owe no expenses out of pocket for our legal services – in fact, you will pay nothing at all of your own money. Our payment only comes if we win your case, and the fees are taken from the settlement we win for you. If we lose, we earn nothing. This is done to make sure that your savings are never touched and that your financial integrity is kept intact.
Contact an expert lawyer at Normandie Law Firm today if you were injured trying to escape Route 91 Las Vegas shooting concert.