LAPD Motorcycle Officer Accident on South La Brea Avenue and Venice Boulevard 8-8-2017
LAPD Motorcycle Officer and SUV Involved in Crash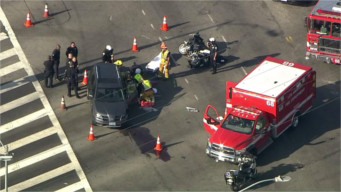 Our law firm is currently investigating the possibility of a personal injury lawsuit against all responsible parties for an accident that occurred August 8, 2017.
In Mid-City on Tuesday morning, an LAPD officer was involved in an automobile accident on Venice Boulevard and South La Brea Ave. The crash occurred in the middle of the morning commute at around 8 a.m.
The crash involved the officer, who was driving his law enforcement motorcycle, and a dark SUV. There has been no further information on the specifics of the crash, the cause of the accident, and who was at fault.
The officer was treated at the scene by medical personnel and later transported by ambulance to a local hospital. There has been no update on the driver of the SUV, his condition, or his information.
Personal Injury Lawsuit
If you or a loved one has been injured in an automobile accident due to the negligence of a law enforcement officer, contact us at Normandie Law Firm today, and we will help you receive the compensation you deserve.
All people operating vehicles on the road should abide by the same basic laws and principles, with no exceptions. Police officers who overstep their boundaries and drive in a negligent manner should be held responsible for their mishaps, and the agencies for whom they work should be liable for the actions of their employees.
Police officers of various departments have at times been known to speed, run stop signs, circumvent traffic, and speed through red lights without the sound of any sirens. This places other drivers on the road at risk of serious injury and even death.
If you are involved in an accident with an LAPD officer or a cop from any other law enforcement agency, you may be eligible to sue for personal damages and restitution. You may able to collect a settlement that will cover:
Medical treatment, including hospitalization fees, surgery expenses, medication, and physical therapy.
Property damage, such as coverage for your vehicle and any repairs it requires, as well as any belongings that were damaged while in the car.
Lost wages, which will accrue in the event that you have no reliable transportation to work, you are unable to work due to injuries or hospitalization, or you have to spend time at other events to deal with the incident (such as a court case).
Pain and suffering, which arise from injuries and damages in the accident. Pain and suffering can include mental anguish, fear, anxiety, and other conditions that were not present until the incident occurred.
Normandie Law Firm is Here for You
When dealing with a government agency, you have six months to file an administrative grievance against the entity, be it Highway Patrol, County Police, City Police, or State Police. In the event that your grievance is tossed out or denied, you have two years from the point of the accident to file a personal injury claim in the court of law. We recommend filing a grievance as quickly as possible so that you can maximize the time you spend gathering evidence and minimize the time the agency has to avoid the claim.
Our qualified personal injury lawyers at Normandie Law Firm believe that all people should be held responsible for their actions when they drive on the road, and there are no exceptions for government agents or police officers. Contact us today for a free legal consultation with an experienced attorney, and you will hear firsthand how we will aggressively pursue the compensation you deserve to receive. We will also be happy to answer any questions you have about the legal process and what kind of settlement you can hope to acquire.
Normandie Law Firm abides by a zero fee guarantee – we do not get paid a dollar unless we win your case and reach a settlement with a defendant. You pay no out of pocket expenses when you use our services, and you only owe fees when you get your restitution.
For more information on personal injury lawsuits involving police officers and traffic accidents, call Normandie Law Firm today.