Lancaster Street Vendor Hepatitis A Lawsuit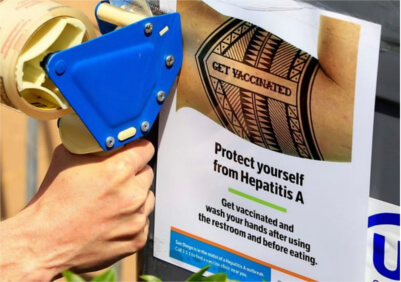 Our law firm is currently investigating a matter involving a street vendor in Lancaster, California.

A Lancaster street fruit vendor may have exposed consumers to hepatitis A, due to the infected produce he sold. Hepatitis A can cause serious swelling of the liver and can prevent it from functioning properly, sometimes resulting in liver failure. Los Angeles County Public Health officials made a statement on Monday regarding the tainted produce. The vendor sold infected fruits from a stand at West Avenue and 20th Street West in mid-August.
The county's interim health Dr. Jeffrey Gunzenhauser stated, "It is important that anyone who may have bought or consumed fruit from this vendor from Aug. 15th, through Aug. 22 should contact their doctor to discuss possible hepatitis A prevention and treatment options."
Health officials have advised that those who might have consumed the infected fruit to receive an immune globulin shot or hepatitis A vaccine. They have also suggested that any uneaten produce should be immediately discarded.
Officials suspect this incident might be linked to the outbreaks of hepatitis A in San Diego and Santa Cruz. The fruit vendor in question had previously spent time in San Diego, received care, and is no longer infectious. The county has yet to identify any new cases associated with the fruit stand.
About Normandie Law Firm
If you or a loved one has been diagnosed or feel you have been exposed to hepatitis A as a result of this incident or another incident similar to this one, you may be entitled to monetary compensation for all the damages that you have suffered. If you file a claim with Normandie Law Firm you could find some, if not all, of these following expenses compensable:
Any and all medical expenses
Loss of Income
Loss of potential future income
Emotional Damages (anxiety, depression, PTSD, etc…)
Punitive Damages
Victims of this incident or incidents like this one can contact our law offices to learn more about how to receive compensation for their damages. Our team of attorneys is committed to ensuring every one of our clients has the resources to put up a fair fight for their case. As a show this commitment to you and your case we offer our clients the benefits of a zero fee guarantee policy. Under our zero fee policy, all clients don't pay for our services until their case is won. If you feel in need of a second opinion, second opinion case reviews are also free under this policy. Call our law offices today for a free consultation by one of our skilled attorneys, and we can discuss the incident, your damages, and the path to receiving proper compensation for your damages.