L.A. County Deputy Arrested for Alleged Sexual Assault of Female Inmates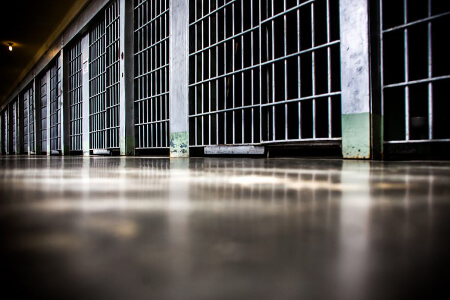 31-year-old L.A. County deputy, Giancarlo Scotti, was arrested after being accused of sexually assaulting two female prisoners at the jail facility in Lynwood, CA. This was announced by L.A. County Sheriff Jim McDonnell on September 13, 2017. He was arrested at 6 p.m., the day the incident occurred and hours after one of the inmates reported the action to one of the teaching instructors at the jail.
Scotti is a 10-year veteran and faces charges of rape under color of authority and oral copulation under color of authority.
The alleged assaults took place over one hour in the early morning while the deputy was on-duty. One of the females inmates reported it around 9 a.m., according to McDonnell. The scene was locked down, and the investigation immediately commenced. McDonnell emphasized, "We immediately put investigators on the case."
Scotti was put in the watch commander's office when notified of the allegations, and once the initial investigation yielded sufficient evidence, the arrest was made.
He was locked at the Norwalk jail and was later released after posting the $100,000 bail. There have not been any criminal charges filed, but Scotti is set to make his first court appearance on October 5, 2017. He has been placed on administrative leave pending the outcome of the investigation.
There is currently no indication that any other law enforcement personnel were involved.
The Normandie Law Firm
Our law firm is here to ensure that your rights are protected. If you or a loved one has suffered the immense trauma of being sexually assaulted, you may be entitled to compensation for the damages which you may have suffered. We are here to fight for justice and ensure that you get compensated for the following damages:
Medical Costs – Including hospital visits, diagnoses, examinations, surgery, as well as any future medical treatments.
Loss of Income – If the harm you suffered forced you to miss work, and the resulting doctor visits required that you take a break from work for some time, you can recover the lost wages at your regular rate of pay.
Emotional Damages –Sexual assault is an incredibly damaging experience that can leave mental scars which can cause anxiety, depression, PTSD, and more. You can get monetary compensation if your attorney can prove you are experiencing any of these psychological disorders.
Punitive Damages – This is further punishment against the perpetrator and is generally only ruled if the perpetrator acted with malicious intent to harm the victim.
Our law firm wants you to know that you are not alone. We will treat you with the respect you deserve. Normandie Law Firm's sexual harassment attorneys are committed to every one of our clients; we want to give them the reassurance that they have access to every available resource to make their case as strong as possible.
FREE CONSULTATION AVAILABLE FOR YOU: We operate under a free consultation policy. This gives you the opportunity to talk to one of our lawyers and discuss the facts of your case. Furthermore, we have the zero-fee guarantee. It is our promise to you that you will not pay a cent until we win your case and get you the compensation you deserve. If we cannot do our jobs, we will not charge you. We feel it is unethical to drive our client into further debt if they did not receive the just compensation to which they were entitled.