IVC Filter Lawsuit – Average Case Settlement Value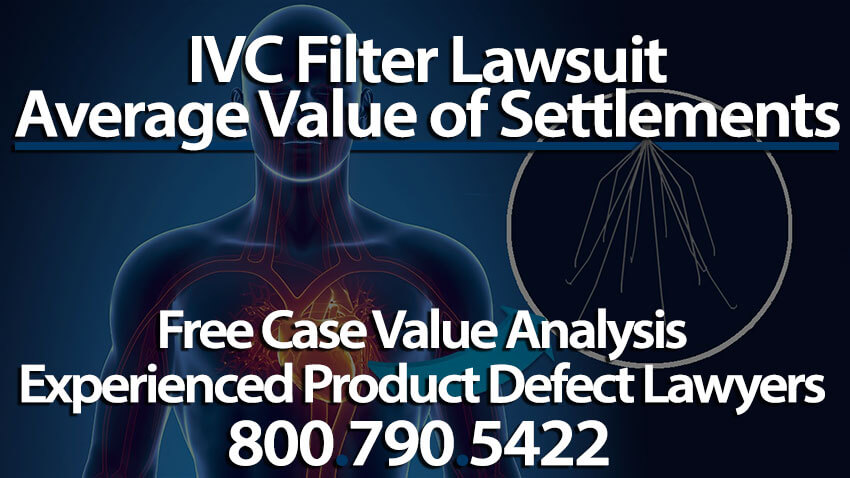 The IVC filter is a device used on thousands of patients in the United States each year. Unfortunately, the use of the device has been linked to an increased risk of severe health complications resulting from filter migration or a fracturing of the device. Such complications may include perforation, blood clots, DVT, and death.
One of the most common questions asked by our prospective clients regards the amount of compensation a victim will be able to receive in a case. What is important to note is that every single case is different; comprising of a unique set of facts and circumstances that result in different settlement or jury verdicts. Some of the most common factors in determining the value of a lawsuit include the following.
The severity and magnitude of the injuries suffered.
The length of time require to properly heal form the injuries suffered. Whether the injuries result in a long term or permanent disability; and a requirement for nursing and home care.
Economic damages – including all medical and hospitalization costs; lost income and future loss of wages.
All future medical and rehabilitation costs – requirement to removal and takedown surgeries and any.
Emotional loss – including pain and suffering, post traumatic stress and other issues identified to have resulted from the traumatic incident which took place. Compensation for emotional distress
Availability for Punitive Damages (the egregiousness of manufacturers behavior) – in instances where the at fault party acted with either the intent to cause harm or acted in reckless indifference for the life and health of others the courts will grant the awarding of punitive damages. Based on recent supreme court opinions punitive damages can be as much as 10 timed the actual damaged suffered. Unfortunately many medical device manufacturers attempt to downplay the known risks associated with the implantation of their products so as to pass FDA approval guidelines much to detriment of the end user (patient).
Wrongful Death Claim Values – wrongful death claims are values bases on several factors which are slightly different than claims where the individual was injured but was able to survive.
Depending on the injuries suffered an IVC filter claim can result in a settlement or verdict in the range of $200,000.00 and $750,000.00. Such numbers are mere averages; since every case is different the value of your specific case will vary.
Attorney Consultation and Second Opinion Available:  Unfortunately many law firms lack the experience knowledge and resources necessary to maximize the value of a defective medical device claim. If you already have legal representation on your case and would like a second opinion or a case review please feel free to contact our offices.  More so, if you are not being represented by any firm and have any further questions regarding claims against manufacturers of defective medical equipment and implants feel free to contact our law offices. All legal consultations are provided by our office free of charge.
FURTHER INFORMATION:
Statute of Limitations IVC Filter Lawsuit