Injuries From Dog Bites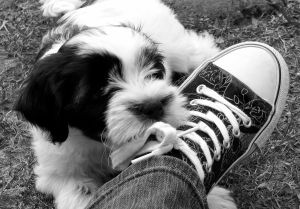 Every year four and a half million Americans are bitten by dogs and pother household pets. Many individuals who are bittern believe that the only injuries they can suffer are bite marks and some long term or permanent scarring. However there may are a multitude of secondary and tertiary harms a victim of a dog bite may not be aware of. Our dog bite legal experts have compiled a list of some of the more unknown yet rather common injuries following a dog bite incident.
Legal Rights of Victims: Victims of dog bites have the right to pursue personal injury lawsuits against dog owners and property owners where the dog resided. If you have any further legal questions regarding the filing of a dog bite lawsuit feel free to contact our law offices.
Potential Injuries Following a Dog Bite Incident:
1. Nerve Damage: Common signs of nerve damage from dog bites can include los of sensation, tingling and burning sensation, extra sensitivity to touch, inability to feel specific parts of the body. Victims of nerve damage may have to undergo years of treatment including physical therapy, acupuncture, and the use of pain relieving medications which can cost tens of thousands of dollars annually.
2. Contraction of Post Bite Infections: The potential of infections from dog bites necessitates the immediate treatment of dog bites. Wounds need to be cleaned, with dead tissues being trimmed off. Dog bite victims must be mindful of the early signs of rabies which may include hallucination, symptoms of the flu and severe headaches.
3. Scarring and Disfigurement: The development of scarring following a dog bite incident is an injury that is often overlooked. However victims of permanent scarring have the right to seek out cosmetic treatments and revision surgeries and have the cost of such procedures reimbursed by at fault and or liable parties.
4. Emotional Harm – PTSD: Post Traumatic Stress: By far the most overlooked injury following a dog bite incident is the development of post traumatic stress disorder. Such harm can affect the young and old alike and result in great emotional hardship and mental anguish lasting months and even years following a dog attack incident. Some widespread signs and symptom of PTSD can include nightmares, inability to concentrate during the day, bouts of depression, and a general long term fear of other dogs.