Infiniti caught on video causing a crash – BMW stuck under a big rig – 10 freeway 8-9-2017
Driver Captured on Video Causing Violent Collision Sought After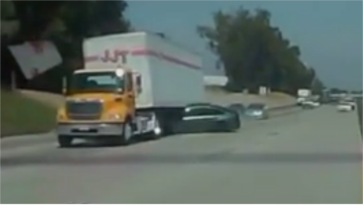 Our law firm is currently investigating an accident that occurred on Wednesday, August 9, 1017.
The California Highway Patrol is searching for the driver of an Infiniti that was caught on video causing a severe collision which left a BMW stuck under a big rig on the 10 freeway around the Colton area earlier this week.
The crash occurred around 3 p.m. on Wednesday, August 9, 2017, on the 10 West between the Riverside and Pepper Avenue exits according to Alan Parcero's Facebook post. His mother was driving the BMW at the time of the crash.
Madis Tolentino reported that she had left work and was on her way home to Ontario when she encountered the two vehicles which she believes were participating in a drag race.
"From my perspective," Tolentino accounted, "when I was seeing them both kind og trying to get to the first spot I guess, in my heart I believe that they were racing."
A dashcam video captured the horrific moment in which Tolentino's BMW was cut off and side-swiped by the Infiniti in question, causing it to hit a sedan adjacent to them and veer into a big rig truck. The BMW ended up pinned underneath the truck for a short distance.
"Seeing it made me realize even more so ow grateful I am to come out of something like that," Tolentino reported.
The sedan which the BMW hit, stopped next  to the center divider while the driver of the Infiniti fled the scene and never returned.
Jose Rios was driving on the freeway at the time, and captured the video of the terrifying crash on a camera that was placed behind his vehicle. In a phone interview, he said that "This guy . . . has regards for nobody on the freeway."
When Rios witnessed the events which took place behind him, he had his girlfriend call 911 and he, too, pulled over to help the BMW.
Tolentino suffered minor injuries, including some cuts and bruises. She also reported that she's had a good amount of anxiety since the crash.
They have not yet located the driver, though they have a good idea of who was behind the wheel at the time.
The Normandie Law Firm
The Normandie Law Firm knows that car accidents can be incredibly traumatic experiences. An experienced attorney can help get you the compensation to which you are entitled for the injuries you suffer due to an injury. Trying to deal with all of the legalities of personal injury law after a car accident will only add to your stress levels, and you may miss out on some crucial compensation. The experienced car accident attorneys at Normandie Law Firm deal with all of the intricacies so that you can focus on recovering from your injuries.
Damages Available to You
Damages is the monetary compensation to which you are entitled after being involved in a car accident. Without a personal injury attorney by your side, you run the risk of missing out on valuable compensation which can help pay for many of the injuries and other damages you received as a victim of a car accident. Below is a list of everything you stand to win if you have an experienced car accident attorney:
Medical Costs – The injuries you received from the accident may have required medical attention. You can receive compensation for the medical bills that arise from those injuries. You can also receive compensation for future medical costs for things like corrective surgery or physical therapy.
Lost Wages – If your injuries caused you to miss work, you can receive the necessary compensation to make up those lost wages at your regular rate of pay.
Pain & Suffering – Car accidents are traumatic and can damage you psychologically. Post-traumatic stress disorder, anxiety, depression, and other mental conditions can arise from car accidents. You can receive compensation for these conditions if your attorney can demonstrate you have indeed suffered from this kind of pain and suffering.
Free Consultation
The Normandie Law Firm is here to ensure that you get the compensation which you deserve for your injuries. We offer free consultation and the zero-fee guarantee, so there's no financial obligation or risk on your part. Call us today to see what we can do for you!