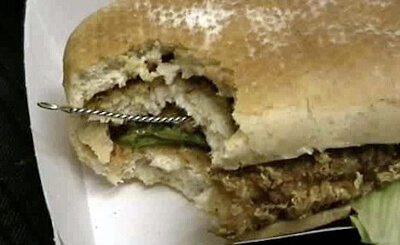 Finding a strange object in your sandwich, burger, or plate of noodles is never a welcoming sight. These foreign objects can range from pieces of plastic to metal nails that can break teeth and cause irreversible damage and trauma to victims. Those who have been injured or traumatized due to finding a foreign object in their food have every right to sue the restaurant or fast food restaurant responsible for the mishap. If you or a loved one has suffered damages from having a foreign object in your food, you may be eligible to file a claim for compensation. At one of the top-rated law groups in the city, Normandie Law Firm, our expert foreign object attorneys can assist you in building your case and filing a claim for compensation. If you have any questions after reading this article, please feel free to contact our law offices for a free consultation. A skilled attorney with expertise in foreign object injury lawsuits will be available to discuss your case with you.
Fast Food Restaurants and Traditional Sit-Down Restaurants
Fast food chains are known the world around not just for their ability to quickly hand out decent quality food to customers at low prices. Due to the speeds in which food is prepared, mistakes are bound to happen. A lot of these restaurants also already pre-prepared a majority of their produce, so when there is an object inside a burger patty or heap of lettuce, those preparing it are unlikely to see it. Listed below are some of the popular fast food chains in California:
Burger King
Carl's Jr.
McDonald's
Del Taco
In-N-Out Burger
Jack in the Box
Sonic Drive-IN
Taco Bell
Wendy's
Subway
KFC
Long John Silver's
Panda Express
Chick-fil-A
Arby's
Fat Burger
Baja Fresh
Chipotle
Papa Johns
Pita Pit
You could find a foreign object in your food at any of these establishments. A foreign object could appear in a burger, taco, pizza, or even a cup of orange juice. These foreign objects are more likely to occur in fast food chains rather than the traditional sit-down restaurant as the food is prepared speedily. However, it is not unheard of for customers of luxury and expensive restaurants to find foreign objects in their food. Some objects that could end up in your food include:
Glass
Nails
Screws
Band-aids
Pebbles
Fingernails
Pieces of metal or plastic
Fish Bones
Cherry pit
Jewelry
Ring
Wires
Wood
Rocks
Insects
Rodent
Feces
Bones
Hair
Blood
Human Fingers
When a customer consumes, breaks a tooth or damages dentures on a foreign object the restaurant is liable for the damages that occur. The dental work that is required to repair broken teeth can be incredibly expensive, as can the costs to repair broken dentures. In some instances, swallowing a foreign object can lead to life-threatening conditions that require extensive medical treatment. Some common injuries caused by a foreign object in food are as follows:
Cuts in the mouth and throat and damaged teeth
Illness due to ingestion of the object
Allergic reactions to ingredients that were not supposed to be in the food
Lacerations by sharp objects found in the food that was not expected by the customer.
The treatments for these injuries can be extraordinarily expensive depending on the severity of the injury and can leave victims with prolonged or even life-long conditions that they can never recover from. Fast food chains, restaurants, and other places of business are liable for the safety and security of their customers while on their property or while consuming their products. When this liability is breached or neglected, a lawsuit can be filed against them in order to help the victim recover from the damages. An accomplished attorney who has experience handling foreign object claims can help you file a lawsuit,
Your Case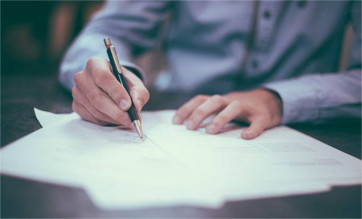 Clients who come into our firm looking for assistance with their personal injury lawsuit for finding a foreign object in their food ask a wide range of questions that reoccur quite regularly. Some of these frequently asked questions are as follows:
Can I sue a fast food chain for finding a foreign object in my food?
Who is the best lawyer to sue a restaurant because there was a foreign object in the food that I ordered?
Can I sue a restaurant for a broken tooth due to a foreign object being in my food?
Can I file a lawsuit against a restaurant because there was something my food that broke my tooth?
To answer the first question, yes, you can sue a fast food chain for finding a foreign object in your food. The trouble is proving these cases can be incredibly difficult. Fast food chains will often dispute that the foreign object was found in the food. For this reason, it is incredibly important to collect all the evidence you can in order to support your claim. Some possible forms of evidence you may want to collect are listed below:
The object that you found in the food which caused your injury
Witness statements that verify the food was prepared by the other party, such as a restaurant, caterer or manufacturer, and was not tampered with by anyone else
Medical and dental records that show the injury was not present prior to the event.
Fast food chains, restaurants, and other places of business are expected to ensure the safety of their customers when they are consuming their product. When this safety is breached due to something like finding an object in your food, a lawsuit can be filed against the restaurant, fast food chain, or other place of business responsible. All food establishments fall under food product liability laws. These laws make it so that damaged or dangerous product reaches the hands of the consumer. They also make it easier for consumers to file a lawsuit for damages. In any personal injury lawsuit, however, it is important that you are able to prove the negligence of the guilty party. While the process of proving negligence may differ depending on the specifics of your case, there are four key elements required for every successful claim of negligence. An experienced attorney can assist you in proving the negligent actions of a fast food establishment. These four elements are as follows:
Duty: The plaintiff (injured or damaged party) must be able to show that the defendant (fast food chain or restaurant owner) owed a legal duty to the plaintiff under the specific circumstances of the case.
Breach: The plaintiff must be able to show that the defendant breached said legal duty through specific actions or failing to act appropriately
Causation: The plaintiff must be able to show that the defendant's actions or lack thereof caused the plaintiff's injuries
Damages: The plaintiff must be able to show that they endured some specific damages. This can usually be shown through the presentation of medical records, a loss of wages, or a loss of potential income.
Whenever filing a lawsuit against a fast food chain, restaurant, or food manufacturer, it is in your best interest to hire a qualified attorney who has experience in foreign object in food cases to help represent you and your case in court. Having a well-versed attorney on your side can make the difference between filing a successful claim for compensation and having your case dismissed from court entirely.
How Normandie Law Firm Can Help
If you have been injured from consuming food containing a harmful foreign object in it, you may be entitled to file a lawsuit against the fast-food chain, restaurant, or any other party responsible for your damages. Clients who file their claim with our top law firm may see some if not all of the following damages compensable:
The Past and Future Medical Expenses
Any Loss of Wages
Loss of potential wages
Pain and Suffering
Emotional Trauma (such as anxiety, depression, PTSD, etc…)
Punitive Damages (which are only able to be won by a lawyer experienced in foreign object in food cases, as they are notoriously difficult to argue for)
Free Consultation and Zero Fee Guarantee
At Normandie Law Firm, our experienced lawyers are committed to ensuring every one of our clients has the resources to put up a fair fight for their foreign object in food lawsuit. Our law offices are based in Los Angeles; however, our attorneys practice in Riverside, San Diego, San Bernardino, Orange County, Fresno, Bakersfield, San Francisco, Sacramento, Ventura, Oxnard, Oakland, and throughout the entire state of California.  As a show of this commitment to you and your case, we offer our clients the benefits of a zero fee guarantee policy. Under our zero fee policy, all clients don't pay for our services until their case is won. If you feel in need of a second opinion, second opinion case reviews are also free under this policy. Call now for a free consultation by one of our attorneys with experience in foreign object in fast food cases, and we can guide you down the path of receiving proper compensation for your damages.
Other pages on our site relating to this topic:
Average Settlement for Foreign Object in Food Lawsuit