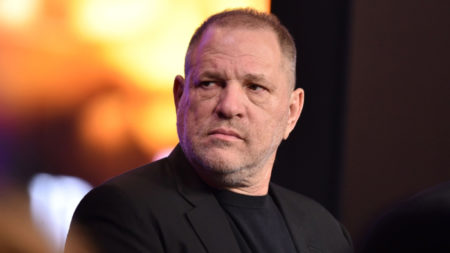 From Thursday, October 5th, onward, numerous allegations of sexual assault by Miramax co-founder Harvey Weinstein have flooded the airwaves and web pages. What started as an exposé in the New York Times led to over a dozen reports from various actresses and Miramax employees, as well as a lengthy tell-all in the New Yorker. Weinstein's alleged history of sexual assault dates back to the 1990s. Various women who have risen to high profile roles, such as Rosanna Arquette, Rose McGowan, Ashley Judd, and Angelina Jolie, have claimed that Weinstein masturbated in front of them, forced them to perform oral sex on him, forced himself on them in order to perform oral sex on them, groped them, sexually harassed them at work and outside of it, made unwarranted or unsolicited sexual advances, and in a few cases, even raped them with full vaginal penetration.
The amount of allegations that have come forward has made people wonder if this is merely the tip of the iceberg – how many more women will come out of the woodwork with their own tales of how Weinstein violated them?
A large issue with the allegations is the amount of time that elapsed between the assaults taking place and the present. Some victims have waited many years to speak up, but this is not without good reason: Weinstein's position of power enabled him to influence the livelihood of others. He could dissuade other companies from working with actresses, fire employees at will for not bending to his desires, and use psychological manipulation to convince women to go through with sexual acts they would have preferred to avoid. If they disagreed, the women said, Weinstein would threaten them with ruining their careers as well as their friendship. This tactic is not uncommon among powerful individuals; it can make the victim feel helpless and responsible for the actions of the abuser. That is never the case.
Victims of sexual harassment at Miramax Studios can seek assistance from an attorney to sue Harvey Weinstein for sexual abuse. With enough women, you may be able to join a class action lawsuit against Weinstein or even Miramax. Our Los Angeles law group, Normandie Law Firm, can help.
Sexual Assault Information
Sexual assault is defined as involuntary sexual contact carried out by one person against the wishes of another; this can be done by forcing oneself upon the victim, using coercion to convince the person to have sex, or by preying on an incapacitated person. Additionally, acts that are not explicitly physical, such as exposing oneself and masturbating or sending unsolicited graphic photos, can be considered sexual harassment. Consent is the most important part of determining sexual assault, and the absence of consent usually indicates assault has taken place. However, there are times when consent is given out of fear or to prevent further harm from happening – this can be viewed as coercion.
When the actions of a perpetrator are known by people at large, perhaps a business or a corporation, they have the duty to report these actions to the police or to any legal entity. By not doing so, as some have claimed Miramax executives and fellow workers did, they are complicit in the acts. It is thus possible to sue the studio for allowing these sexual assaults to take place.
Sexual harassment that has happened in the workplace can be tackled by any of our attorneys, but it may also be wise to look into other types of claims as well.
Filing a Sexual Assault Claim
There is no blanket term for sexual assault cases; as a victim, you can file a claim under assault and battery and claim sexual aggression took place. There are some key points you must be aware of when it comes to filing personal injury claims.
For starters, you must be aware of the statute of limitations of a personal injury claim. In the state of California, you have two years from the date of the injury to file a claim. There are exceptions, such as sexual abuse against a minor, when the perpetrator leaves the country, or in a state of war. Regardless, if you do not honor the statute of limitations, you may be faced with a dismissal of your claim. If you need to file a sexual molestation lawsuit against Harvey Weinstein, it is best to start it sooner rather than later to make sure you are within the statute of limitations.
Further, you must be able to prove that you were owed a duty of care. As people, we owe each other basic duties of care that we will not intentionally harm one another or place each other in dangerous situations. You must then show that that duty of care was breached, whether by an intentional act or an unintentional act. After that, you must show that the breach led to an accident or an incident, which then led to an injury that resulted in real physical harm. In the instance of sexual assault, you are owed a care of duty to not be assaulted against your wishes, and any actions that breach that duty and result in damage to your person (rape, groping, forced sexual acts) can be used as grounds for a sexual assault claim.
Additionally, you must choose what kind of claim you want to file. Bringing the perpetrator up on criminal charges requires you to have the highest burden of proof; if you cannot show beyond a reasonable doubt that he did, in fact, commit sexual assault, he cannot be charged. You may personally not opt for this route, but the police may. The safer route is a civil claim, which requires a lowered burden of proof due to the potential punishment. In criminal cases, the defendant can be hit with community service and jail time. This removal of rights necessitates his guilty to be undeniably proven. Civil claims, however, allow you to chase monetary compensation; jail time is not an option in these claims.
What You Can Earn
An attorney representing victims of Harvey Weinstein sexual assault can help you earn various types of compensation for a sexual assault lawsuit. Though you may not be able to have Weinstein locked up, you may be able to collect damages for:
Medical Bills: Any medical expenses that arose in the wake of the injury, both past and future, including surgery, hospitalization, medication, and physical therapy.
Property Damage: Anything you lost or any items that were stolen or broken can be reimbursed.
Lost Income: If you missed days at work due to an injury or the ensuing medical procedure and healing process, you can recover your missed wages from both the past and future.
Non-economic Damages: These damages include things that cannot be counted with dollars, such as emotional injuries. You can earn restitution for fear, anxiety, PTS, psychological trauma, and mental suffering.
Punitive Damages: Due to the absence of jail time, punitive damages are meant to further punish the defendant for his actions by making him pay even higher amounts of compensation. These damages are hard to argue for, however, and only skilled attorneys can win them.
In order to maximize your settlement, you should enlist the help of an experienced law firm.
Our Role
Normandie Law Firm has litigated dozens of sexual assault cases over the years. We have a group of attorneys that is empathetic to all of our clients and will work to make sure all involved parties are healthy and safe. We do not want to add any stress to anyone's life; we know a sexual assault case can be emotionally damaging, draining, and dredge up terrible memories, but we are committed to bringing you the fairest compensation you deserve. You should not go through the ordeal again – let us represent you, and you won't have to worry.
FREE LEGAL CONSULTATION: Call us today to receive a free legal consultation on your claim. We can discuss your case and what you can expect to earn in the event we win. You can ask any questions you want about the best way to sue Harvey Weinstein and we will answer to the best of our abilities.
All of our clients are given zero fee guarantees on their claims – you are not required to pay any out of pocket expenses for our services. If we win your case, our fees are paid from the settlement itself. You do not face any monetary loss by hiring us. If we lose, you do not owe us a penny.
Contact Normandie Law Firm today to speak to one of our Los Angeles attorneys. If you need a law firm for sexual molestation lawsuit against Harvey Weinstein, we are here to help.