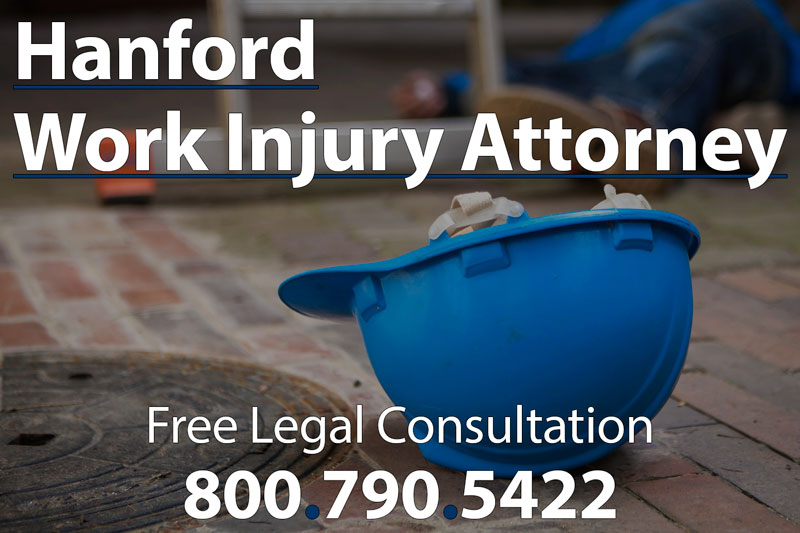 Employees who get injured at work have every right to pursue compensation for their damages. Work injuries can be quite severe and drastically reduce the quality of your life, negatively impacting the way you live and affecting future job opportunities you may have. Without proper compensation, you may be unable to sustain the lifestyle you once had. In less serious events where injuries are more minor, you still deserve to be taken care of – a temporary loss of income due to an injury that would not have happened had you not been at work is unfair, and your employer should be held responsible. Companies are required to provide workers compensation for any injured workers, but attaining it is not always that simple. Our experienced Hanford lawyers at the Normandie Law Firm have dealt with work injury lawsuits for many years, and we are no stranger to the legal process. Our clients often call us with questions regarding the best way to move forward with their claims; some of these questions include:
Who is the best Hanford work injury attorney?
Where can I find a work accident lawyer in Hanford?
What is the best Hanford work injury law firm?
What is the average compensation for work injury victims?
Worker's Compensation Information in California
In California, worker's compensation can be given out regardless of the fault of the individual. This means that you have the ability to be compensated for your injuries even if you were responsible for your own damages. For example, if you are a mechanic that forgot to properly store engine parts and you tripped and fell over them, leading to a broken ankle, you would be able to receive compensation, despite the accident being attributed to you and not your job. This no-fault system can be both beneficial and problem, depending on the extent of the injury.
Many times, the insurance agency that works with your employer will dispute your claim and say that you do not deserve the amount of compensation you are asking because of how much you were at fault. An attorney in Hanford can help you maneuver around this tactic.
Worker's Compensation Laws
The laws regarding worker's compensation in California are multi-faceted, but they can be explained in a few simple ways. All employers must have worker's compensation insurance, for starters. Each new employee must be alerted to the benefits and rules regarding worker's compensation, as well as be provided with a pamphlet or necessary information. This pamphlet will explain employee rights and employer responsibilities. A poster detailing worker's compensation info must be placed in a location that is easily viewable and accessible by all employees; failure to do this can be punished by law.
Upon getting injured, your employer must give you the worker's compensation form, return a copy of the claim to you, forward the claim to the claims administrator, and authorize medical treatment for you. All of these actions must be completed within one day of each other; if your employer delays the actions, an attorney in Hanford who has experience in work injury cases can assist you in receiving your due compensation.
After an Injury
Your responsibilities as an employee begin after you receive your injury. You should notify your employer as quickly as you can if you have been injured at work, unless you are in dire need of medical assistance; in which case, you should seek emergency help first before notifying your employer. You will not be penalized for not immediately notifying your employer, as you routinely have 30 days to make the injury known. At that point you can receive the $10,000 authorized medical treatment from your employer.
Next, you will need to see a doctor to receive a medical report. This report will be compiled, more often than not, by a doctor within your company's medical net. You may choose to have your own doctor, but this will need to be requested ahead of time. The company's doctor will examine you and determine your impairment rating; this will factor into determining your compensation and recommended time of leave. During the recovery process, you may be able to work.
For example, if you sustained a shoulder injury at your job due to falling merchandise, you may be able to return to work to complete other duties while recovering, or your job responsibilities may change. These are what are known as reasonable accommodations; the key here is "reasonable" – your employer must provide these accommodations for you unless they present a hardship to your employer or another coworker. Your shoulder injury, therefore, may require you to not partake in any heavy lifting for a few weeks, but allow you to take over duties at the cash register for the time being. This is not an unreasonable request, and you will likely be able to return to your old job duties upon recovering.
To learn more about reasonable accommodations and other laws, call a Hanford attorney with experience in work accidents.
Disability Benefits
There are different kinds of benefits you can earn with respect to disability. If we consider the shoulder injury from before, there is the opportunity for you to work while recovering. The ability to work while healing from your injury, albeit at a reduced level or with reduced hours, allows you to receive temporary partial disability for your injuries. If your shoulder injury prevents you from outright performing any job duties, you can receive temporary total disability.
These wages are generally two-thirds of your usual wages. For this reason, it is no surprise that people often rush through the recovery process and struggle to get back to work as quickly as possible. A reduction in income can be intimidating and problematic for those who are in tight financial situations. Our experienced lawyers can help you receive the compensation you need to be safe and comfortable through your injury.
On the other hand, permanent disability can be awarded if you are unable to ever return to your job or if future job opportunities will become extremely difficult or impossible. Perpetual back pain, amputations, paralysis, and other injuries and conditions often necessitate permanent disability. These benefits are limited, however; your compensation will be determined by your disability rating (a percentage up to 100%, measured by a doctor), the date of your injury, and the wages you were earning prior to the injury.
If you have further questions about disability benefits, reach out to a work accident attorney in Hanford.
Other Benefits
If you engage in a work accident lawsuit, our Hanford work accident attorneys can help you earn your lost wages stemming from the point of injury onward (as well as any future lost wages that may occur) and medical bills (in addition to coverage for future medical procedures that may be necessary because of your injury). There are other types of lawsuits that can be filed that deal with work-related accidents, including wrongful death claims. In most cases, you cannot sue your employer for pain and suffering due to the laws in California; however, you may be able to file a claim against a third party and pursue additional compensation that way.
We can help you choose the best route to take. Reach out to our California work accident attorneys today.
How We Help
Our Hanford law firm, Normandie Law Firm, is here to help you earn fair compensation for your work injury. You should not be made to suffer with low compensation or a measly settlement. A work injury lawyer can make sure that you are given the fairest compensation under the law. We will not stop until you receive restitution you are satisfied with; our attorneys will aggressively fight your employer and the insurance company with the goal of taking care of you.
Call us today for a free legal consultation with an expert attorney. You are encouraged to ask any questions you want about the worker's compensation process and filing a claim against your employer. We will give you all the necessary information you need to know for you to make an intelligent decision moving forward. We believe our clients should have as much knowledge as possible about their lawsuits and claims.
If you select us to represent you, we offer you a zero fee guarantee on your case, meaning you pay no out of pocket expenses for our services. Our fees are paid by your employer if we win your case – the money comes out of the settlement we win for you, ensuring that your personal savings are never touched. If we lose your case, you owe us nothing at all, and we eat all costs ourselves.
Contact Normandie Law Firm today to speak with a Hanford lawyer if you were injured at your job and need to sue your employer.