Every year thousands of individual undergo various hand and wrist procedures. The vast majority of procedures are successful. However in some instances, due to the negligent errors of medical professionals, patient suffers severe complications. Our law firm is proud to represent victims who have suffered great harm as a result on complications associated with procedures performed on the harm and wrist. If you have any further legal questions after reading this article feel free to contact our offices.
List of the Most Common Hand and Wrist Procedures and Surgeries:  Some of the most common hand and wrist procedures performed in the United States include the following.
Wrist fusion surgery
Wrist joint replacement
Carpel tunnel release
Torn tendon and nerve repair
Surgical drainage – debridement
Removal of a foreign object
Palmar fascietomy
Basal joint arthroplasy
Hand reconstruction surgery
Removal of cancerous benign tumors or warts
Endoscopic procedures
Gangloin removal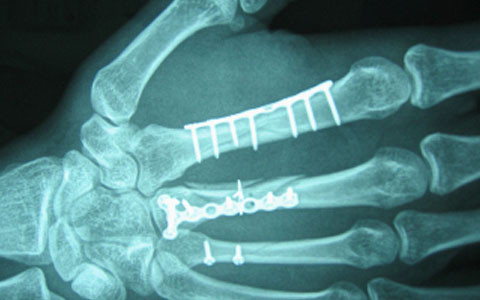 Common Complications Associated with Hand and Wrist Operations
Nerve damage – particularly damage to the medial nerve.
Severing of nerves or tendons during surgery.
Infections due to unsterile conditions.
Needle stick injuries.
Anesthesia complications – toxic shock syndrome.
Removal of the wrong tendon or nerve.
Cutting the wrong bone.
Development of CRPS Following Surgery: According to various data a diagnosis of CRPS is present in approximately 5.5 to 26.0 per 100,000 patients who undergo some type of hand surgery in the United States. CRPS is a nerve injuries characterized by chronic severe pain, swelling of the region, and stiffening of the tendons. There is no cure for Complex Regional Pain syndrome.
Establishing Malpractice Liability
The vast majority of medical error claims are predicated on a negligence theory cause of action. There are four elements which need to be proven in order to establish a medical malpractice claim.
Duty – Was there a Doctor / Patient relationship in place.
Breach of duty – did the medical professional breach the duty of care.
Causation – Did the negligence of the medical doctor cause the damages suffered.
Injury – were the discernible and diagnosable injuries.
Duty of practicing medical professionals:  A medical professional is bound by the specialty he is a member of to follow specific guidelines for every procedure conducted on a patient. A deviation from established guidelines will establish a basis for medical negligence.
Financial Recovery Available for Victims of Surgery Errors and Malpractice
Victims of personal injury including medical negligence have the right to see financial recovery for all damages sustained. A list and brief description of the categories of recovery available for victims is presented below.
All current medical and rehabilitation expenses due to the damages suffered as a result of the operation mishap.
All future medical, rehabilitation and nursing-home care expenses.
Economic damages – Loss of income and future loss of earnings potential.
Non-economic damages – including pain and suffering, emotional distress and punitive damages.
Note on no-economic damage recovery: The state of California places a $250,000 cap on non-economic damages.
Cost of Hiring and Attorney – Zero Fee Guarantee
All too often victims of medical malpractice opt not to file a claim against practicing physicians because of the seemingly high costs of legal representation. Many attorneys in the field of malpractice law ask for thousands of dollars in retainer fees from potential clients. Our law firm is different. We will never ask potential clients for any upfront costs, fees or retainers. Our law firm takes on personal injury matters strictly on a No Win No Fee contingency fee basis. This means that we will cover the costs on legal representation on your behalf. We get paid for our work only when then there is successful resolution of your case. If for whatever reason we are not able to achieve a successful result then you will not have to pay us a single penny for any costs or legal fees. To learn more about our Zero Fee Guarantee see here…
Attorney Consultation Available Free of Charge:  Feel free to contact our attorney if you have any further legal questions regarding your potential medical malpractice claim. All case reviews, consultations, and second opinions are provided free of charge by our attorneys.
Further Information: