Hackers Stole Personal Data From 57 Million Uber Passengers and Drivers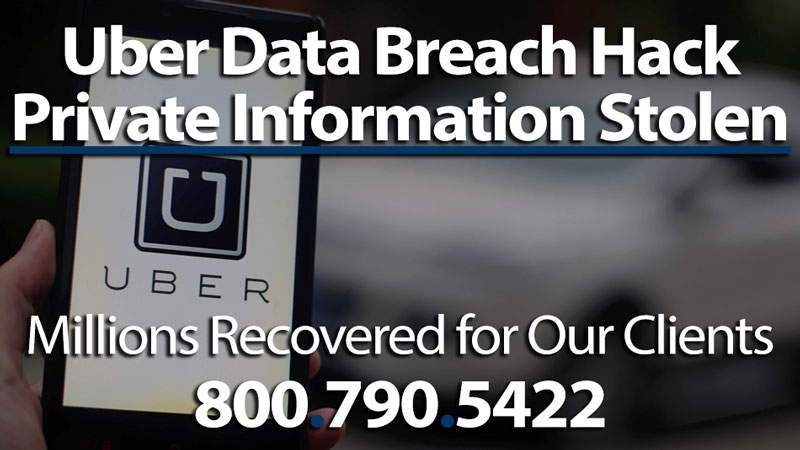 On Tuesday, Uber Technologies Incorporated admitted that hackers stole the personal data of more than 57 million customers and drivers; they also released that this fact was known for over a year. According to the Bloomberg, the attack occurred in October 2016 and resulted in the worldwide theft of names, email addresses, and phone numbers which belonged to 50 million Uber riders. 7 million Uber customers also have their personal information stolen, which included 600,000 driver's license numbers in the United States.
Uber was expected to alert regulators and drivers whose driver's license numbers were compromised in the hack. However, Uber failed to do so and instead decided to pay the hackers $100,000 to erase the stolen data and keep the word of the data breach secret. On Tuesday, the New York Attorney General's office announced that it would be launching a formal investigation into the data breach. In response to this event, Uber fired Joe Sullivan, its chief of security, and one of its deputies for keeping the attack hidden from the public.
Recently appointed chief executive of Uber, Dara Khosrowshahi, said in a blog post that he only learned of the data breach recently. In the post, Khosrowshahi described the attack as performed by two outside hackers who accessed the company's sensitive data stored in a third-party cloud information company.
The hackers also reportedly stole passwords belonging to Uber engineers. They then used that sensitive information to access company data stored on Amazon Web, Services. Afterwards, they reached out to Uber demanding money for the stolen information.
Uber is widely criticized for keeping the Uber hack secret, and it adds to the already large amount of bad PR the company has accumulated over recent years. While it is not unusual for companies to pay criminal hackers, Uber had a responsibility to inform victims of the hack so that they can protect themselves from the threat posed by identity theft.  If you or a loved one believe you have been made a victim of this wide-scale hack, you may be eligible to file a claim for monetary compensation by suing Uber for any of the damages that you have suffered. However, when filing a lawsuit, it is in your best interest that you have an attorney well-versed on the subject of suing large companies like Uber, and identity theft. At Normandie Law Firm our experienced attorneys can guide you through the process of building your case, filing your claim, and collecting monetary compensation for the damages. If you have any questions after reading this article, please feel free to reach out to our law offices in Los Angeles, California, for a free consultation from one of our skilled legal advisors.
The Damages Caused By This Data Breach
This is a massive data breach, the damages of which may still be unknown to the public. While Uber may have paid off the hackers for the stolen information, there is no guarantee that this sensitive personal info wasn't backed up or somehow recorded via other means. While Uber, like most companies, pay off hackers like this one, they are still expected to inform their consumers of the potential dangers a hack like this can cause. The most prevalent threat this data breach can pose is identity theft. Identity theft is defined as the fraudulent acquisition and use of a person's personal information, usually for the purpose of financial gain. Identity theft can cause a wide variety of damages, all of which can be incredibly challenging to overcome and reach a full recovery. In order to help you identify whether or not you have suffered identity theft as a result of this data breach we've compiled a list of some of the common damages this devastating financial injury can cause:
Hurt Job Prospects: Employers nowadays regularly check an individual's credit history when assessing job candidates. A report that is littered with ID theft-related errors could ruin your application. While it is illegal for an employer to refuse anyone work for their credit reports directly, they could still refuse you work indirectly.
Cause Auto Insurance Rates To Rising: Almost all auto insurers use credit scores to set rates, wherever it is legal. (Some states ban the practice of it). A low credit score can cause premiums to rise. Insurers cannot directly reject you because of your credit score. However, they can use the score to offer higher rates without explaining as to why.
Surprise Tax Bills: Some identity theft can involve the stealing of only a Social Security Number. Through just a Social Security Number, the thieves can use a victim's Social Security Number to work without discovery, pay their bills and pay their taxes. If the thief fails to pay these, the debt is not on them; it's on the victim.
Impact Social Security Income Credits: The theft of a Social Security number could keep a victim from applying for Social Security Income Benefits
Slow Down Tax Refunds: According to the Treasury Department, 1.6 million taxpayers were impacted by identity theft in the first six months of 2013. In turn, the IRS has stepped up its anti-ID theft efforts, and as a result has slow down the tax returns of legitimate taxpayers.
Left with Criminal Record: Perhaps one of the most dangerous forms of identity theft, criminal identity theft involves a convicted criminal using the identity of another individual to get away from another serious conviction and to clear their names of the crimes they had been convicted for.
(Virtually) Kill You: Some Identity thieves will take the information of another and label themselves as dead to avoid creditors. The Social Security Administration wrongly declares roughly 14,000 people dead every year.
Receive Wrong Treatment At Hospital: Medical Identity Theft can take on many forms, but the most common are criminals trying to make money through a Doctor creating fake patients and filing fake claims.
Keep Children From Getting Financial Aid: The Identity Theft of children can be incredibly devastating, as in some cases it can go undetected for years. One of the main ways, children, discover they have had their identity stolen from them is when they fill financial aid forms which check applicants for signs of a poor credit history. If they find a poor credit history it is likely they will refuse loaning a potential student the money they need.
Regardless of the specific damages, you have endured, you may be able to file a lawsuit against Uber for their negligent behavior. As mentioned prior, Uber should have made their customers aware of the data breach so that they can protect their personal information if they feel like they could come under threat. If you believe you have already suffered from identity theft as a result of this data breach it is important that you follow the steps we've bulleted below:
Notify affected creditors or bank
Put a fraud alert on your credit report
Check your credit reports
Consider putting a credit freeze on your reports
Contact the FTC (Federal Trade Commission)
Go to the police
Send creditors a copy of your ID theft report
Contact credit reporting agencies
Change all account passwords
Contact the Social Security fraud hotline
Get a new driver's license
Contact your telephone and utility companies
Once you have taken these appropriate steps, it is highly recommended that you consult an attorney to sue Uber for the damages that you may have had to endure.
How Do I File A Lawsuit?
This is one of the largest data breaches to occur since the Equifax data breach which occurred earlier this year. The victim's of this data breach number in the millions, and as a result, the best way to reach restorative justice may be through the filing of a class action lawsuit. Class action lawsuits involve a body of plaintiffs who have all suffered similar damages as a result of the same event or action. Class action lawsuits have many benefits. Individuals who file or join a class action lawsuit often do not have to worry about the exuberant legal fees that usually accumulate when filing an independent lawsuit against a company. They also better ensure a more positive outcome for your case, as the more plaintiffs arguing that they were damaged by the same event or action, the more likely the company, like Uber, will be willing to settle. However, victims who have suffered greatly from this data breach may not find the restoration that they can usually expect from an independently filed suit. In class action lawsuits, the settlement is often distributed amongst all members involved in the suit. While it is incredibly difficult to accurately calculate how much you will receive for your class action lawsuit, it is more than likely that you will not receive compensation that covers the entirety of your damages. As a result, victims of this data breach who have suffered from exuberant financial damages may wish to seek to retain an attorney to help them file an independent personal injury claim for compensation. When filing these claims you must be able to prove the negligence of the company, or in this case, Uber. You must also prove that Uber's negligent actions directly led to the damages that you are seeking compensation for. As stated before, Uber is expected to notify their customers and employees after a data breach of this magnitude; however, they failed to do so. In keeping the data breach secret, the company acted negligently. To prove this negligence, you must collect evidence that supports the following components to a claim of negligence:
Duty: The plaintiff (injured or damaged party) must be able to show that the defendant (Uber Technologies Inc.) owed a legal duty to the plaintiff under the particular circumstances of the case.
Breach: The plaintiff must be able to show that the defendant breached said legal duty through specific actions or failure to act appropriately
Causation: The plaintiff must be able to show that the defendant's actions or lack thereof caused the plaintiff's injuries
Damages: The plaintiff must be able to show that they endured some specific damages. This can usually be shown through the presentation of medical records, a loss of wages, or a loss of potential income.
If you are hoping to file a lawsuit against Uber for this incident, it is in your best interest that you seek assistance from an attorney experienced in handling cases of this nature. Having the right attorney in your case can make the difference between filing a successful claim for compensation and having your case dismissed from court entirely.
How Normandie Law Firm Can Help
If you or a loved one are an Uber customer or Uber driver and believe you have been affected by this data breach, you may be eligible to file a claim for significant monetary compensation. At Normandie Law Firm, our Los Angeles attorneys are committed to ensuring our clients receive all the resources they require to receive the compensation they deserve. If you file a claim with our law firm, you could find some if not all of the following damages compensable to you:
All of you medical and hospitalization costs
All of your future medical care and treatment
A loss of income and loss of future earnings due to long-term recovery or permanent disability due to the accident
Compensable economic damages include loss of property or damaged property.
Compensable non-economic damages include emotional distress, trauma, PTSD resulting from the accident, pain and suffering and anxiety.
Victims of this data breach or other data breaches can contact our law offices to learn more about how to receive compensation for their injuries. While our law firm is based in Los Angeles, our attorneys also practice in Oakland, San Francisco, San Diego, Sacramento, Orange County, Riverside, Fresno, and throughout the state of California.
Free Second Opinions
Other attorneys will sign you up for their firm but will disappear once your name is on the paper as they are busy signing up more cases. In these instances, their business is based more on volume and will attempt to sign up as many cases as possible. In turn, they will spend less time on cases resulting in severely reduced settlements. Our firm will not treat you like a number. We will be in communication with you throughout our lawsuit and will treat you like family. So if you already have an attorney don't worry, we'll give you a second review of your case 100% free of charge.
Zero Fee Guarantee-No Upfront Fees Ever
If you contact our law offices today, we can walk you through the complicated process of filing your claim completely free of charge. As a show this commitment to you and your case we offer our clients the benefits of a zero fee guarantee policy. Under our zero fee policy, all clients don't pay for our services until their case is won. If you feel in need of a second opinion, second opinion case reviews are also free under this policy. Please, feel free to give us a call, and we can guide you down the path of receiving proper compensation for your damages.
OUR LAWYERS CAN HELP YOU FILE A LAWSUIT AGAINST UBER