Goleta Amtrak Station Train Accident 7-26-2017 Wrongful Death Lawsuit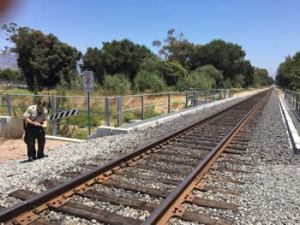 Our law firm is currently investigating the possibility of wrongful death lawsuits and other personal injury related claims against defendants in a train accident that happened on July 26, 2017 in Goleta, California.
In Goleta on Wednesday, a woman waiting at the Amtrak station was struck and killed by a Northbound train. The accident occurred July 26, less than a week after a 51-year-old man, Edmund Backus, was killed while riding his bike at the same Santa Barbara station. His death was ruled an accident, as he was wearing headphones while riding and was hit from behind.
The victim, Ester Lopez de Reyes, was a 65-year-old Goleta resident. According to police, she stepped in front of the train for unknown reasons just before being struck; authorities are still investigating and putting together information from eyewitnesses, however, and the true cause of the collision has not yet been determined.
Wrongful Death Claims
Deaths at train stations may be the fault of the station's management for not imposing security measures or features, the negligence of other passengers, or the train operator for making an error while conducting. In these cases, you may be eligible to file a wrongful death lawsuit.
A wrongful death occurs when a person is killed due to the liability of another person, but not with any intent; negligence, ignorance, or inaction are usually attributed to a wrongful death, while intentional actions like assault and battery are grounds for murder. Wrongful deaths are filed by family members on behalf of the deceased.
Possible settlements for wrongful death include compensation for pain and suffering, loss of wages and support, burial costs, and hospital and medical care costs.
Our Los Angeles law firm can provide you with the proper wrongful death lawyer to file a claim on your behalf to get you the compensation you need to move forward in these troublesome times. We are empathetic to your loss and know that you have a ton of grief to work through and affairs to sort out – do not let money be another worry on your mind in the wake of a loved one's death. If you are looking for the best accident lawyers to take your case, you have found the right law firm.
Contact our firm today to speak to a personal injury lawyer for wrongful death claims. We offer you a free legal consultation on your case and what you can expect to experience in filing a lawsuit against a business or an individual.