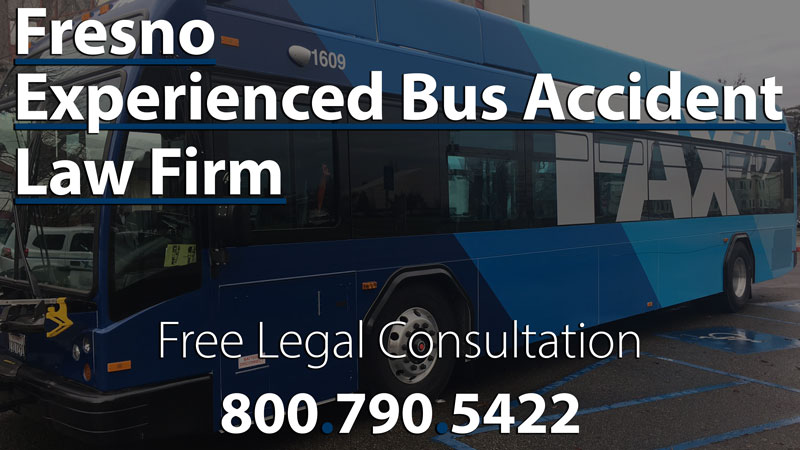 Public transportation has become widely available in cities throughout the United States. The city of Fresno is not an exception. Fresno has a few public transportation options like the Fresno Area Express (FAX), Handy Ride, and Q Bus Rapid Transit. Other transportation options include Golden Eagle Charter, GOGO Charter Bus Fresno, Got U There Tours, Tres Estrellas De Oro, and TUFESA Fresno. These transportations options allow the community to be connected at all times.
Buses are considered to be one of the safer methods of transportation. However, accidents are always possible. Fresno has experienced a few bus accidents throughout its history.
In 2010, a Greyhound bus crash resulted in the death of six—three passengers and three non-passengers.
In 2017, a FAX city bus was involved in an accident that left two non-passengers injured.
In 2016, a charter bus crashed into a highway sign pole resulting in five deaths and over a dozen passenger injuries.
If you were injured in a bus accident, you could file a lawsuit against the bus driver or the bus company. Contact a skilled lawyer with experience handling bus accident claims as soon as possible to start the process. One of our experienced lawyers at the top-rated Normandie Law Firm will be able to assist you.
Common Bus Accident Injuries
Bus accidents can result in injuries to both passengers and non-passengers. Bus accidents can be caused by the negligent actions of the bus driver like being distracted, speeding, or simply being reckless. Other drivers can also cause bus accidents. Besides being driver-caused, bus accidents can be caused by poor bus maintenance or even poor road conditions. Whatever the case, bus accidents can cause injuries ranging from mild to severe to passengers and non-passengers alike. What type of injuries can result from bus accidents? Victims of bus accidents can possibly experience whiplash, head injuries, traumatic brain injuries, broken hips and other bones, fractures and sprains, and neck and back injuries.
Even if the bus is not involved in an accident, passengers can have accidents inside the bus due to sudden acceleration or braking. Sudden starts and sudden stops can cause passengers to hit their head against seats, windows, or safety bars. If passengers are standing, sudden starts and sudden stops can cause passengers to lose their balance and fall. If you hit your head against a window, seats, or safety cars, please do not shrug off the extent of your injury. Any head injury, if left untreated, can lead to a traumatic brain injury. It is also possible to slip and fall while riding the bus. Rainy days can cause passengers to track water into the bus; this can result in a slippery bus floor. If the bus is going too fast and the passenger is standing, slippery floors can be an additional hazard. Sometimes drivers cause the buses to suddenly start or suddenly stop. If the bus suddenly stops or starts, there is undeniably a risk for passengers to fall. If a passenger slips and falls on the bus because the bus suddenly stopped or started, the risks of injury are even greater.
If you recently experienced an accident that resulted in injuries, you might have the following questions:
Can I sue if I was injured as a passenger during a sudden stop?
Can I sue if I was injured during a sudden start?
If a passenger is injured because of a sudden start or a sudden stop, he or she has the right to sue. Contact an accomplished attorney with expertise in bus accident injury lawsuits in Fresno to begin the process of filing your claim.
Common Carriers
Vehicles that are used for passenger transportation—taxicabs, buses, airplanes, trains, ships—are considered to be common carriers. Common carriers transport passengers in exchange for a fee; as a result, common carriers owe passengers the highest level of duty and care to ensure that passengers are safe the duration of their trip. Common carriers are required to use the utmost care and attentiveness to ensure passenger safety. Below is a quick list of what common carriers are expected to do to ensure passenger safety:
Provide a safe vehicle for passenger transportation.
Provide passengers with reasonable accommodations during transportation.
Treat passengers respectfully.
Provide passengers with a sensible degree of attention.
Provide passengers with protection from possible violence from other passengers
Drive cautiously at all times.
Common carriers have the above duties to their passengers. If a bus driver fails to perform this duty, injured passengers can file suit. What do the passengers need to prove? Passengers need to prove that negligence resulted in their injuries. There are four elements of establishing negligence. Below, we will summarize these four elements in relation to bus drivers.
Duty—bus drivers and bus companies owe a duty to their passengers according to common carrier laws.
Breach—the duty to the passengers was not enacted. The bus driver was driving recklessly, or the bus was not in operational condition.
Cause—the breach of duty caused passenger injuries.
Harm—the passengers sustained injuries.
Contact a law firm as soon as possible to get in touch with an expert attorney who has experience in bus accident cases against the bus company and the driver. An experienced attorney will be able to help you establish negligence.
Normandie Law Firm Attorneys Are Ready to Help
If you were injured in a bus accident in Fresno, California, our top qualified Fresno injury attorneys in Normandie Law Firm can help you file a bus passenger injury lawsuit. Normandie Law Firm is a Fresno law firm with experience in bus accident cases. Our expert lawyers can help you file a claim for negligence that resulted in your injuries and even claims for wrongful death. Buses are common carriers; therefore, they must exercise the highest level of care to ensure that passengers are always safe. If they do not do everything possible to promote passenger safety, they can be held liable for passenger injuries. Bus drivers, like all other drivers, also have to exercise the proper care needed to prevent non-passenger injuries and fatalities. If you were injured as a non-passenger, you also have rights.
FREE LEGAL CONSULTATION: Normandie Law Firm is proud to offer the Fresno community with the best legal representation available. We provide clients with attorneys experienced in cases against bus companies. Our legal staff is here to help you in any way possible. Normandie Law Firm offers free consultations and free second opinions with attorneys with experience in bus accident injury cases.
That is right—you can talk to a Fresno bust accident lawyer at no cost. Our lawyers have enough experience to answer all of your questions and concerns surrounding your case. We will provide you with all the information necessary for you to completely understand the legal process. Many of our clients prepare many questions before coming to the consultation. It is not necessary, but if you want to make sure that you do not forget to ask anything, you could write down all your questions. If somehow you still forget to ask an important question, do not worry. Remember that our attorneys will always be available to you to answer any additional questions.
If you already have an attorney at another law firm, you might be interested in the benefits of getting a free second opinion. If you are out looking for answers on your own, your current attorney might have missed something. It is possible that the attorney you hired is only interested in going through cases as fast as possible; therefore, he or she is rushing through your case and missing important details. If you feel that your current attorney is being incompetent and leaving you with unanswered questions, you need to come in for a second opinion and potentially meet your new attorney. The attorneys at Normandie Law Firm are always dedicated to ensuring that our clients are taken care of. We guarantee that you will never feel the need to look for information elsewhere, as our attorneys will cover every aspect of your case. Contact Normandie Law Firm today; a lawyer experienced in bus accident injury cases will help get your case back on the right path.
Normandie Law Firm wants to provide you with the best legal service available in Fresno. We also want to give clients peace of mind because we know how physically, mentally, and emotionally distressing dealing with a bus accident lawsuit can be. We do not want you to worry about having the financial means to hire a lawyer to sue the bus driver or bus company. Normandie Law Firm is proud to offer clients a Zero-Fee guarantee. What does this mean for you? You will never have to worry about paying any upfront fees—ever. Our law firm is based on contingency-fee; therefore, you will not pay anything until our trusted lawyers win your case.