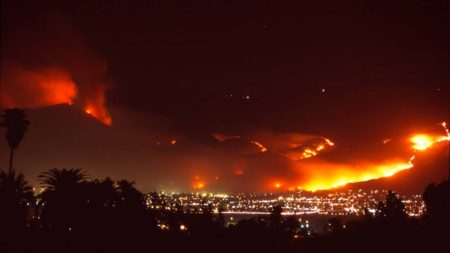 Fires have ravaged the state of California recently, and one of the more recent fires in Santa Rosa has caused a significant amount of damage to the area. Recently, a fire roared through the Santa Rosa area, inflicting damage to a large number of peoples' homes and causing the deaths of dozens of people. Spurred by dry and windy weather, the damages caused by these fires have left hundreds homeless, and hundreds are still missing. According to some reports, an estimated 5,700 structures have been destroyed by the fire, including whole neighborhoods which were burnt to ashes and rubble. These reports have also stated that more than 100,000 people have been displaced by these fires. A total of 20 fires ragged in the area, including at least six in Sonoma County, and has gone on the record to have killed more than any other fire in recorded California wildfire history. In the aftermath, people struggle to find a new place to live and are subject to out of town looters and poor air quality. Fortunately, victims of this incident can seek compensation either through fire insurance providers or through the filing of a lawsuit against the Pacific Gas and Electric Company and other public organizations which are theorized to have been liable for causing some of the area's wildfires. At Normandie Law Firm, one of the top law groups in the state, our skilled attorneys with experience in wildfire cases can guide you through the process of building a case, filing a claim, and collecting compensation for the damages that you and your loved ones have experienced. If you have any questions after reading this article, please feel free to reach out to our top-rated law offices for a free consultation by one of our experienced lawyers.
The Damages Caused By Wildfires
Wildfires can be incredibly damaging and can inflict a combination of property and personal damage to individuals. These fires, while sometimes natural, can dramatically alter a landscape and can leave hundreds if not thousands homeless. In today's age, there are a large number of resources that keep wildfires from occurring, however in doing so there, is an increased risk of wildfires like the Santa Rosa Fires in breaking out. Without controlled burns or allowing natural wildfire processes to occur, these wildfires can become completely devastating to those caught in the wake. On top of property damages, wildfires can also inflict personal burn injuries. These burn injuries can range from minor scalding wounds to severely damaging deep tissue damages. While predominantly caused by exposure to a harsh thermal source, burns can also be caused by inhaling wildfire smoke. Burn injuries usually fit into four of the following degrees of severity:
First-Degree Burns: Typically the mildest, first-degree burns can be often treated with a bit of cold water and burn cream. They often only involve damage of the first layer of skin and are characterized by a slight reddening of the skin. In some, more severe cases, however, it is wise to seek medical treatment for the burn to heal properly.
Second-Degree Burns: Second-Degree burns involve damage to the upper layer of skin, as well as the layer of skin beneath. These type of burns cause the skin to blister and become red and sore. Blisters can pop open, giving the burn a wet and glossy appearance. It is essential to keep the area clean and appropriately bandaged to prevent infection. Most second-degree burns heal within two to three weeks, and in more severe cases may require medical attention.
Third-Degree Burns: Often referred to as a full thickness burn, this form of burn destroys the outer and inner layer of skin. Third-degree burns are characterized by a charring and browning of the skin. If you experience a third degree burn medical attention should be sought immediately.
Fourth-Degree Burns: Fourth-degree burns damage not just the outer and inner layer of skin but also damage deeper tissues like the muscle, tendons, and even bone. These burns are characterized by a black appearance, and in some cases result in a removal of the affected region of the body. Treatment of this burn varies on the severity and location, but all fourth-degree burns should be followed with intensive and immediate medical care.
Treating these injuries can be incredibly difficult the more severe they become. These treatments also become more expensive the more severe the damages are, and as such victims of the Santa Rosa wildfires could be subject not only to the damages caused by the fires but, the financial damages caused by a loss of property and the medical expenses needed to treat their injuries. For this reason, victims of the Santa Rosa Wildfires have every right to seek compensation through the filing of a lawsuit. As with any lawsuit, it is, important to seek representation from an experienced attorney to help you sue the party responsible for the damages. Regarding the Santa Rosa wildfires, many victims have begun filing suits against the Pacific Gas and Electric Company, as well as some public organizations that are suspected to be liable for the damages.
Filing a Lawsuit for The Santa Rosa Wildfires
Filing a lawsuit against large public and private organizations can be challenging. In most cases, these companies have the resources to employ a whole team of legal experts who are ready and willing to dispute your claim. For this reason, victims of the Santa Rosa wildfires, and any of the surrounding California wildfires should seek representation from a skilled attorney. With the right attorney on your side, you could more efficiently navigate the process of filing a lawsuit. One of the main processes in filing a lawsuit against a liable public company is to prove the negligence of the said company. Any successful claim of negligence requires that you have adequate evidence to support your claims. This evidence can include things like photographs of the damages, video footage showing the damages in detail, medical records proving your injuries, and police reports of the event itself. Many Santa Rosa wildfire victims are filing lawsuits against public companies for their negligence in adequately mitigating some of the damages caused by the fires. Any claim of negligence made against these companies will require that you and your attorney can prove the following components to a claim of negligence:
Duty: The plaintiff (injured or damaged party) must be able to show that the defendant (public service company) owed a legal duty to the plaintiff under the particular circumstances of the case.
Breach: The plaintiff must be able to show that the defendant breached said legal duty through specific actions or failing to act appropriately
Causation: The plaintiff must be able to prove that the defendant's actions or lack thereof caused the plaintiff's injuries
Damages: The plaintiff must be able to show that they endured some specific damages. This can usually be shown through the presentation of medical records, a loss of wages, or a loss of potential income.
Once you've been able to prove the negligence of the company, the odds of reaching a favorable outcome for your case are more than likely in your favor. However, as stated before, it is important to have a qualified attorney with expertise in wildfire injury lawsuits by your side in pursuing these claims. Often, they involve the pursuit of legal action against large companies that have the resources to easily dispute your claim if you do not have the right attorney on your side. More or less, having an expert attorney who has experience in wildfire cases on your side can make the difference between collecting sufficient compensation for your damages, and having your case dismissed from court entirely.
How Normandie Law Firm Can Help
If you or a loved one have been made a victim of the Santa Rosa Wildfires, or any other California wildfire as a result of the negligence of a public service organization or any other party you may be eligible to file a claim for significant monetary compensation. At Normandie Law Firm, our accomplished Los Angeles lawyers with experience handling wildfire injury claims can help you sue the company or party responsible for your damages. Those who file a claim with our Los Angeles law firm can find some, if not all of the following damages compensable to them:
Past & Future Medical Expenses
Loss of Wages
Potential Loss of Future Wages
Pain and Suffering
Emotional Distress (anxiety, depression, PTSD, etc.…
Punitive Damages
Our Los Angeles attorneys can walk you through the often-complicated process of building a case, filing a claim, and collecting compensation from the party responsible for your damages. While our law firm is based in Los Angeles, our lawyers also practice in San Diego, San Francisco, Riverside, Oakland, Fresno, and throughout the entire state of California.
Free Second Opinions
Other attorneys will sign you up to their firm but will disappear once your name is on the paper as they are busy signing up more cases. In these instances, their business is based more on volume and will attempt to sign up as many cases as possible. In turn, they will spend less time on cases resulting in severely reduced settlements. Our firm will not treat you like a number. We will be in communication with you throughout our lawsuit and will treat you like family. So if you already have an attorney don't worry, we'll give you a second review of your case 100% free of charge.
Zero Fee Guarantee-No Upfront Fees Ever
If you contact our law offices today, we can walk you through the complicated process of filing your claim completely free of charge. As a show this commitment to you and your case we offer our clients the benefits of a zero fee guarantee policy. Under our zero fee policy, all clients don't pay for our services until their case is won. If you feel in need of a second opinion, second opinion case reviews are also free under this policy. Please, feel free to give us a call, and a lawyer experienced in wildfire injury cases can guide you down the path of receiving proper compensation for your damages.