Sue Polaris for Defective ACE 325 Recreational Off-Highway Vehicle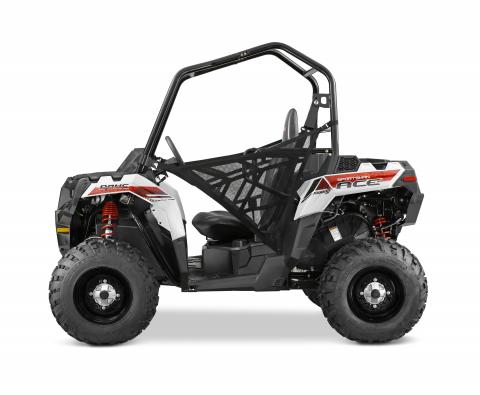 Name of Product: Polaris ACE 325 recreational off-highway vehicles (ROVs)
Hazard: The exhaust header pipe has a tendency to crack, which results in the release of hot exhaust gases into the engine compartment, posing significant fire and burn hazards
Remedy: Repair
Recall Date: October 17, 2017
Recall Number: 18-011
Description: This is a recall of the Polaris ACE 325 recreational off-highway vehicles manufactured in the model year 2014 through 2016. The recalled recreational off-highway vehicles, or ROVs, have a single seat and were sold in white green and red variants. For model year 2014 and 2015 ROVs, 'Polaris' is printed on the front grill and 'ACE' is printed on the rear panel. Models made in the year 2016 have 'Polaris' printed on the front grill and 'Polaris ACE' printed on the rear panel. The VIN is printed on the right front frame of the vehicles.
Remedy (Details): Anyone who purchased this product should immediately stop using the recalled ROVs and contact Polaris to schedule a free repair. Polaris is contacting all known purchasers directly.
Incidents/Injuries: A total of six reports of cracked exhaust pipes have been sent to Polaris, including two reports of seat damage due to melting. No fires or injuries have been reported as of yet.
Sold At: Polaris dealers nationwide between December 2014 through July 2017 for approximately, $7,500
Manufacturer(s): Polaris Industries Inc., of Medina, Minnesota
Manufactured In: United States of America
Units: Approximately 6,300
How You Can Receive Compensation For Your Damages
The fire and burn injuries that these recalled ACE 325 ROVs cause can result in devastating damages. These damages go beyond the initial physical injuries that you or your loved ones may have experienced. On top of the physical damages, burn and fire injuries can result in tremendous medical expenses caused by the treatment needed for victims to reach some form of physical recovery. If you or a loved one have been injured by a defective Polaris ACE 325 recreational off-highway vehicle, you may be eligible to file a claim for significant monetary compensation for the damages that you have endured. However, when filing a lawsuit it, is important to note that it is in your best interest that you have skilled and experienced legal representation on your side. With the right attorney on your side, you can more easily navigate the various legal hurdles that come with filing a suit.
One of the most important parts of filing a lawsuit against the Polaris ACE 325 ROV manufacturers is to be able to define the kind of injuries that you have endured. In most cases, the damages that you have suffered, and the severity of those damages directly correlate to the amount of compensation that you will receive in a settlement. As mentioned above, these ROVs, tend to cause exhaust inhalation and burn injuries. Exhaust or smoke inhalation is an incredibly damaging injury and can be life-threatening in severe cases. Exhaust inhalation is defined as the exposure to hot combustion gases and can result in respiratory complications. According to multiple studies, between 50 and 80% of all fire deaths are caused by the inhalation of smoke or toxic exhaust fumes. Burn injuries also pose a significant threat to users of this product. Burn injuries are traditionally believed to be caused by exposure to an intense thermal source. However, they can also be caused by exposure to harsh chemicals, radiation, and electrical currents. Burn injuries are separated into four degrees and are placed in order of severity. Listed below are the four degrees in which a burn can occur and what that kind of injuries mean to the victims:
First-Degree Burns: Typically the mildest, first-degree burns can be often treated with a bit of cold water and burn cream. They often only involve damage of the first layer of skin and are characterized by a slight reddening of the skin. In some, more severe cases, however, it is wise to seek medical treatment for the burn to heal properly.
Second-Degree Burns: Second-Degree burns involve damage to the upper layer of skin, as well as the layer of skin beneath. These type of burns cause the skin to blister and become red and sore. Blisters can pop open, giving the burn a wet and glossy appearance. It is essential to keep the area clean and appropriately bandaged to prevent infection. Most second-degree burns heal within two to three weeks, and in more severe cases may require medical attention.
Third-Degree Burns: Often referred to as a full thickness burn, this form of burn destroys the outer and inner layer of skin. Third-degree burns are characterized by a charring and browning of the skin. If you experience a third degree burn medical attention should be sought immediately.
Fourth-Degree Burns: Fourth-degree burns damage not just the outer and inner layer of skin but also damage deeper tissues like the muscle, tendons, and even bone. These burns are characterized by a black appearance, and in some cases result in a removal of the affected region of the body. Treatment of this burn varies on the severity and location, but all fourth-degree burns should be followed with intensive and immediate medical care.
Fortunately, if you or a loved one have experienced any of these injuries as a result of the previously mentioned ROVs or any other product you have every right to sue the product manufacturer for the damages that you have endured. Under product liability law, product manufacturers are expected to keep defective products out of the hands of consumers. If a consumer is injured by a defective product, that consumer can sue the product manufacturer for the damages that they have experienced. However, there are some challenges in filing these kinds of lawsuits. For instance, adequate evidence plays a vital role in determining the outcome of a case. This evidence can take the form of photographs, video footage, eyewitness accounts, medical records, and evidence of this defect injuring other consumers. Another challenge in filing a lawsuit against a product manufacturer is being able to place liability on the party responsible effectively. In most cases, products are manufactured by some companies, and as a result, any of these companies could be found liable for causing the defect. Being able to prove a company is responsible for an injurious defect correctly can make the difference between a successful case and your case being thrown from court. Listed below are the three common areas in which a product defect is likely to occur:
Design Defects: These are the defects that can occur before the product is sent to the assembly line. The defects that occur in this stage of production are faults that make the product inherently dangerous. In most cases, these defects can lead to full-scale product recalls, and the company which organized the design of the product could be held liable for the damages.
Manufacturing Defects: These defects typically occur on the assembly line of the product. They can range from minor mistakes along the manufacturing chain to reoccurring mistakes that can result in wide-spread recalls. In these instances, the manufacturing company could be deemed responsible for the damages.
Marketing Defects: These defects occur during the marketing of a specific product. These defects include things like improper labeling, insufficient instructions, or inadequate safety warnings.
While all of these hurdles can be challenging to overcome on your own, with the help of a skilled attorney you could successfully navigate the legal complexities involved in your case. Victims of product defects also have the option of filing a class action lawsuit if multiple parties were injured similarly by the same defect. Class action lawsuits allow for victims to better bear the burden imposed by legal expenses, and can, in most cases, more likely result in a favorable outcome. However, the plaintiffs in most class action lawsuits don't receive the same level of compensation they would receive if they took on the manufacturing company alone. However, don't let that discourage you. If you reach out to our law offices at Normandie Law Firm, our legal associates can advise you on the best path to take in pursuing compensation for your damages.
How Normandie Law Firm Can Help
If you or a loved one have experienced personal injury as a result of the defective Polaris ACE 325 recreational off-road vehicle, you may be eligible to file a claim for significant monetary compensation. However, in pursuing compensation, it is best to seek the assistance of a skilled attorney, as large manufacturing companies more than likely have the resources to employ their team of expert lawyers to dispute your claims. At Normandie Law Firm our skilled attorneys can guide you through the process of building your case, filing your claim, and collecting compensation for your damages. Those who file a claim with our law firm can find some if not all of the following damages compensable to them:
All of you medical and hospitalization costs
All of your future medical care and treatment
A loss of income and loss of future earnings due to long-term recovery or permanent disability due to the accident
Compensable economic damages include loss of property or damaged property.
Compensable non-economic damages include emotional distress, trauma, PTSD resulting from the accident, pain and suffering and anxiety.
Victims of this recall or recalls similar to this one can contact our law offices to learn more about how to receive compensation for their injuries. While our law firm is based in Los Angeles, our attorneys also practice in Oakland, San Francisco, San Diego, Sacramento, Orange County, Riverside, Fresno, and throughout the state of California.
Free Second Opinions
Other attorneys will sign you up to their firm but will disappear once your name is on the paper as they are busy signing up more cases. In these instances, their business is based more on volume and will attempt to sign up as many cases as possible. In turn, they will spend less time on cases resulting in severely reduced settlements. Our firm will not treat you like a number. We will be in communication with you throughout our lawsuit and will treat you like family. So if you already have an attorney don't worry, we'll give you a second review of your case 100% free of charge.
Zero Fee Guarantee-No Upfront Fees Ever
If you contact our law offices today, we can walk you through the complicated process of filing your claim completely free of charge. As a show this commitment to you and your case we offer our clients the benefits of a zero fee guarantee policy. Under our zero fee policy, all clients don't pay for our services until their case is won. If you feel in need of a second opinion, second opinion case reviews are also free under this policy. Please, feel free to give us a call, and we can guide you down the path of receiving proper compensation for your damages.
FURTHER INFORMATION: