Female Lakewood High School Teacher Carries 3-Year Relationship With Female Teen Student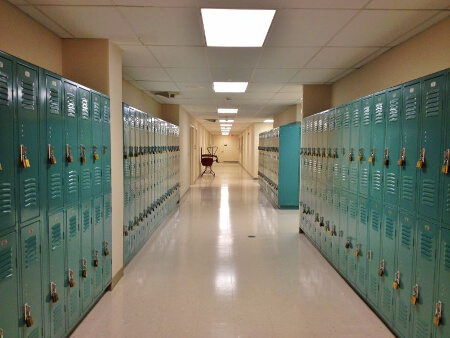 A former teacher at Lakewood High School was charged with nine counts of felony charges. She was allegedly involved in an inappropriate relationship for three years with a female student.
Mary Jahn 52, is accused of partaking in lewd and illegal acts with a teenage girl over the period of three years, according to a statement released by the Los Angeles County District Attorney's Office.
The charges include four counts of sexual penetration by foreign object, three counts of lewd act upon a child, and two counts of oral copulation of a person under 18.
Jahn was a teacher during the illegal relationship, which began in July 2008 when the student was 15 and ended in July of 2011. The victim, who is now an adult, reported the abuse earlier this year to officials who launched an investigation. Jahn was arrested on September 13, 2017. Jahn was assigned to the Long Beach branch of the L.A. County Superior Court. It is said that the prosecutors will request that her bail be set at $750,000.
She faces a maximum time of 8 years in prison, and four months in state prison if all charges are proven.
The Normandie Law Firm
Our law firm understands that sexual assault is an incredibly unfortunate trauma. If you or a loved one is a victim of sexual assault, you are entitled to receive monetary compensation for the harm and suffering that befell upon you. We are here for you, and we'll treat you with the respect and empathy you deserve; we understand that money will not take away the scars and impact, but it can help pay for the treatments which will begin the healing process. You can get compensation for the following damages:
Medical Costs: This can cover the costs for therapy, hospital visits, examinations, surgery, diagnosis, and any other future medical treatments.
Loss of Income: If the harm you suffered caused you to miss work and the doctor recommended you take a break from work for a while, you can recover the lost wages at your regular rate of pay.
Emotional Damages – Sexual assault is an incredibly traumatic experience that can cause some real psychological damage like anxiety, depression, PTSD, and more. You can get monetary compensation when your qualified attorney proves you are suffering any of these mental disorders.
Punitive Damages: This is further punishment to the perpetrator. The courts only set this if the offender acted with malicious intent.
FREE CONSULTATION AVAILABLE: Our law firm is here to protect your rights as an individual. We will treat you with the respect and patience you deserve. Normandie Law Firm's qualified sexual assault attorney will commit themselves to you and give you every available resource to prove your case. We offer free consultation and the zero-fee guarantee. So there is not financial obligation or risk on your part. Call us today to see what we can do for you.