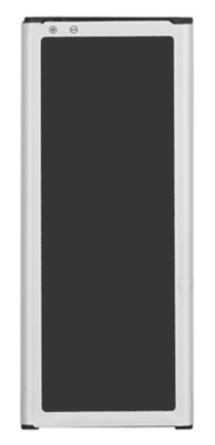 This month (August 16, 2017), Fedex Supply Chain has issued a voluntarily recall of cell phone batteries in refurbished devices. These batteries could overheat and cause various damages.
The cell phones in question are AT&T Samsung Galaxy Note S4 devices that have been refurbished by the FedEx Supply Chain. Some of the batteries have been reported to be counterfeits or fakes, not created by Samsung; it is unknown where these batteries came from and how they made it into Samsung's distribution centers or FedEx Supply Chain's warehouses. Their location of manufacturing is also unknown.
The batteries have a tendency to overheat when placed under stress. Customers are asked to immediately shut off their devices and remove the battery. FedEx Supply Chain has contacted consumers and mailed them both a new battery (provided free of charge) and a prepaid mailing box to return the old, defective battery.
Despite no injuries or incidents having been reported, FedEx has taken steps to ensure that no future accidents will happen. In all, FedEx has recalled over 10,000 batteries.
Risks of Batteries Overheating
If you are an owner of a defective battery, you may suffer injuries from its malfunction. Batteries that overheat can melt the plastic casing on phones, causing burns to your hands; the heat can create a fire that can spread to other belongings, especially if the phone is on a bedspread or near curtains. You also risk other people sustaining injuries if your phone overheats while they are holding it.
Further, you can lose your entire device due to a fire if the internal components are damaged. It may not be possible to recover lost data and information, which can be debilitating to some people, especially those who rely on their devices for work purposes.
Product Liability Claim
If you sustain injuries or suffer losses due to a malfunctioning or defective battery, you should look into filing a claim against the manufacturer or distributor to be compensated for your damages.
With respect to an overheated battery in a Galaxy Note S4, your best choice may be to pursue a Strict Product Liability claim, which does not require proof of negligence. The product in question is merely unreasonably dangerous; that is, there should be no risks involved with having a battery present in your phone. The fact that it can overheat and cause injury is enough to call it unreasonably dangerous.
Further, the defect must have caused your injury in some way. If no injury occurred, then you have no claim. Although no claims regarding the counterfeit batteries have been reported, there is still the possibility that additional, similar devices can have this problem.
Before filing a claim, you should make sure you have completed certain actions. It is vitally important that you do not return any of the products, as these products will be used as evidence.
(1) DO NOT return the item to the manufacturer ot receive a refund; that will destroy all evidence you have to pursue the case.
(2) DO NOT tamper with the product or try to fix it.
(3) Seek immediate medical attention with a doctor so that there is no gap in medical treatment.
(4) Hold on to any receipts or documentation of purchase.
Compensation
In the wake of being burned by a defective battery and filing a product liability claim, you should be aware of the types of compensation you can receive from a settlement. The company will fight to not pay any restitution, but it owes its customers recovery for damages in the event of any injuries.
You can be reimbursed for medical expenses resulting from the accident. You may have suffered first or second degree burns and required medication and treatment at a burn center. Even though these injuries are not severe, they are also not cheap; even a simple hospital visit can run you a medical bill of thousands of dollars. Additionally, if you require further treatment, future medical costs can be alleviated.
Any wages you lose out on due to injury or hospitalization can be recovered. You may not have been able to make it into work because of burns to your hands and cannot perform your job duties if you are instructed to wear an object like a cast. As a result, you any previous and future wages you cannot earn can be reimbursed by the at-fault party.
Property loss is factored into your claim, too. Not only may you have lost your phone, but if the fire caused damage to any other belongings you own, you may be compensated for their destruction. You can place values on linens, curtains, bedspreads, and the like; if the fire were particularly damaging and burned furniture, you can receive further compensation.
Pain and suffering may occur in the wake of an injury coming from a defective product. Emotional stress, fear, and anxiety can prevent you from completing your daily tasks or resuming what was once normal. You may have a psychological problem with using a cell phone, and need to be treated to psychiatric assistance to overcome the issue.
A Proper Lawyer
At Normandie Law Firm, we have seen the rise in product liability cases over the past few years, especially with respect to new technology. Sometimes there are still flaws in design, and the products cause injury to consumers. We feel that you should be properly compensated for your injuries and damages if you use a product that harms you upon malfunctioning. No company should be exempt from problems caused by items it has sold, distributed, or manufactured.
Call us today to receive a free legal consultation on your case. We will talk with you about your injury, the circumstances surrounding the battery overheating, and give you more information on the recall. Our lawyers are in Los Angeles but they can travel anywhere within California to meet with you and discuss your case. We will aggressively work to bring you fair compensation for your damages.
Further, our firm operates on a zero fee guarantee basis, which promises that we collect no fees unless we win your case and get you restitution. If we lose your case, you don't pay a dime.
To discuss a product liability claim with an experienced attorney, call Normandie Law Firm today.