FedEx Bus Crash Victims Families Being Offered Money to Avoid a Lawsuit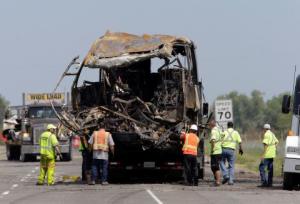 Our office has been retained as counsel by family members of those who were harmed in the FedEx bus accident. It has come to our understanding that many unrepresented parties are unaware of the policy limits of the FedEx truck responsible for the tragic crash that took the lives of some extraordinary people. Additionally, in order to settle these claims for far less than their value, the insurance company for FedEx is working aggressively to tie up and settle cases, prior to representation being obtained by injured parties and families. What is not being told to these families is that they can pursue a claim independent or beyond the value of the policy limits.
FedEx $5 Million Dollar Insurance Policy from Protective Insurance Co.
Protective Insurance is the company that is responsible for providing insurance coverage to FedEx. In this particular case they have provided a $5,000,000 single policy or aggregate policy. What this means is that the total amount of liability available is $5 million dollars. Therefore, this amount will need to be divided between all injured parties. As a result the actual amount will be limited. However, those who have been injured can pursue an independent case against Federal Express. Since Federal Express has the necessary assets to justify or warrant an independent lawsuit. However, this is not information that will be readily provided by Protective Insurance. In fact insurance companies will routinely attempt to settle the case in order to avoid potential litigation.
Why a Lawsuit Should Be Pursued
A lawsuit should be pursued for a number of reasons. First, because of the nature of this accident and the degree of the tragedy a lawsuit must be filed in order to hold those responsible accountable. Second, you have an issue where there are many unknown facts. It is unclear at this point what caused the accident or how it occurred. As a result an investigation needs to take place in order to identify the actual cause and take steps to ensure future safety protocols are put into place. Third, in order to get to the bottom of what really caused this accident this accident.
All of these cases are being handled on a contingency fee basis. What this means is that unless there is a recovery, there are no fees owed to our office. We will handle every step of the case and cover the costs to ensure justice is served. Should you be interested in seeking legal action contact our office for a free case evaluation.
Compensation Available for Victims of the Tragic FedEx Charter Bus Accident
Victims of auto accidents are entitled to receive compensation for all harms suffered. They types of harms which are compensable in personal injury lawsuits include the following
1. All medical costs associated with the harm suffered including hospitalization expenses and rehabilitation costs.
2. Pain and suffering evidenced via depression, anxiety, PSTSD.
3. Economic harm – loss of work compensation and loss of future income due to disability.
4. Punitive Damages – punitive damages are awarded when an at fault party acted with wither the intent to cause substantial harm or death or acted with reckless or wanton disregard for the life of others.
Speaking With an Attorney: If you have any further legal questions regarding the right to seek compensation for the tragic death of a loved one or injuries sustained in the recent accident involving the FedEx truck in Oralnd California feel free to contact our law offices. All legal consultations are provided by our attorneys free of charge.